Friday 25 November 2011
Arts Council of Northern Ireland Collection at Parliament Buildings, Belfast
Radio interview with BBC reporter Kim Lenaghan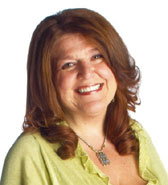 LENAGHAN, KIM. "Arts Council of Northern Ireland Collection at Parliament Buildings, Belfast",
Arts Extra, BBC Radio Ulster, Belfast, Friday 25 November 2011, radio broadcast at 6:30pm
_________________________________________________________________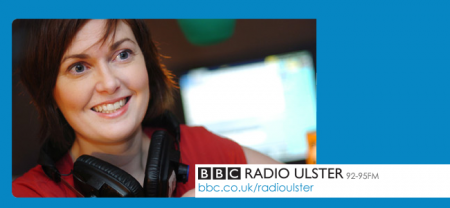 Arts Extra, BBC Radio Ulster, Belfast, Monday 5 September 2011, 6:30 pm
Ruth Sanderson interviews sculptor Brendan Jamison about his sugar cube
commission of Bangor Castle Towm Hall for North Down Borough Council.
__________________________________________________________________________________
5 September 2011, 06:25
Bangor Castle recreated
in sugar cubes
By Laura Bleakley BBC News
Sometimes paint and canvases are just not enough for an artist.

Bangor native Brendan Jamison has already gained world-wide attention for his work in various unusual media and is now bringing his work closer to home.

Last year he was commissioned to create the iconic Tate Modern building in London and made it to scale using exactly 71,908 sugar cubes.

This time it is the turn of Bangor Castle Town Hall which has received this unique sculpting treatment.

Over the last six months, Brendan has been carefully crafting each detail to perfection using more than 48,000 cubes.

Even the model's distinctive clock tower points to 18:52, a reference to the year the mansion house was built.

The sculpture displays the building's Elizabethan-Jacobean revival style which in reality has 35 bedrooms and a huge saloon for musical recitals.

Challenges

Brendan said capturing such a precise representation caused some difficulty.

"The Elizabethan-revival style of 1852 features many intricate architectural details such as balcony pillars, strap work and pinnacles, all of which present challenges to replicate in sugar," he said.

"However, with intense concentration and a focused carving technique, all of the ornate elements were sculpted accurately."

Miriam Crozier, cultural services and marketing officer for the council, said working with Brendan had "been a very special privilege".

"As the light glints on the sugar of the sculpture, it casts Bangor Town Hall in a magical, fairytale light," she added.

The commission is part of an ongoing art project, Art on the Seafront, and is on display in the Long Gallery until mid-September.

http://www.bbc.co.uk/news/uk-northern-ireland-14767097

Brendan Jamison's sugar cube sculpture of Bangor Castle Town Hall

Brendan Jamison with his

Tate Modern sculpture

Related Stories

Around the BBC
________________________________________________________________________________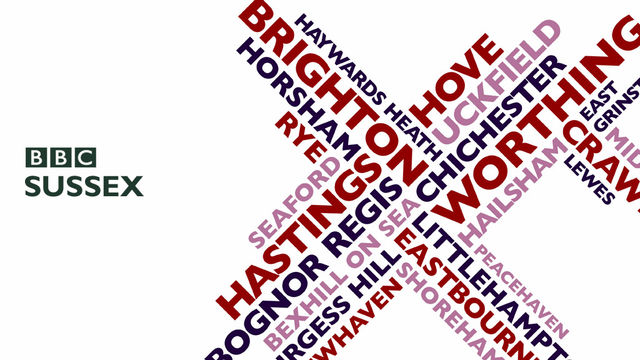 Sussex Breakfast, BBC Radio Sussex, England, live interview at 8:53am, 25 August 2011
Anne Vickers interviews sculptor Brendan Jamison on his sugar cube sculptures.
_____________________________________________________________________________________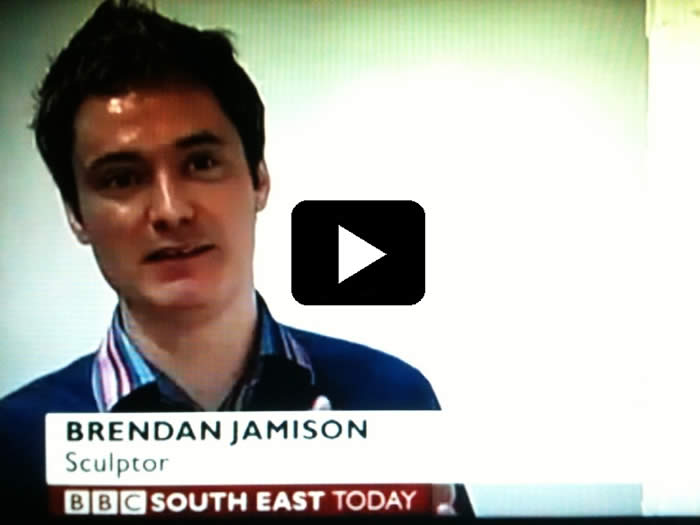 BBC NEWS, 1 July 2011
_________________________________________________________________________________
18 June 2010, 07:22
If you had to classify artist Brendan Jamison, you might say he's a cubist.

His is the school of sugar cubes.

For this Belfast-based artist has taken more than a tonne of sugar lumps and sculpted them into beautiful intricate models that glitter in the daylight, in the way that only pure white sugar can.

He is most proud of his latest commission: the iconic Tate Modern building in London, made to scale, using exactly 71,908 sugar cubes.

"It's easy to count them," he said, "You get 160 cubes in a box." And he has used thousands of boxes.

His Tate Modern sculpture is 2m wide and weighs in at 224kg.

It was commissioned by Native Land and Grosvenor for the 2010 London Festival of Architecture, which runs until 4 July.

He also created a sugar model of NEO Bankside - four apartment pavilions beside the Tate Modern.

Visitors to the festival will be able to see the models, housed in a special pavilion behind glass - so that the sugar models mirror the real buildings behind.

'Labour of love'

For Brendan, 31, the work was a labour of love.

"Aside from the colossal scale of Tate Modern sculpture, I also enjoyed the challenge of constructing and carving the hexagonal towers of Neo Bankside," he said.

Brendan's interest in architecture began in childhood. He was always a 3-D thinker, he said, and there was one toy he loved above all others.

"I was always in my room building Lego models," he said.

"I built spaceships and castles but I never bothered with the instructions... I just built whatever I could think of in my mind."

Throwing away the instructions, he unlocked the key to a creativity which sees the beauty in the ordinary.

Not for him clay, stone or marble, in his years at art school in Belfast and afterwards, he took wool and wax and sugar and created art from them.

He came to sugar after a brief dalliance with Smarties - and was attracted by how he could cut and carve the cubes.

"There was more freedom in working with them," he explained.

"I was attracted by the beautiful sparkles on the sugar cubes. It is a beautiful finish, you can see the fairytale sparkle in the natural light."

In his final year at the University of Ulster, his exhibition featured seven 9ft tall sculptures - they were temples and minarets and giant cacti.

This devil is in the detail.

For buildings, Brendan begins his work by studying intricate architects' plans and works to scale.

In the case of the Tate Modern, the scale was 1:100 and it took three months to complete, plus another two months to build the NEO Bankside.

Visitors to his exhibitions are always stunned by the intricacy of the models. They worry that sugar will be fragile.

He usually treats them to the "knock" test - to show that the models can take a few knocks. He uses special glue which is absorbed into the sugar to bond the cubes together.

Next spring, with support from the Northern Ireland Arts Council, he will build his tallest and most ambitious sugar model to date - a 5m-high turret from Helen's Tower in Bangor.

Last year, he created a smaller version of the tower with every twist, balcony and casement window fashioned with precision, right down to the chimney of hearts. The new version will be the largest sugar cube construction in the world.

Brendan Jamison's work has been exhibited all over the world - in India, China, Sweden, New Zealand, Germany, France, Canada and the US.

It is a long way from childhood days building Lego on the bedroom floor.

Helen's Tower in sugar: © Brendan Jamison
________________________________________________________________________________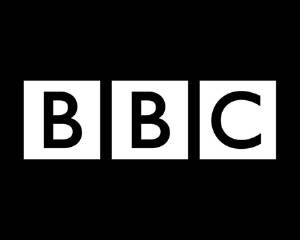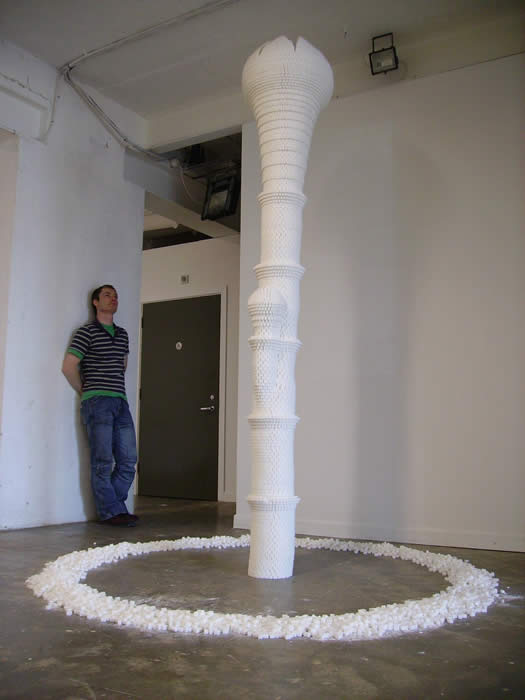 BBC BRASIL
Tuesday 11 November 2008
Escultor faz maquete de prédio com 11 mil cubos de açúcar
Monica Vasconcelos
Um escultor usou 11.256 cubos de açúcar para fazer uma maquete de um prédio de apartamentos que deverá ser construído em Belfast, na Irlanda do Norte.
O artista irlandês Brendan Jamison criou a maquete do prédio de 14 andares, projetado por um escritório de arquitetura. Ele deu uma atenção especial a detalhes como sacadas, terraços e o telhado curvo da cobertura.
O artista afirmou que seu estilo de arte "sempre foi muito influenciado pela arquitetura".
Ele disse que gostou do desafio de trabalhar na maquete especialmente porque o prédio ficará a apenas cem metros de seu estúdio em Belfast.
"Açúcar é um material bom para se trabalhar, ele pode ser cortado e esculpido para criar formas orgânicas e os cristais de açúcar podem resultar em uma superfície brilhante sob luz natural", afirmou.
O artista estima que sua maquete, com 60 centímetros de altura, 67 centímetros de largura e 41 centímetros de profundidade contenha 8,16 bilhões de cristais de açúcar. Sua maquete consumiu ainda 2,25 litros de cola. "Eu venho usando cubos de açúcar como tijolos em esculturas grandes desde minha exposição Masters of Art, em 2004. Na época, criei uma série de sete esculturas tipo minaretes com 9 pés de altura (o equivalente a 2,74 metros)."
Segundo Jamison, foi isso o que chamou a atenção do Grupo Fitzrovia, que criou o projeto do edifício. O nome do edifício também é uma forte indicação da conveniência de ter um escultor que trabalha com açúcar: ele se chamará Sugar Walk.
O modelo de Brendan Jamison foi baseado em um projeto original produzido pela empresa Gregory Architects, e a construção do prédio será concluída em 2011.
VASCONCELOS, MONICA. "Escultor faz maquete de prédio com 11 mil cubos de açúcar" BBC BRASIL, 11 November 2008