Extreme exhibition comes to city
By Paul Ainsworth
Saturday 2 June 2012, page 11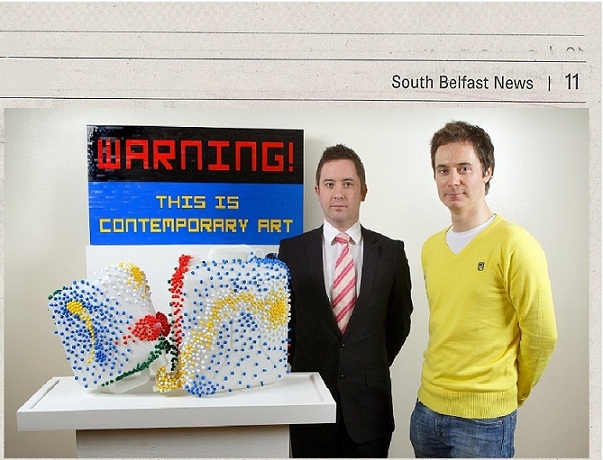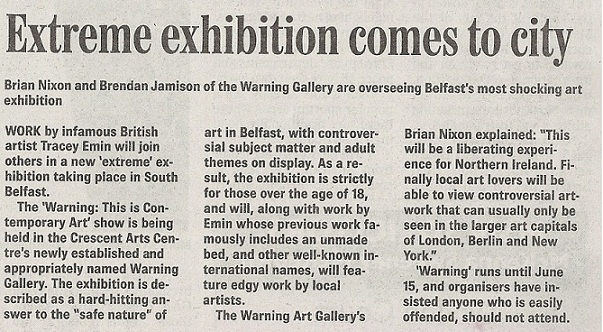 Another sweet gig for sugar sculptor
By Paul Ainsworth
Saturday 21 January 2012, page 3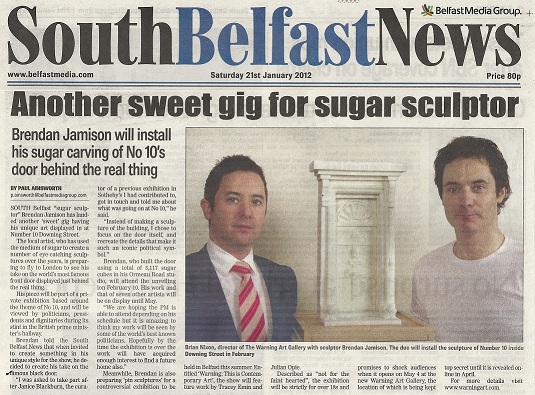 Another sweet gig for sugar sculptor
Brendan Jamison will install his sugar carving of No 10's door behind the real thing
BY PAUL AINSWORTH
SOUTH Belfast "sugar sculptor" Brendan Jamison has landed another 'sweet' gig having his
unique art displayed at Number 10 Downing Street.
The local artist, who has used the medium of sugar to create a number of eye-catching sculptures over the years, is preparing to fly to London to see his take on the world's most famous front door displayed just behind the real thing.
His piece will be part of a private exhibition based around the theme of No 10, and will be viewed by politicians, presidents and dignitaries during its stint in the British prime minister's hallway.
Brendan told South Belfast News that when invited to create something in his unique style for the show, he decided to create his take on the famous black door.
"I was asked to take part after Janice Blackburn, the curator of a previous exhibition in Sotheby's I had contributed to, got in touch and told me about what was going on at No 10" he said.
"Instead of making a sculpture of the building, I chose to focus on the door itself, and recreate the details that make it such an iconic political smybol."
Brendan, who built the door using a total of 5,117 sugar cubes in his Ormeau Road studio, will attend the unveiling on February 10. His work and that of seven other artists will be on display until May.
"We are hoping the PM is able to attend depending on his schedule but it is amazing to think my work will be seen by some of the world's best known politicians. Hopefully by the time the exhibition is over the work will have acquired enough interest to find a future home also."
Meanwhile, Brendan is also preparing 'pin sculptures' for a controversial exhibition to be held in Belfast this summer. Entitled 'Warning: This is Contemporary Art', the show will feature work by Tracey Emin and Julian Opie.
Described as "not for the faint hearted", the exhibition will be strictly for over 18s and promises to shock audiences when it opens on May 4 at the new Warning Art Gallery, the location of which is being kept top secret until it is revealed online in April.
For more details visit www.warningart.com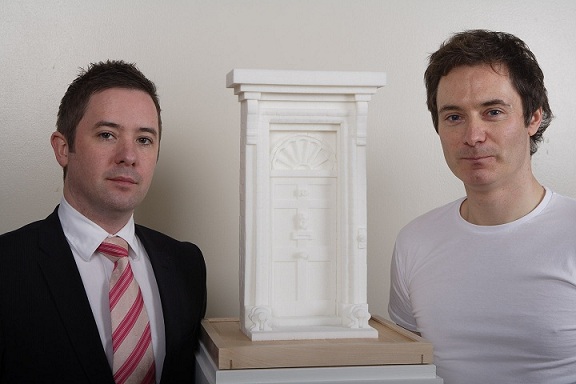 Brian Nixon, director of The Warning Art Gallery with sculptor Brendan Jamison.
The duo will install the sculpture of Number 10 inside Downing Street in February
____________________________________________________________________________

ArtTank rolls back onto arts
scene after six months closure
By Paul Ainsworth
Saturday 12 November 2011, page 20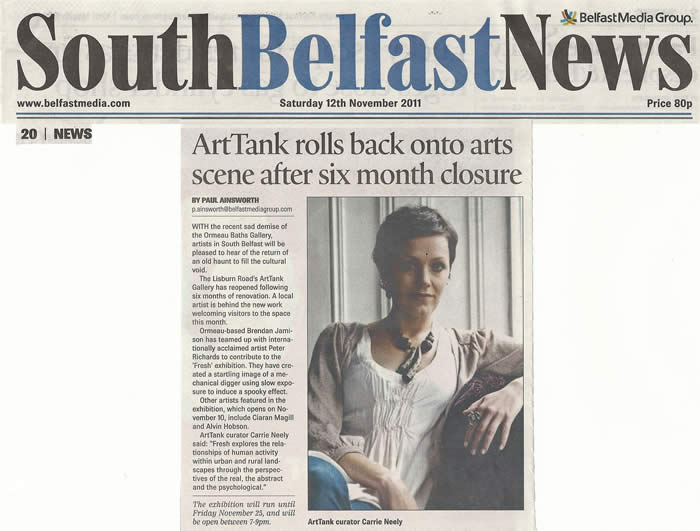 W ITH the recent sad demise of the Ormeau Baths Gallery, artists in South Belfast will be pleased to hear of the return of an old haunt to fill the cultural void.
The Lisburn Road's ArtTank Gallery has reopened following six months of renovation. A local artist is behind the new work welcoming visitors to the space this month.
Ormeau-based Brendan Jamison has teamed up with internationally acclaimed artist Peter Richards to contribute to the 'Fresh' exhibition. They have created a startling image of a mechanical digger using slow exposure to induce a spooky effect.
Other artists featured in the exhibition, which opens on November 10, include Ciaran Magill and Alvin Hobson.
ArtTank curator Carrie Neely said: "Fresh explores the relationships of human activity within urban and rural landscapes through the perspectives of the real, the abstract and the psychological."
The exhibition will run until Friday November 25, and will be open between 7-9pm.
__________________________________________________

'Refined' work of art In An Old Book
By Paul Ainsworth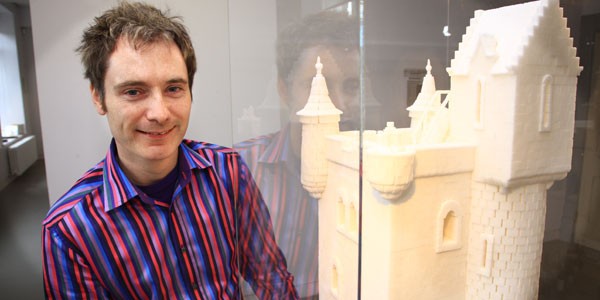 A SOUTH Belfast artist has created a sweet sculpture of one of Northern Ireland's most beautiful buildings – built entirely from sugar.Brendan Jamison, who works from a studio on the Ormeau Road, is displaying a mammoth new sugar cube sculpture of Helen's Tower, which was built in Bangor's Clandeboyne Estate in 1861.
His 'refined' work is currently on display in the Crescent Arts Centre, to mark the 150th anniversary of the completion of the real tower, which was commissioned by Lord Dufferin in honour of his mother Helen Selina Blackwood.Other, smaller sugar representations of the tower created by Brendan have previously been displayed at Sotheby's gallery in London. The exhibition is entitled 'In An Old Book', and features art inspired by literary themes, to mark the Belfast Book Festival.
The real Helen's Tower features on display poems written by literary figures including Tennyson, who were inspired by the building.Speaking with the South Belfast News, Bangor-born artist Brendan explained how his unique style of sculpting has led him across the world, and revealed how he was inspired to rebuild Helen's Tower as a fragile sugar masterpiece."Using sugar cubes has a number of advantages for me as an artist," he said."It's unusual and eye-catching, and the sparkling sugar looks wonderful in the light, like a magical effect. The cubes also fit together a bit like Lego, and I love building things with it.

"Coming from Bangor, I was also inspired by the story of a son's love behind the building of the tower, and the wonderful poems that have been dedicated to it. It's an amazing building and I'm delighted to have remade it in my own style."Sculpting with unusual mediums such as sugar has earned Brendan a reputation across the globe, where he has travelled to teach his skills and see his work displayed."People have seen my work in places like America, Canada, India, Germany, France, Sweden, Austria, Italy, China and New Zealand, and I've been to many workshops to teach sculpting. I'm constantly being invited to shows, while always thinking of new ways and mediums to express myself."The South Belfast News can also reveal Brendan is working on a new sculpture, which will be on display later this year, made up of a quarter of a million cubes."It's in the early stages, but will be amazing once it's on display in the Ormeau Baths in the winter. It's my most ambitious work to date."
_____________________________________________________________________________________________________________

17th of January 2011
Sugar artist gets dug into wax work
By Ian Allen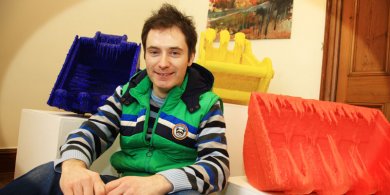 A SOUTH Belfast artist, famed for building intricate sculptures from thousands of sugar cubes, has ventured into the world of wax, transforming his studio into a Madame Tussauds for diggers.
Brendan Jamison, who works out of a studio on the Ormeau Road, will display his four new models of JCB buckets at the London Art Fair from January 18 to January 23.
The never-before-seen sculptures, ranging in price from £900 to £4,000, will make up part of an exhibition from Belfast-based art house, the Golden Thread Gallery.
Speaking to the SBN this week, Brendan explained the reasons behind his temporary switch away from sugar.
"Wax is a really beautiful material to work with because it is so fluid and organic, you can really build it up to form things like the fangs I've worked on here or give something a look of decay," he said. "It has the quality to transform everyday objects."
However, Brendan said there was also a painstaking process behind his new art form.
"I build the sculptures out of wood first and then drip thousands of layers of wax over it until the pieces become almost alive, with the wax giving each sculpture its own peculiar character," he said.
"In fact the whole idea behind the JCB buckets is to create a narrative. If you have ever looked at a construction site at night you can almost imagine all these tools coming to life."
This is the first time the new wax sculptures will be seen in public, and where better to start than one of the leading art shows in the world?
"The London Art Fair attracts galleries from all over the world and it has a great reputation so I'm really excited to be a part of it," Brendan said.
"It is hard for artists in Northern Ireland to get their work seen because all the critics and collectors go to the big art centres of London, Berlin or New York. They don't really come to Northern Ireland that often."
But one way of getting around the problem that is the Irish Sea is social networking, as Brendan is finally finding out.
"I only joined Twitter a few months ago but it is a great means of free publicity and letting people see your work," he said. "I put a picture of one of the JCB buckets up four days ago and already it has received 15,000 hits.
"It seems like a really powerful tool for artists. This is the first time I've ever put an image online before a show but the response has been really good," he added.
ALLEN, IAN. "Sugar Artist Gets Dug Into Wax Work", South Belfast News, Belfast, Saturday 15 January 2011, p 3
____________________________________________________________________________________________________________

ALLEN. IAN. "Tate and Style", South Belfast News, Belfast, Saturday 4 September 2010, p 19
_____________________________________________________________________________________________________________

ALLEN. IAN. "Life is sweet for sugar cube artist", South Belfast News, Belfast, Saturday 14 August 2010, p 3