Marshall M. Fredericks Sculpture Museum
Memorial Works on Paper
Four artists from Northern Ireland are participating in a fundraising exhibition at the Marshall M. Fredericks Sculpture Museum in Michigan, United States of America
December 1-15, 2020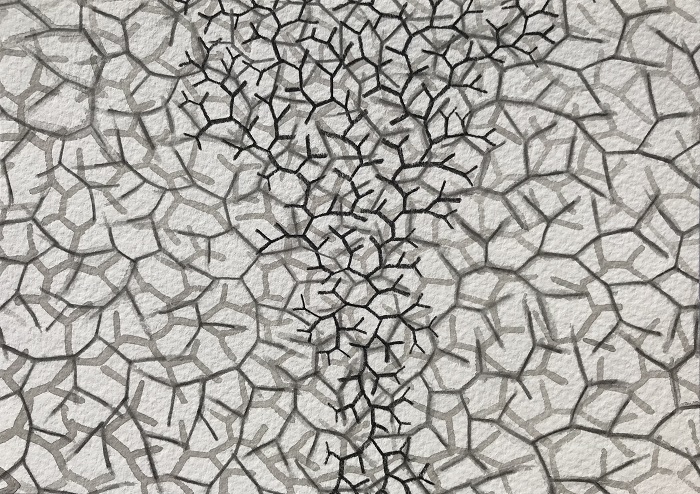 Gail Ritchie, Memorial in the Head © (2020)
drawing on paper, 12.5 x 18 cm
Born in 1966, Gail Ritchie is an award-winning international artist from Northern Ireland, currently completing a practice led PhD at Queen's University, Belfast. Over the past two decades, she has exhibited in many high profile exhibitions across the world, notably in New York, Beijing and Shanghai.

This drawing forms part of Ritchie's ongoing experimental work on the development of conceptual memorial forms for the commemoration of the Northern Ireland Troubles. The conflict was marked by sectarian division and polarities such as us/them or victim/perpetrator. To overcome these reductive binaries, Ritchie has developed a way of counting the dead in tripartite form which allows for the inclusion of the unknown or unidentified 'other'. The drawing Memorial in the Head is a schematic for an unmade sculpture. It suggests that we do not need a physical construct to remember at, as memories are always held within.

Ciaran Magill, Kneeling Soldier © (2020)

drawing on paper, 18 x 12.5 cm

Ciaran Magill was born in 1978 in Northern Ireland and exhibits his drawings and paintings internationally. He has won multiple awards from the Arts Council of Northern Ireland and the Freelands Foundation in London.

His sketch of a kneeling Soviet soldier is based on a statue at a war memorial in Berlin's Treptower Park. The swirling lines energise the figure and transforms the rigid pose, giving the soldier a beautiful aura, akin to an angel with halo and wings.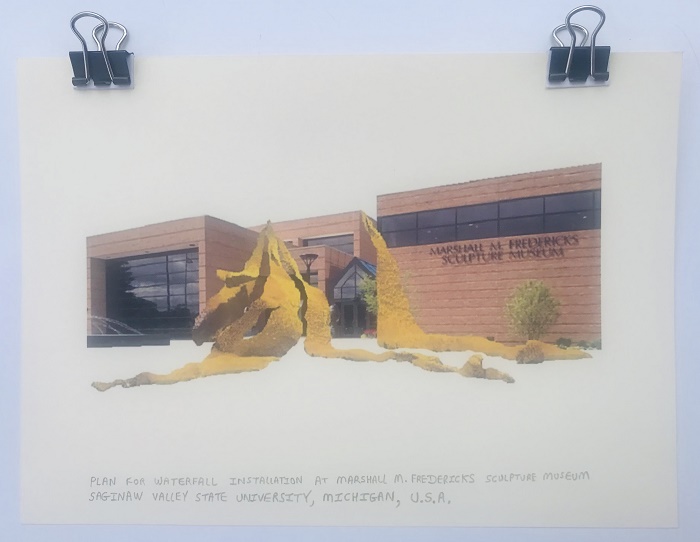 Brendan Jamison and Mark Revels, Plan for Waterfall Installation at Marshall M. Fredericks Sculpture Museum, Michigan, USA ©
digital collage printed on 160 gsm ivory paper, signed on reverse, 12.5 cm x 18 cm
Northern Irish sculpture duo Brendan Jamison (1979-) and Mark Revels (1978) have exhibited all over the world at many of the leading art museums and contemporary galleries, including The Pompidou in Paris.

The yellow waterfall is a digital collage, a memorial to those who have died in war across the planet. Revels describes how "this is a subject close to our hearts through our own experience growing up during the 30 year conflict in Northern Ireland."

Jamison outlines how "the intention of the Waterfall sculpture is to create a warm feminine honeycomb effect with a sense of fluid movement. This is in contrast to traditional war memorials which are often very hard, dark, masculine and sombre. The brightness of the yellow brings an optimism like sunshine. It can symbolise the shinning spirits of all those who have died in conflict. The idea is that the lives lost may continue like a 'river of souls', flowing into the future through another realm."