WATERFORD TODAY Digital Edition
Sprog 2012 And Sugar At Garter Lane Arts Centre
Wednesday, 8th August 2012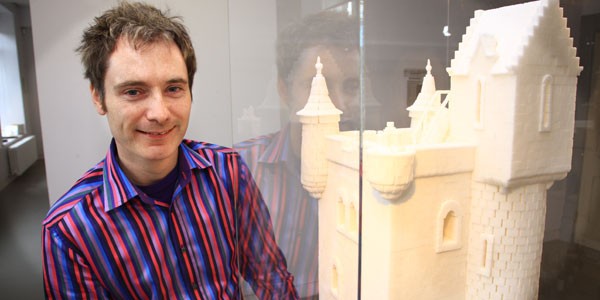 Brendan Jamison, artist featured in Sugar with his sugar cube sculpture Helen's Tower
Last week saw hundreds of happy children come through the doors of Garter Lane for sprOg 2012, which is kindly sponsored by Genzyme.
Things were kicked off in style on Mon 30th with the brilliant Big Bang Theory (WAMA group) getting things going from 3.45. The Park Lodge Café kept all happy on the afternoon by feeding the masses with yummy treats while the wonderful Siobhan and Sarah gave one and all present funky facepaints and glitter tattoos! Garter Lane would like to give a massive thank to Genzyme for their continued support of the festival, all staff, artists and to all the families and children who came in and made sprOg 2012 a massive success… Bring on sprOg 2013!
In the meantime… don't miss the visual indulgence that is Sugar, a group show of sweet themed work by Deborah Donnelly, Brendan Jamison and Orla Walsh that features sugar cube sculptures and mouth-watering paintings of all things nice.
Belfast-based sculptor Brendan Jamison has sculptures on display in Sugar that are built entirely out of sugar cubes. Brendan explains how he "was attracted by the beautiful sparkles on the sugar cubes. It is a beautiful finish; you can see the fairytale sparkle in the natural light, which makes sugar such an interesting medium to work in." His work is housed in many private, public and corporate collections, notably, MoMA, NEO Bankside and Sotheby's with Brendan's highlight of 2012 exhibiting a carved sugar sculpture of Number 10 inside 10 Downing Street.
Sugar continues until Saturday 22 Sept at Garter Lane Arts Centre and is open daily Tues- Sat from 11am-5.30pm. Admission is free and all welcome.
GALLAGHER, PADDY. "Sprog 2012 and Sugar at Garter Lane Arts Centre", Waterford Today, Waterford, Ireland, Vol. 27, Issue 32, Wednesday 8 August 2012, p. 18