23 February 2012
VISUAL ARTS REVIEW: Interplanetary Revolution
By John Higgins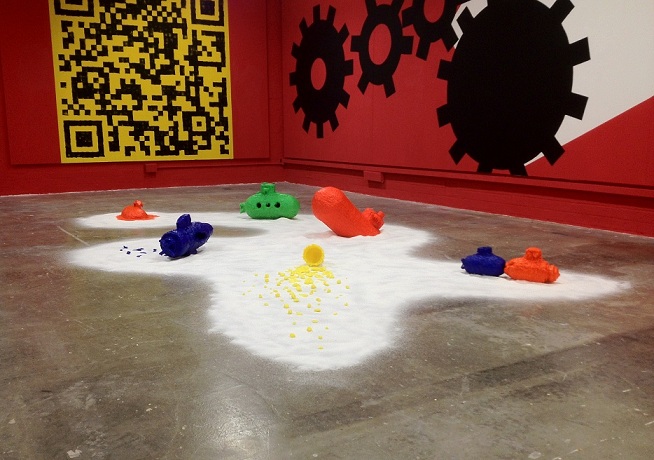 Interplanetary Revolution at the Golden Thread Gallery in Belfast is named for a 1924 propaganda cartoon, a savagely crude mix of stop-motion and cell animation, featuring 'Comrade Cominternov, who flew to Mars and vanquished all the capitalists on the planet!'
It's a three ring circus, with three separate curators rubbing shoulders under this singular and apt umbrella. I've never seen a show like it, and it is a show.
The Factotum Choir perform a rousing version of 'Paradox', a song from a 1960's General Electric album of motivational songs extolling the paradoxical virtues of silicone. Shiro Masuyama's 'Parky Party' is a silent bar, where drinkers/audiences pick from a list of cocktails to be consumed in a curtained booth, wearing headphones.
If this was an attempt to undermine the bourgeois notion of convivial social drinking, it seems that tonight the patrons of the Golden Thread genuinely relish the idea of drinking quietly and alone. Then again, these are art folk!
To pay for drinks you needed a newly minted currency, 'The Revolution'. Three of which would get you a marguerita, which puts it head and shoulders above that other made up currency, the Euro.
The show's expressed intention to explode assumptions and subvert relationships is exemplified by its protean ethos. Parts of the exhibition will change, some are unfinished and some may never be finished. There are also lunchtime discussions and evening screenings over the run of the exhibition.
Colin Darkes's 'Parados GTG' consists of 60 oil-on-canvas paintings of Lenin addressing a crowd, taken from an old news-reel. The pictures have been photographed as a stop-motion animation and reproduced on a television screen as a beautifully realised flick-book; the creamy, pearlescent shades of grey mimic the silver sheen of celluloid.
Brendan Jamison's 'Submarine Series' sees a clutch of the Haribo bright submersibles cresting on a sea of sugar, while English art duo The Girls exhibit Smurfette as a Vargas model from his blue period. She is necessarily hypothermic, something exemplified by cork-like nipples on her plastic breasts.
Ryan Moffett's video work, shot at night in County Fermanagh, shows a world of gnarled and spooky trees. Tighter shots, excising context, reveal a peculiar alien landscape, the black ribs of tree roots haloed by phosphorescence, strange crenulations with the texture of a Max Ernst frottage landscape.
Charles Burns, author of Dog Boy and an advertising campaign for failed beverage OK Soda, is represented by a copy of his Black Hole graphic novel. It is a tale of a teenage sexual plague ravaging 1970s Seattle. Symptoms may vary from the relatively benign – a spare pair of neck lips – to the somewhat more noticeable, sprouting horns and shedding all your skin.

Burns' classy, clear-line style remains instantly recognisable, and the story has a clammy intensity. The influence of David Cronenberg and Lynch, with their respective 'body-horror' and 'small-town-American-weirdness' tropes, does, however, cast a big 80s pop-cultural shadow over the work.
Gerry Gleason's 'Potemkin' presents us with the contradiction of constructivist painting and Miro's figurative abstraction. It is a powerfully delineated crystalline concoction, with its skirt of geometric planes, a contraction of ship and iceberg and a vessel to threaten Belfast if ever there was one. And in this year of all years!
Jonas Mekas' 'The Brig' (1964, above) is a fake documentary about ten confined soldiers and the three guards who subject them to beatings, degradations and senseless rituals. The film is both immersive and repellent.
The prisoners seem terrified and yet rigorously choreographed, and parts of the action seem so adroitly synchronised that it is hard to believe what you're seeing is real. Equally it's impossible to believe that a camera, an unnoticed camera, at that, would be allowed to record this barbarity. Yet there is such naturalism in the lighting, that you forget you watching something that is not 'true'.
Mekas' camera work is uncertain, sometimes witnessing the violence, sometimes only catching up with a prone, gasping body. Combined with the mumbled or bellowed performances, the grainy 'found' quality of the film, with its French subtitles, it convinces enough to disconcert. It is cinema's greatest trick described here by something that doesn't look like cinema at all.
Interplanetary Revolution runs until March 24.
_________________________________________________________________________________

27 January 2011
VISUAL ARTS REVIEW: London Art Fair
By Ciaran McCauley
124 exhibit, only one is Irish.
Belfast's Golden Thread
represent the old and the new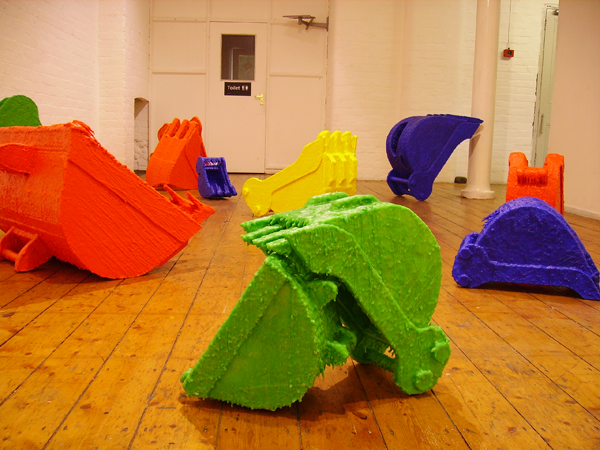 Rising star Brendan Jamison, whose sugar cube sculptures were shown recently at Sotheby's and the London
Festival of Architecture, this time works with wood: wooden JCB digger buckets encased in brightly coloured wax
litter the floor (pictured above)
McCAULEY, CIARAN. "Visual Arts Review: London Art Fair", Culture Northern Ireland, Belfast, 27 January 2011
____________________________________________________________________________________________________________

24 June 2010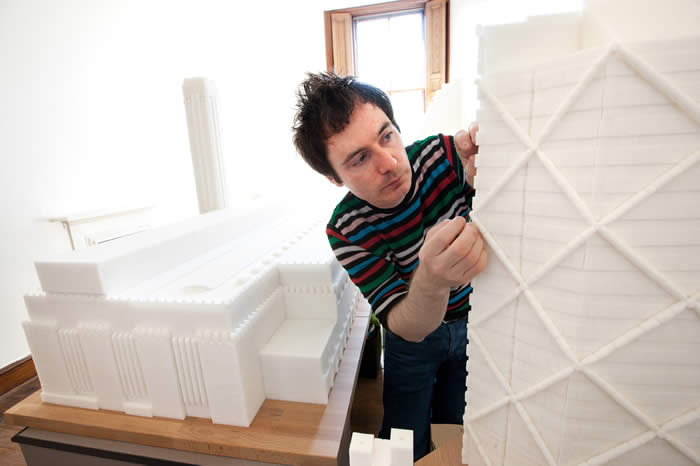 Brendan Jamison

71908 things to do with a ton of sugar and a commission from the London Festival of Architecture


By Tammy Moore

Whoever was driving the delivery truck must have been confused when they reached their destination and found out it was an old convent. Who here could want the ton and a half of sugar he had in the back of his truck?

As it turned out the answer to that wasn't 'nuns with a sweet tooth' but artist and sculptor of unusual substances Brendan Jamison whose studio is on the top floor of the converted convent building.

Jamison has always been artistic. 'From a very young age I was making art in one some form. It was always three-dimensional. I was either up in my room building things from Lego or out in the backyard building things from wood. I was always constructing.'

For him it was just a small step from lego blocks to sugar cubes. 'I felt I had to explore new and different materials so that I wasn't repeating what had gone before. Trying in some way to push the boundaries of sculpture.'

Attracted to the medium because of how easily the cubes leant themselves to construction, Jamison also discovered that they could be cut and carved into intricate shapes. He has also created art from such unlikely materials as smarties, wood and wax – experimenting with perceptions of colour and texture. His 'Yellow Helicopter' is part of the Arts Council of Northern Ireland's collection. 'The ACNI have always been very supportive of my career,' he says.

It is, however, the sugar cubes that he is best known for. At the top of the stairs he opens the door into his studio. It is a good sized room but most of the available space is taken up by Jamison's work.

The piece he is working on for the Ormeau Baths Gallery, with funding from the ACNI, stands half-built in one corner, square bricks of sugar glittering in the sunlight. Unfinished it looks almost geological, blocks of sugar nucleating up the wall. For the last few months an assistant has been working on it to Jamison's plans, but he plans to take over soon to do the complex carving for the window.

The piece that has been occupying his time has pride of place in the studio: a scale model of the Tate Modern and its neighbour NEO Bankside, four still-under-construction apartment pavilions. It is a commission for the London Festival of Architecture by Native Land and Grosvenor, who had seen Jamison's work with sugar in other venues.

The sculpture is nearly ready to be packed up and shipped. It took 71908 sugar cubes to build the Tate Modern and over 9000 for the NEO Bankside. The block-shaped Tate, despite the 'finicky work on the roof details', was easier for Jamison to recreate than the NEO Bankside's hexagonal shape.

'I'm working on the last piece of NEO Bankside right now,' Jamison explains, pointing to his desk. 'It's such a complicated building that I have to build it upside down for the first few floors and then flip it over.'

The fact that he was working from architects plans and CGI renderings didn't make his job any easier. 'It's always harder when you don't have the building in front of you. It requires a lot more time in the planning stages to get the measurements exact.'

Jamison admits that he found the scale of the task a little daunting when he was first approached with the commission. 'Oh my goodness,' he remembers thinking, 'I'm going to have to build this out of sugar?'

Now, with only the last touches to put to the sculpture, Jamison seems happy with it. He points out a tiny crane on the top of the NEO Bankside building. 'I love that crane. I really, really love it. It's my favourite part, up there on the penthouse suites.' He twiddles with the crane and grins. 'The penthouse suites cost £5 million and the views are amazing. I'd love one.'

The crane, he explains, as he sets it carefully back into place, is one of the few pieces not already glued into place. He has faith in the unexpected durability of his sugar structures – snatching up a block and giving a firm rap to demonstrate – but he doesn't want to tempt fate with such a delicate piece.

Some of his sculptures are put together like the lego creations of Jamison's childhood, designed to be taken apart and rebuilt. 'They go on to have lives in other places,' Jamison says. The Tate sculpture is too intricate for that. Instead it comes apart in four sections that will be transported in boxes Jamison has built for them. 'I'll be travelling with them,' he explains. 'To make sure the driver doesn't go over too many big bumps.'

Tammy Moore
MOORE, TAMMY. "Brendan Jamison: 71908 things to do with a ton of sugar and a commission for the London Festival of Architecture", Culture Northern Ireland, Belfast, 24 June 2010
____________________________________________________________________________________________________________

White Christmas

A sugar cube fireplace in the Naughton Gallery's Christmas show.
| | |
| --- | --- |
| FIREPLACE (2009) Brendan Jamison, carved sugar cubes, 37 x 46 x 12 cms | CHIMNEY OF HEARTS (2009) Brendan Jamison, from Helen's Tower series, carved sugar cubes, 32 x 10 x 10 cms |


The eclectic exhibition of white-themed artwork by an ensemble of Irish artists evokes arctic landscapes, alpine vistas, dazzling gewgaws and even the odd piece of toothsome architecture. The Naughton Gallery's long, creamy space - with matching track lighting - is the ideal setting for a show about all things alabaster, be it painting, sculpture or silverwork. Appropriately, the 21 artists included were selected, in part, due to their reputations for making white objects.
Curator Shan McAnena explains that the colour white offers a good organising principle because, in addition to its seasonal association, 'it is no colour and all colours.' Conveniently, it's also the colour of sugar cubes, which are exactly what Brendan Jamison used to create his whimsical, Lego-like sculptures of a fireplace, chimney and turret. They're gorgeous - the perfect addition to any holiday table or mantelpiece. But at £2,000 for a fireplace entirely constructed of sugar, shouldn't potential collectors be a bit worried about the object's shelf life? 'Sugar is very enduring,' asserts McAnena. 'As long as you don't get it wet.'
White Christmas: A group show featuring White Works by Irish Artists is on view at The Naughton Gallery at Queen's University Belfast until December 20th, 2009.
Bree Hocking
HOCKING, BREE. "White Christmas: a sugar cube fireplace in the Naughton Gallery", Culture Northern Ireland online, Belfast , 1 December 2009
________________________________________________________________________________________________________________________________

HUTCHINSON, PAUL. "Short Film Profile: Brendan Jamison", Culture Northern Ireland online, Belfast, Summer 2007
© Brendan Jamison 2008-2012