Tuesday January 4, 2022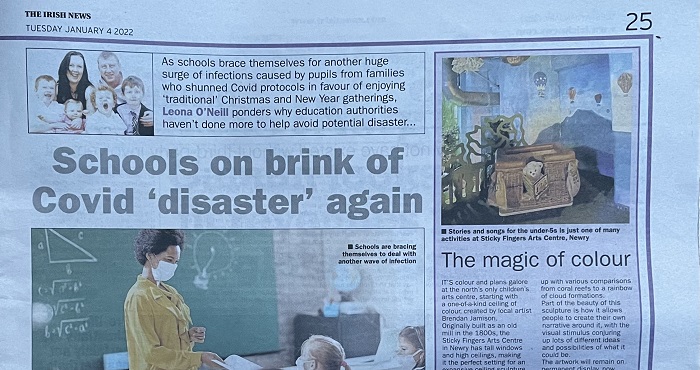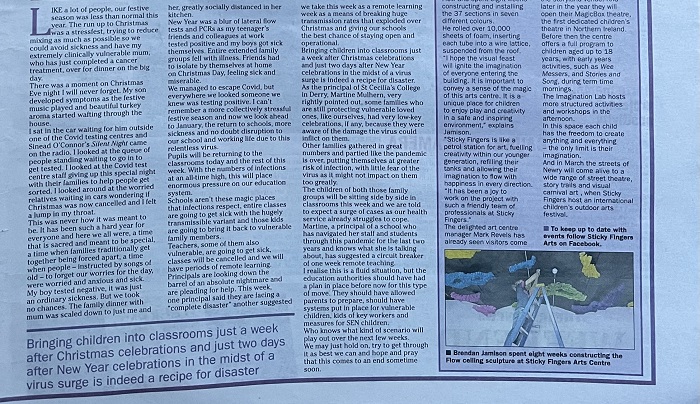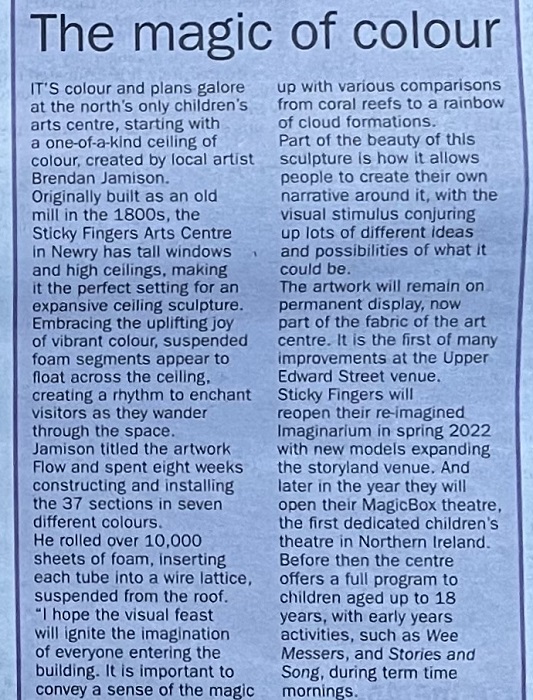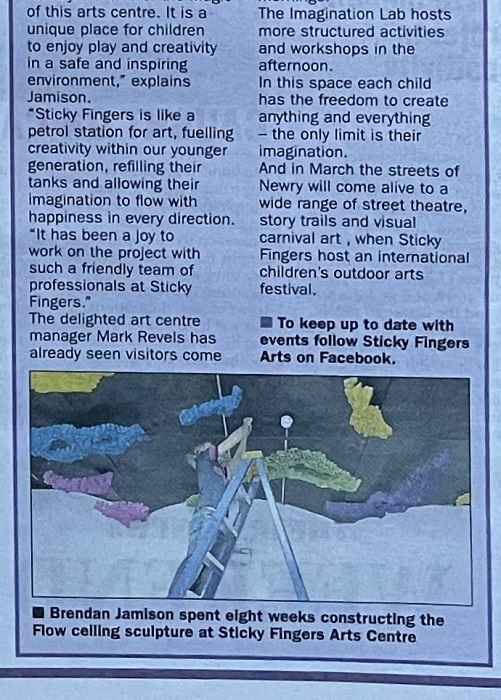 ________________________________________________________________

Saturday May 28, 2016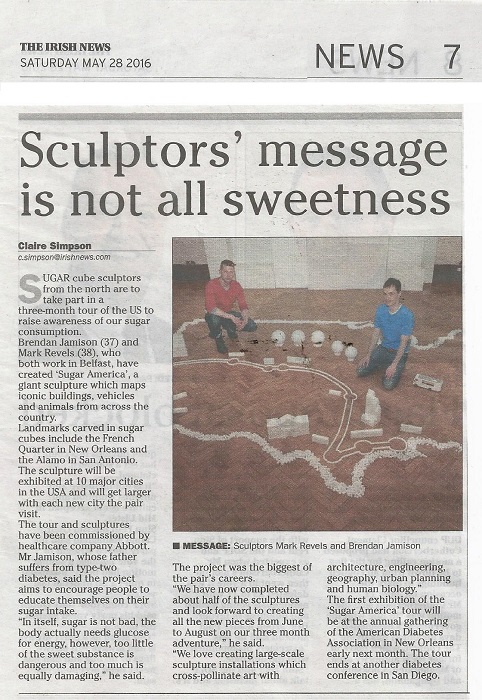 Online Edition:
Sugar cube sculptors to embark on three-month tour of the US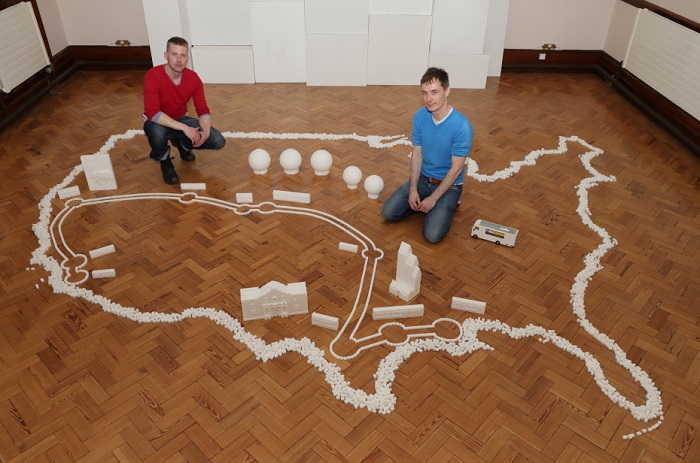 Sculptors Brendan Jamison (right) and Mark Revels (left) as they begin constructing their Sugar America project which tours 10 cities across the USA
By Claire Simpson
SUGAR cube sculptors from the north are to take part in a three-month tour of the US to raise awareness of our sugar consumption.
Brendan Jamison (37) and Mark Revels (38), who both work in Belfast, have created 'Sugar America', a giant sculpture which maps iconic buildings, vehicles and animals from across the country.Landmarks carved in sugar cubes include the French Quarter in New Orleans and the Alamo in San Antonio.
The sculpture will be exhibited at 10 major cities all across the USA and will get larger with each new city the pair visit.
The tour and sculptures have been commissioned by healthcare company Abbott. Mr Jamison, whose father suffers from type two diabetes, said the project aims to encourage people to educate themselves on their sugar intake.
"In itself, sugar is not bad, the body actually needs glucose for energy, however, too little of the sweet substance is dangerous and too much is equally damaging," he said.
Mr Revels said the project was the biggest of the pair's careers.
"We have now completed about half of the sculptures and look forward to creating all the new pieces from June to August on our three month adventure," he said.
"We love creating large-scale sculpture installations which cross-pollinate art with architecture, engineering, geography, urban planning and human biology."
The first exhibition of the 'Sugar America' tour will be at the annual gathering of the American Diabetes Association in New Orleans early next month.
The tour ends at another diabetes conference in San Diego.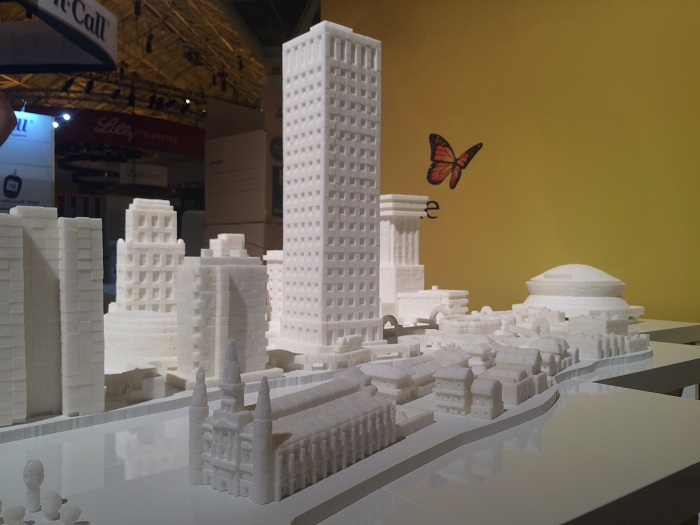 A sculpture of the French Quarter in New Orleans, carved from sugar cubes by Brendan Jamison and Mark Revels
SIMPSON, CLAIRE. "Sugar cube sculptors to embark on three-month tour of the US",
The Irish News, Belfast, Northern Ireland, Saturday May 28, 2016, p. 7
________________________________________________________________

Thursday 31 May 2012
'Shocking' new
art exhibition
By Anne Hailes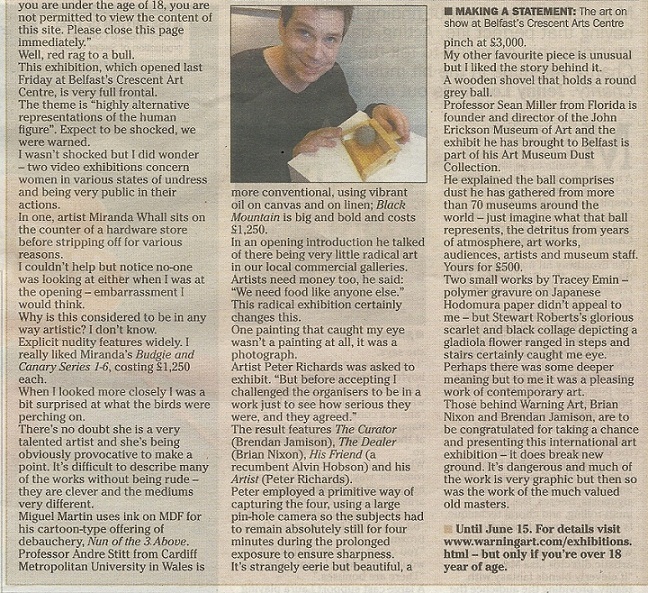 Page 36
________________________________________________________________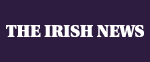 Thursday 16 February 2012
SWEET SUCCESS
By Anne Hailes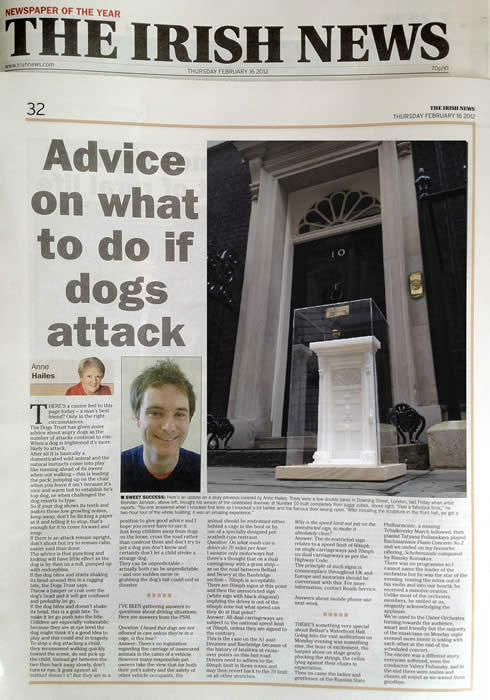 SWEET SUCCESS: Here's an update on a story previous covered by Anne Hailes. There were double takes in Downing Street, London, last Friday when artist Brendan Jamison, above left, brought his version of the celebrated doorway at Number 10 built completely from sugar cubes, above right. "Had a fabulous time," he reports. "No-one answered when I knocked first time so I knocked a lot harder and the famous door swung open. "After installing the sculpture in the front hall, we got a two-hour tour of the whole building; it was an amazing experience."
Page 32
________________________________________________________________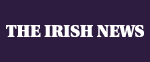 Thursday 19 January 2012
Sweet success for sugar lump artist
By Anne Hailes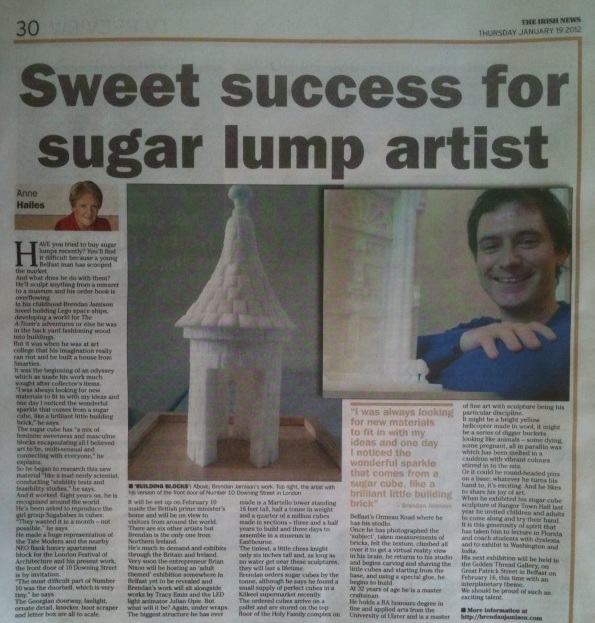 Page 30
_____________________________________________________________________________________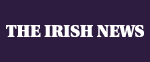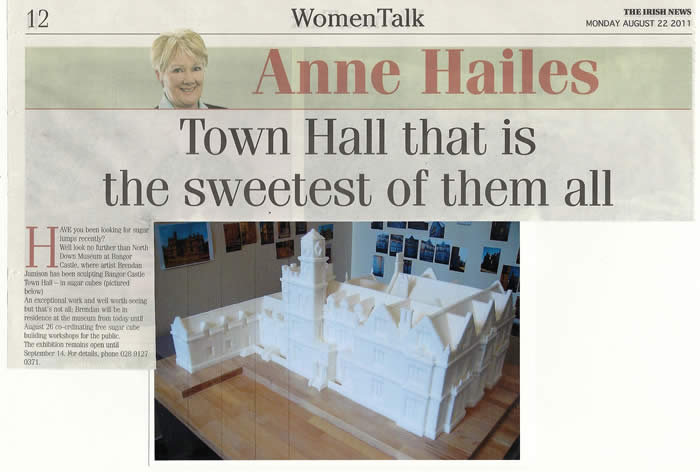 Page 12
___________________________________________________________________________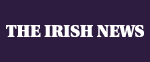 2 February 2008 Visual Art
SPINNING A NEW TYPE OF SCULPTURE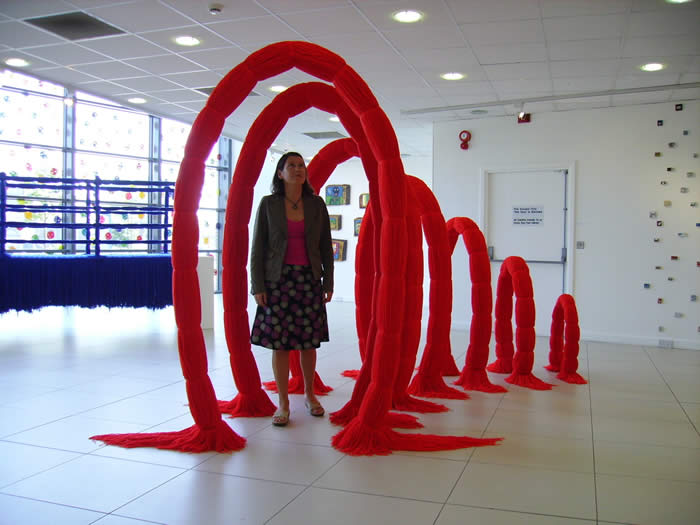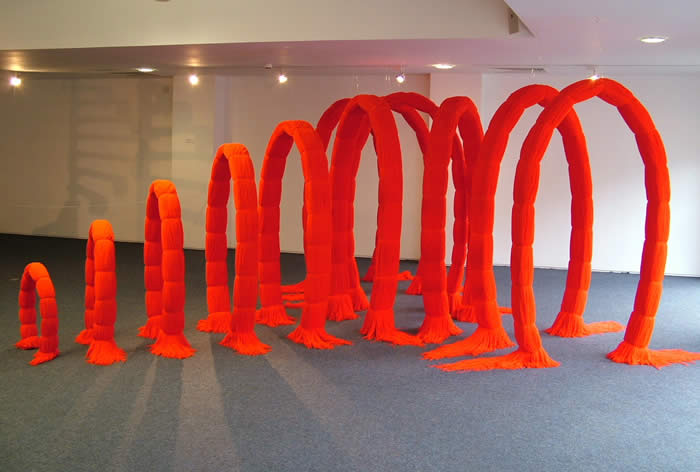 Red Tunnel (2008) Brendan Jamison, wool over wood, 12 components, installation at Millennium Court Arts Centre, Portadown.
Jenny Lee chats to Belfast artist Brendan Jamison about his latest colourful woolly creations ...

Demonstrating that wool can be used for so much more than knitting woollen jumpers, Belfast artist Brendan Jamison's latest exhibition explores the concept of space and freedom of choice, through the use of large-scale wool sculptures.

As an artist Brendan Jamison is constantly aware and engaging with the sensual and psychological effects of colour and texture on the viewer - using the unusual mediums of sugar, wax and wool. This technique breaks down many of the boundaries that can at times isolate and distance people from contemporary art.

This new body of work features three large-scale wool sculpture installations, employing primary colours.

A yellow spiral staircase connects the floor to the ceiling; a blue wool bridge raises up and stretches across the centre of the gallery; and a curving red wool tunnel invites the audience to venture through.

The fun and playful nature of Jamison's sculpture is often considered to awaken a child-like wonder in the audience, evoking a return to the more innocent, curious, magical and fantasy-driven mindset of childhood.

Proud of the fact he hasn't lost his childlike imagination, Jamison explains the process he used in making the large-scale sculptures. "I build the structures out of wood to begin with and then I cover them with hundreds and hundreds of strands of wool, which I measure out in my studio and then tie them on. The idea is to have them obviously standing in certain parts but then free and flowing like a waterfall onto the floor. And that idea of creating an energy or an aura around the object so you no longer see the actual object, it's more like this idea of a spirit or an energy field.''

The title theme of In-Between is explored through the use of space. "For the conception it's the idea of the mind and freedom where we are not lodged in one side or the other but we are in a little imaginary place where we have freedom to go either way. It's about the in-between state of the tunnel, a bridge and a spiral staircase and the idea of being able to choose which way you want to go,'' says Jamison who sources his wool from Tivoli Spinners in Cork.

This exhibition engages the senses, allowing the viewer to appreciate the work not only through sight, but through touch and smell. The show emphasises MCAC's commitment to bringing new and challenging work to audiences in the north of Ireland and is accompanied by a number of special events, including an alternative sculpture making course.

As part of their education and outreach programme, schools and community groups are invited to choose a specific area in their school or centre such as a tree, bench or indoor facility. Then based on Jamison's techniques take these everyday objects and turn them into vibrant works of art, using brightly coloured wool. Workshops will take place over the duration of the exhibition and for more information please contact MCAC Education Department.

And what advice does Jamison give to those taking part in these workshops? "Just try and be as free and creative as possible and respond to the environment you are in. Sometimes it's just about taking something quite quirky and unusual that may be overlooked just playing with ideas and making that more interesting.''

Based in Belfast's Flax Art Studios, the artist has a busy schedule ahead with another solo exhibition later this month at Queen Street Studios Gallery based on wax in JCB buckets. "I've to finish that project and I've a few more exhibitions planned and then I will look ahead to a sugar exhibition for a gallery over in Eastbourne in England in 2009,'' adds Jamison, who obtained an MA in Fine Art from the University of Ulster in 2004.

- In-Between New Work by Brendan Jamison runs at Portadown's Millennium Court Arts Centre from 7 February to 19 March. There is an artists talk on Thursday 7 February from 7-8pm.
LEE, JENNY. "Spinning a New Type of Sculpture", The Irish News, Belfast, 2 February 2008, p. 3
___________________________________________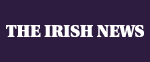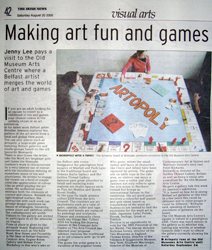 Visual Arts Saturday 20 August 2005
Making Art Fun and Games
Jenny Lee pays a visit to the Old Museum Arts Centre where a Belfast artist merges the world of art and games
If you are an adult looking for an excuse to revert to a childhood of fun and games, your chance comes in the unlikely venue of an art exhibition.
In his latest work, Belfast artist Brendan Jamison explores the politics of the art world from a local and global viewpoint. You can play pieces such as Artopoly, a large-scale game featuring Belfast galleries and studio groups based on the old favourite Monopoly.
There is also Guess the Artist, take The Word Art language quiz and Guess the Biennale.
Jamison's work is characterised by a very intense use of colour, with his installations imbuing an immediate sense of fun and playfulness. He strives to engage the viewer on a level of simple child-like appreciation of colour. Like an artist playing the art scene, the audiences must embrace both the elements of control and chance. Beneath the light-hearted surface, the interaction with each work can prompt deeper questions on issues of stratagem, hierarchy, power plays and ambition within the contemporary art world. Visitors to the gallery are invited to participate in all the artworks on display.
Pride of place is given to the Artopoly board. Replacing old favourites such as Old Kent Road, Bow Street and Piccadilly is the likes of Belfast Exposed, Catalyst Arts, Engine Room Gallery and Belfast Print Workshop in his who's who of the Belfast arts scene. Designated the prestigious blue squares of Mayfair and Park Lane in the traditional board are Ormeau Baths Gallery and the Golden Thread Gallery. Jamison pays great attention to detail and replacing train stations are studio spaces such as Flax Art Studios and Queen Street Studios.
As the pass Go mark, players collect £200 from the Arts Council. The counters are art implements such as a tube of paint, spatula, roller and tape. Houses and hotels are replaced by paintings and sculptures. Chance and community chest cards say things like: Collect £325 for leading life drawing classes at the Crescent Arts Centre or The Arts Council has rejected your proposal. Jamison replaces the traditional go to jail scenario with 'go to art college'.
The guess the artist game is a variation of the popular Guess Who game, where the usual names and faces of characters like Claire and Alfred have been replaced by artists. The game sits on table tops in the café area, so visitors can enjoy a game over a coffee and chat.
LEE, JENNY. "Making Art Fun and Games", The Irish News, Belfast, 20 August 2005, p.42
____________________________________________________________