| | | |
| --- | --- | --- |
| | | |
METAL SCULPTURES
ARTOPOLY

In 2005, Jamison developed a series of works focusing on the game-play involved in navigating the art scene, both locally and globally. The five works from this project encourage the audience to engage directly with the exhibits and employ their own strategies to advance in the fantasy art world!

Presented as a solo exhibition at the Old Museum Arts Centre (Belfast) 'ARTOPOLY', the central work in the exhibition, exchanges the London street names of Monopoly with Belfast art galleries and studio groups and places them within a hierarchy.

This large-scale piece encourages audience participation, navigating bronze art instruments around the board, purchasing paintings and sculptures to inhabit the galleries, receiving a £200 award from the Arts Council every time 'GO' is passed, and avoiding drawing a chance card that could send the player directly to the Art College (the equivalent of jail!). Like an artist, the participant must adopt a plan to achieve success, while simultaneously embracing both the elements of control and chance.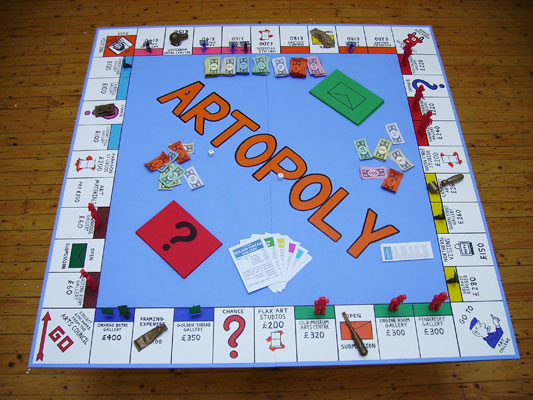 ARTOPOLY (2005) Brendan Jamison, painted wood, printed card, 2 giant dice, 6 bronze tokens [paint tube, chisel, roller, 8mm video tape, toppled slides and light bulb] 70 x 180 x 180 cms, Installation at Old Museum Arts Centre, Belfast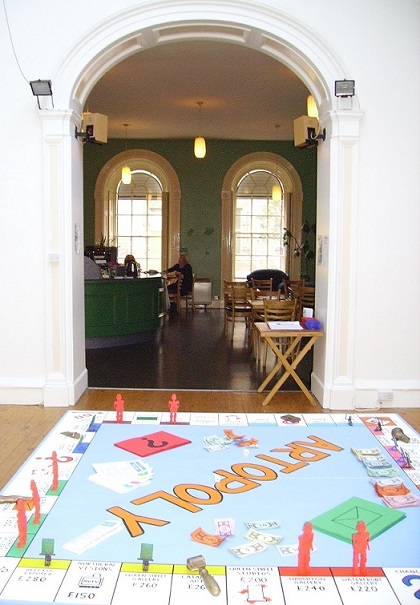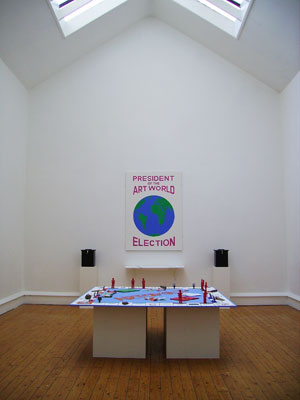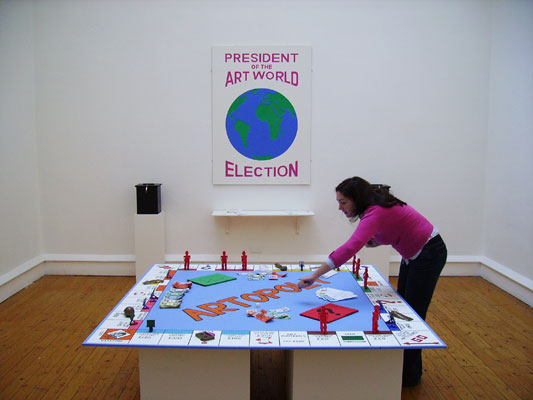 ARTOPOLY (2005) Brendan Jamison, painted wood, printed card, 2 giant dice, 6 bronze tokens [paint tube, chisel, roller, 8mm video tape, toppled slides and light bulb] 70 x 180 x 180 cms, Installation at Old Museum Arts Centre, Belfast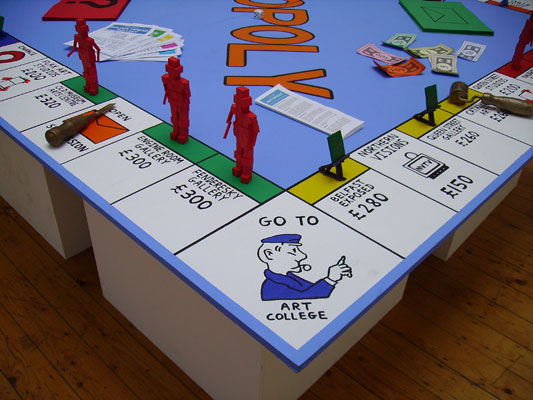 Detail of ARTOPOLY (2005) Brendan Jamison, painted wood, printed card, 2 giant dice, 6 bronze tokens [paint tube, chisel, roller, 8mm video tape, toppled slides and light bulb] 70 x 180 x 180 cms, Installation at Old Museum Arts Centre, Belfast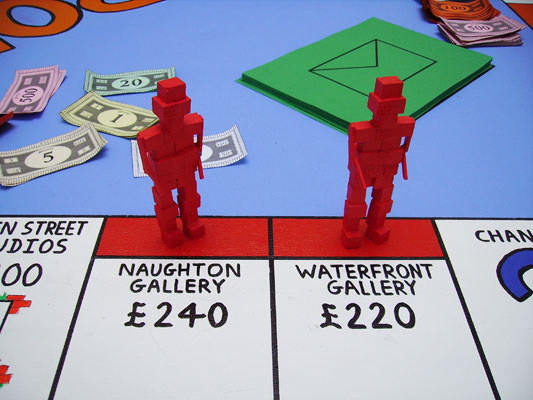 Detail of ARTOPOLY (2005) Brendan Jamison, painted wood, printed card, 2 giant dice, 6 bronze tokens [paint tube, chisel, roller, 8mm video tape, toppled slides and light bulb] 70 x 180 x 180 cms, Installation at Old Museum Arts Centre, Belfast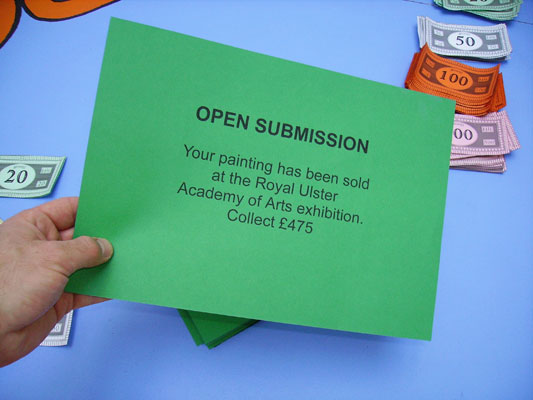 Detail of ARTOPOLY (2005) Brendan Jamison, painted wood, printed card, 2 giant dice, 6 bronze tokens [paint tube, chisel, roller, 8mm video tape, toppled slides and light bulb] 70 x 180 x 180 cms, Installation at Old Museum Arts Centre, Belfast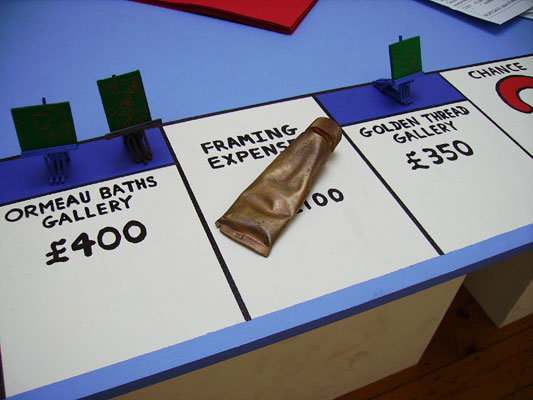 Detail of ARTOPOLY (2005) Brendan Jamison, painted wood, printed card, 2 giant dice, 6 bronze tokens [paint tube, chisel, roller, 8mm video tape, toppled slides and lightbulb] 70 x 180 x 180 cms, Installation at Old Museum Arts Centre, Belfast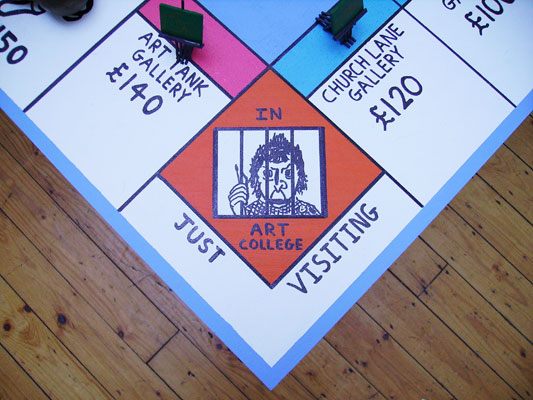 Detail of ARTOPOLY (2005) Brendan Jamison, painted wood, printed card, 2 giant dice, 6 bronze tokens [paint tube, chisel, roller, 8mm video tape, toppled slides and lightbulb] 70 x 180 x 180 cms, Installation at Old Museum Arts Centre, Belfast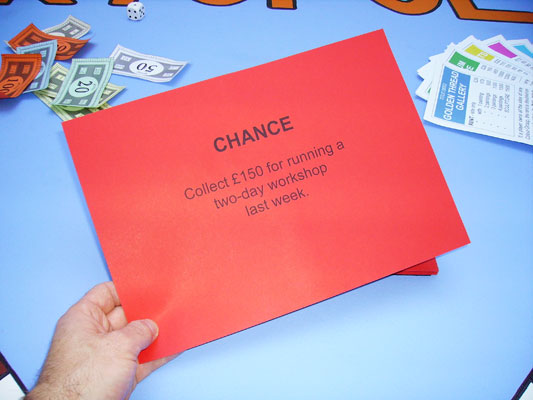 Detail of ARTOPOLY (2005) Brendan Jamison, painted wood, printed card, 2 giant dice, 6 bronze tokens [paint tube, chisel, roller, 8mm video tape, toppled slides and light bulb] 70 x 180 x 180 cms, Installation at Old Museum Arts Centre, Belfast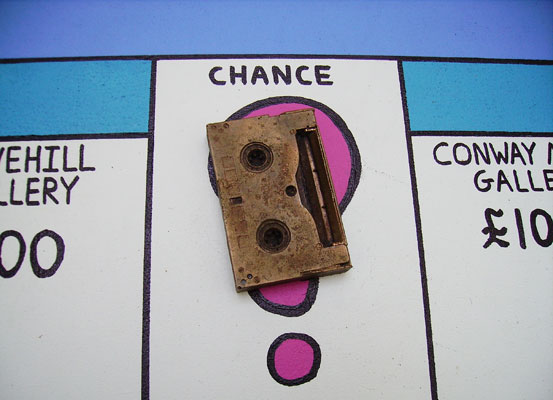 Detail of ARTOPOLY (2005) Brendan Jamison, painted wood, printed card, 2 giant dice, 6 bronze tokens [paint tube, chisel, roller, 8mm video tape, toppled slides and light bulb] 70 x 180 x 180 cms, Installation at Old Museum Arts Centre, Belfast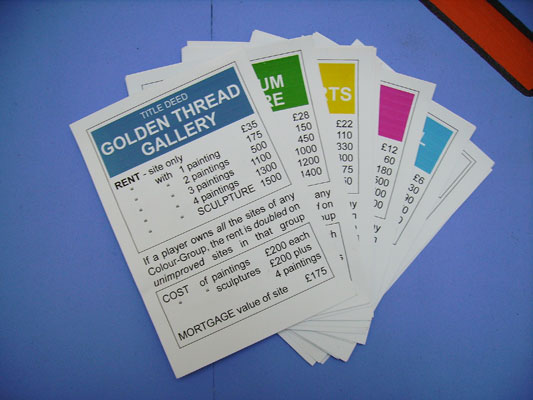 Detal of ARTOPOLY (2005) Brendan Jamison, painted wood, printed card, 2 giant dice, 6 bronze tokens [paint tube, chisel, roller, 8mm video tape, toppled slides and light bulb] 70 x 180 x 180 cms, Installation at Old Museum Arts Centre, Belfast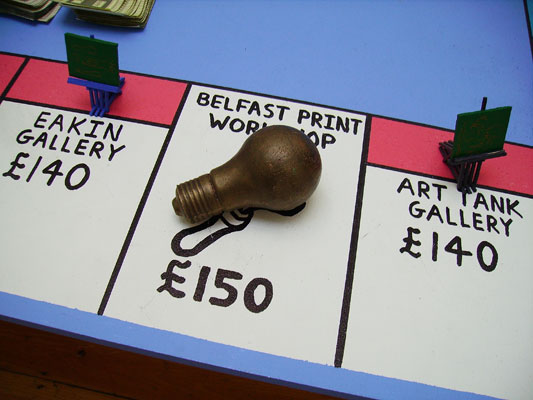 Detail of ARTOPOLY (2005) Brendan Jamison, painted wood, printed card, 2 giant dice, 6 bronze tokens [paint tube, chisel, roller, 8mm video tape, toppled slides and light bulb] 70 x 180 x 180 cms, Installation at Old Museum Arts Centre, Belfast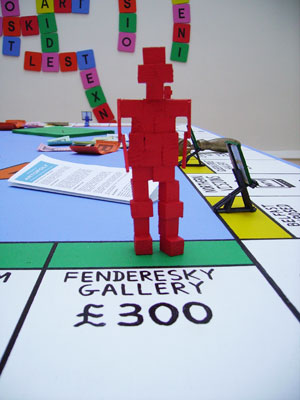 Detail of ARTOPOLY (2005) Brendan Jamison, painted wood, printed card, 2 giant dice, 6 bronze tokens [paint tube, chisel, roller, 8mm video tape, toppled slides and light bulb] 70 x 180 x 180 cms, Installation at Old Museum Arts Centre, Belfast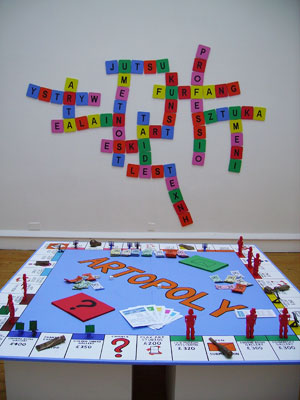 Detail of ARTOPOLY (2005) Brendan Jamison, painted wood, printed card, 2 giant dice, 6 bronze tokens [paint tube, chisel, roller, 8mm video tape, toppled slides and light bulb] 70 x 180 x 180 cms, Installation at Old Museum Arts Centre, Belfast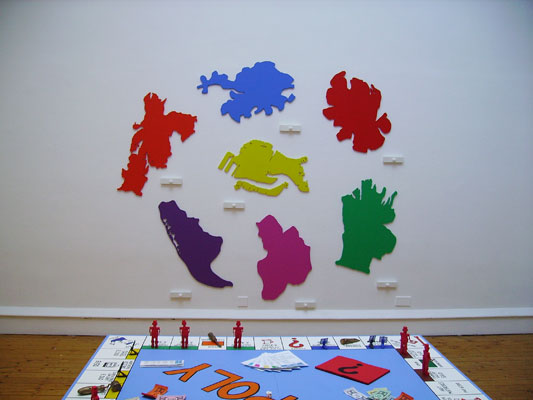 GUESS THE BIENNALE (2005) Brendan Jamison, wall installation with 14 components, painted wood, 180 x 200 x 4 cms. Installation at Old Museum Arts Centre, Belfast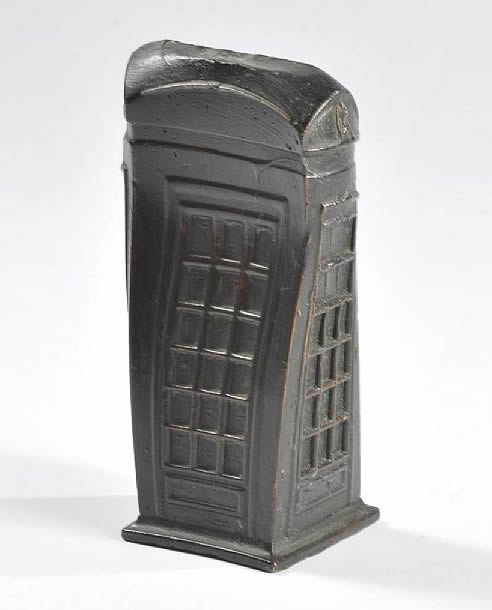 SQUEEZED TELEPHONE BOX (2005) Brendan Jamison
Bronze, 15.5 x 6.5 x 5 cms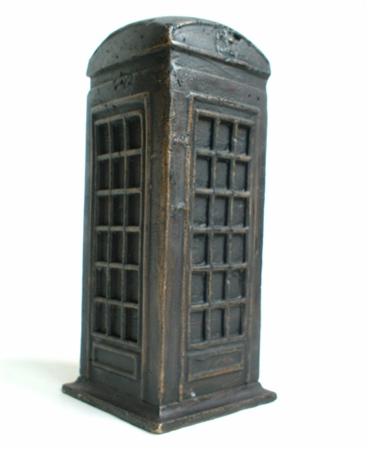 STRAIGHT TELEPHONE BOX (2005) Brendan Jamison,
Bronze, 15 x 5.5 x 5.5 cms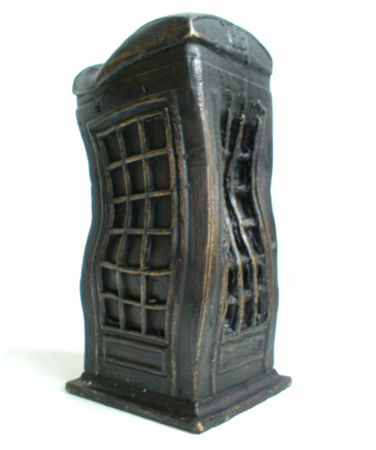 SQUASHED TELEPHONE BOX (2005) Brendan Jamison
Bronze, 14 x 5.5 x 5.5 cms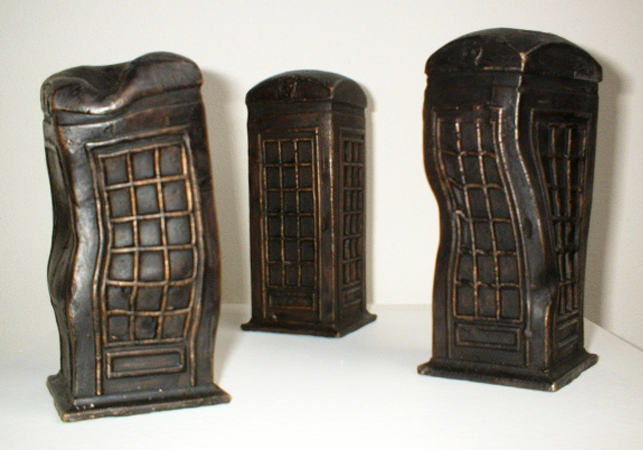 Left to right:
SQUASHED TELEPHONE BOX (2005) Brendan Jamison. Bronze, 14 x 5.5 x 5.5 cms
STRAIGHT TELEPHONE BOX (2005) Brendan Jamison. Bronze, 15 x 5.5 x 5.5 cms
TWISTED TELEPHONE BOX (2005) Brendan Jamison. Bronze, 15 x 6 x 5.5 cms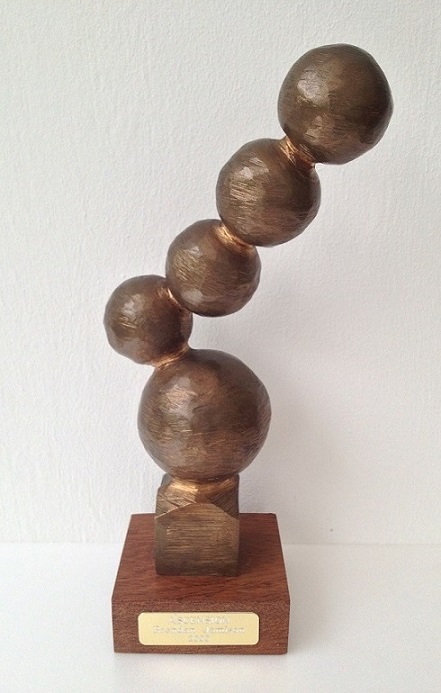 ASCENSION (2000) Brendan Jamison,
Polished bronze (unique - 1/1)
21 x 11 x 6 cms
Engraving on mahogany base reads:
ASCENSION
Brendan Jamison
2000

All images © Brendan Jamison 2000-2021. Jamison Sculpture Studio, Belfast, Northern Ireland