COMMUNITY TELEGRAPH
South Belfast Edition, Thursday 15 December 2011, page 10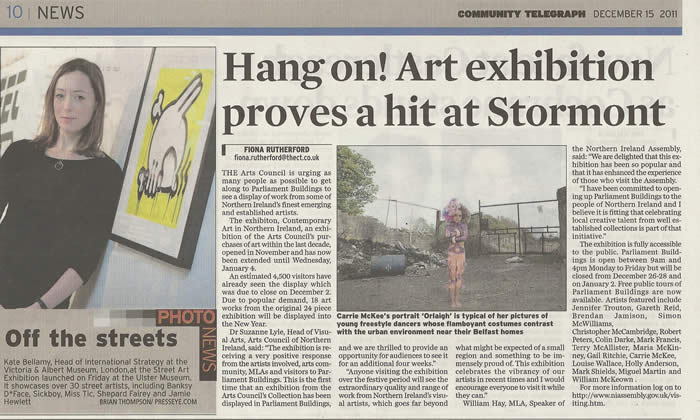 Hang on! Art exhibition proves a hit at Stormont
by Fiona Rutherford

The Arts Council is urging as many people as possible to get along to Parliament Buildings to see a
display of work from some of Northern Ireland's finest emerging and established artists.
The exhibiton, Contemporary Art in Northern Ireland, an exhibition of the Arts Council's purchases of art
within the last decade, opened in November and has now been extended until Wednesday, January 4.
An estimated 4,500 visitors have already seen the display which was due to close on December 2.
Due to popular demand, 18 art works from the original 24 piece exhibition will be displayed into the New Year.
Dr Suzanne Lyle, Head of Visual Arts, Arts Council of Northern Ireland, said: "The exhibition is receiving a
very positive response from the artists involved, arts community, MLAs and visitors to Parliament Buildings.
This is the first time that an exhibition from the Arts Council's Collection has been displayed in Parliament
Buildings, and we are thrilled to provide an opportunity for audiences to see it for an additional four weeks."
"Anyone visiting the exhibition over the festive period will see the extraordinary quality and range of work from
Northern Ireland's visual artists, which goes far beyond what might be expected of a small region and
something to be immensely proud of. This exhibition celebrates the vibrancy of our artists in recent times and
I would encourage everyone to visit it while they can."
William Hay, MLA, Speaker of the Northern Ireland Assembly, said: "We are delighted that this exhibition has
been so popular and that it has enhanced the experience of those who visit the Assembly.
"I have been committed to opening up Parliament Buildings to the people of Northern Ireland and I believe
it is fitting that celebrating local creative talent from well established collections is part of that initiative."
The exhibition is fully accessible to the public. Parliament Buildings is open between 9am and 4pm Monday
to Friday but will be closed from December 26-28 and on January 2. Free public tours of Parliament Buildings
are now available. Artists featured include Jennifer Trouton, Gareth Reid, Brendan Jamison, Simon McWilliams,
Christopher McCambridge, Robert Peters, Colin Darke, Mark Francis, Terry McAllister, Maria McKinney,
Gail Ritchie, Carrie McKee, Louise Wallace, Holly Anderson, Mark Shields, Miguel Martin and William McKeown.
For more information log on to http://www.niassembly.gov.uk/visiting.htm
RUTHERFORD, FIONA. "Hang-on! Art exhibition proves a hit at Stormont", Community Telegraph
(South Belfast edition) Northern Ireland, Thursday 15 December 2011, p 10
_________________________________________________________
COMMUNITY TELEGRAPH
South Belfast Edition, Thursday 3 November 2011, page 8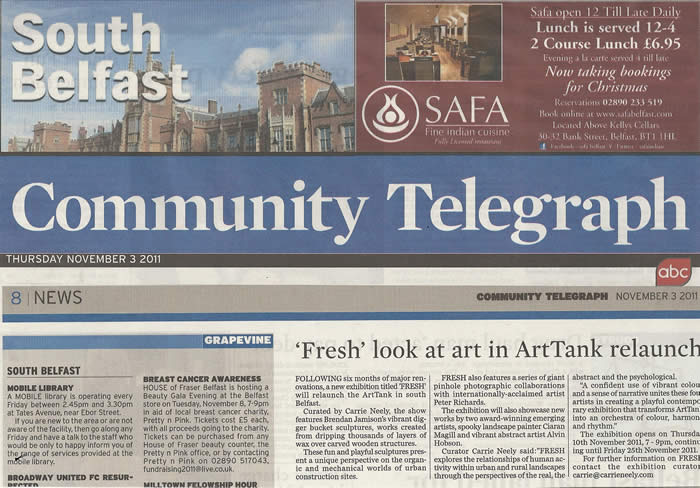 'Fresh' look at ArtTank relaunch
By Bob Malcolm
MALCOLM, BOB. "News: Fresh look at ArtTank relaunch" Community Telegraph
(South Belfast Edition) Belfast, Thursday 3 November 2011, p 6
__________________________________________________________
COMMUNITY TELEGRAPH
North Down and Ards Edition, 14 September 2011, page 6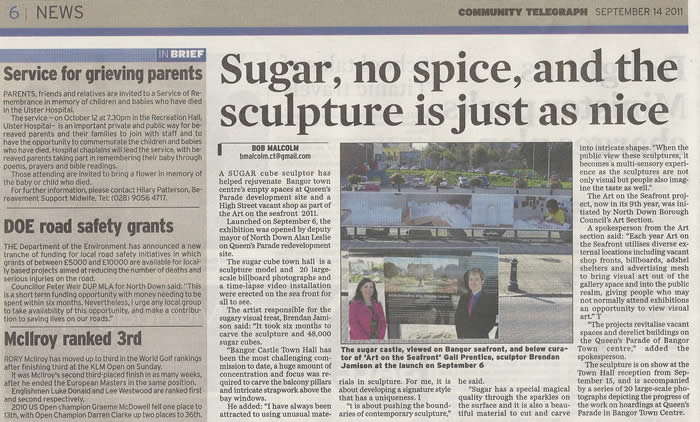 SUGAR, NO SPICE, AND THE SCULPTURE IS JUST AS NICE
By Bob Malcolm
A SUGAR cube sculptor has helped rejuvenate Bangor town centre's empty spaces at Queen's
Parade development site and a High Street vacant shop as part of the Art on the Seafront 2011.
Launched on September 6, the exhibition was opened by deputy mayor of North Down Alan
Leslie on Queen's Parade redevelopment site.
The sugar cube town hall is a sculpture model and 20 large-scale billboard photographs
and a time-lapse video installation were erected on the seafront for all to see.
The artist responsible for the sugary visual treat, Brendan Jamison said: "It took six months
to carve the sculpture and 48,000 sugar cubes.
"Bangor Castle Town Hall has been the most challenging commission to date, a huge
amount of concentration and focus was required to carve the balcony pillars and intricate
strap-work above the bay windows.
He added: "I have always been attracted to using unusual materials in sculpture. For me,
it is about developing a signature style that has a uniqueness. "It is about pushing the
boundaries of contemporary sculpture," he said.
"Sugar has a special magical quality through the sparkles on the surface and it is also
a beautiful material to cut and carve into intricate shapes. "When the public view these
sculptures, it becomes a multi-sensory experience as the sculptures are not only visual
but people also imagine the taste as well."
The Art on the Seafront project, now in its 9th year, was initiated by North Down Borough
Council's Arts Section.
A spokesperson from the Art section said: "Each year Art on the Seafront utilises diverse
external locations including vacant shop fronts, billboards, adshel shelters and advertising
mesh to bring visual art out of the gallery space and into the public realm, giving people
who may not normally attend exhibitions an opportunity to view visual art."
The projects revitalise vacant spaces and derelict buildings on the Queen's Parade
of Bangor Town centre," added the spokesperson.
The sculpture is on show at the Town Hall reception from September 15, and is
accompanied by a series of 20 large-scale photographs depicting the progress of
the work on hoardings at Queen's Parade in Bangor Town Centre.
MALCOLM, BOB. "News: Sugar, No Spice" Community Telegraph
(North Down & Ards edtion) Belfast, Wednesday 14 September 2011, p 6
_________________________________________________________