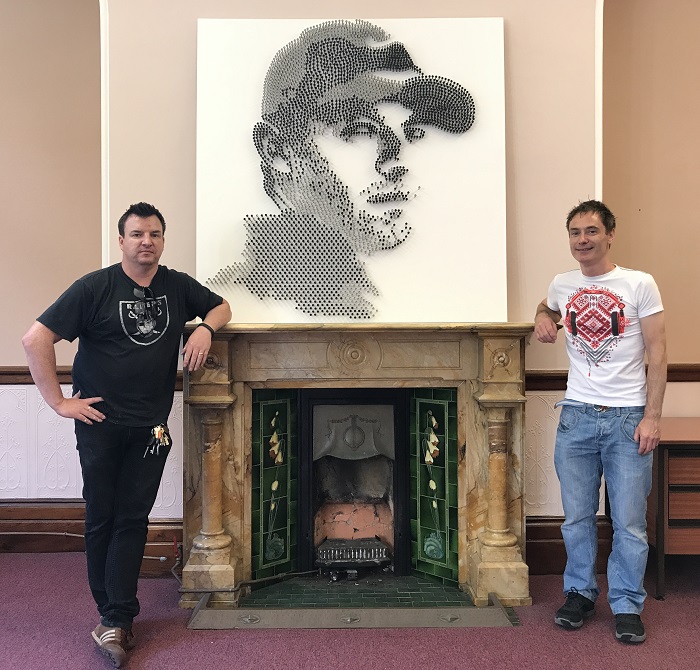 RORY McILROY (2017) Brendan Jamison [right], 3145 wooden golf tees, 150 x 150 cm. Created with Chief Fabricator David Turner [left]. Concept and commission by Mammoth on behalf of the Rory Foundation. Photography © Jamison Sculpture Studio
RORY TAKES 3145 GOLF TEES TO SWING GIANT PORTRAIT
The Rory Foundation commissioned world-renowned local artist Brendan Jamison to create a golf tee portrait of Rory McIlroy as a charity initiative.
The artwork was created by Brendan Jamison and his studio fabricator David Turner over a period of 6 weeks during the summer of 2017. It began as a digital dot portrait which was then transformed into a golf tee artwork by drilling 3145 holes into a wooden board. Jamison and Turner used 2196 black and 959 grey golf tees. The unique portrait will be auctioned in New York in 2018, with all proceeds to charity.
The golf tee head made its debut at the Irish Open in Portstewart which ran from Tuesday 4 to Sunday 9 July 2017. Hosted by the Rory Foundation, the artwork was the centrepiece of the Hospitality Suite at Portstewart Golf Club.
Jamison states that he "shares the Foundation's passion for raising much needed funds to support the health, development and wellbeing of children. They are the future. Every child deserves a positive environment of encouragement and enthusiasm to help them reach their full potential".
The Rory Foundation is a non-profit charitable trust with the ambition to have a positive impact on the lives of children and their families. Their goal is to release funds that seek to advance opportunity and lasting change for children who are suffering from ill health or who are unfairly disadvantaged or vulnerable to life's circumstances. The Foundation's underlying values are ambition, passion and drive.
For further information please visit roryfoundation.com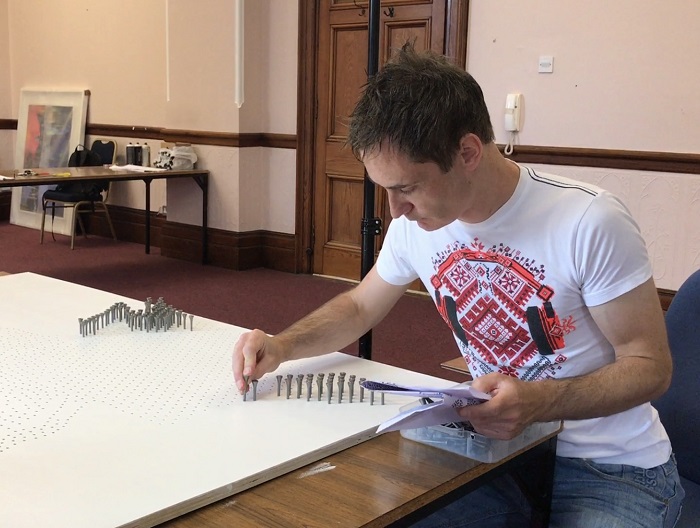 In the studio, Brendan Jamison begins the first section of golf tees which forms Rory's shoulder. Concept and commission by Mammoth on behalf of the Rory Foundation. Photography © Jamison Sculpture Studio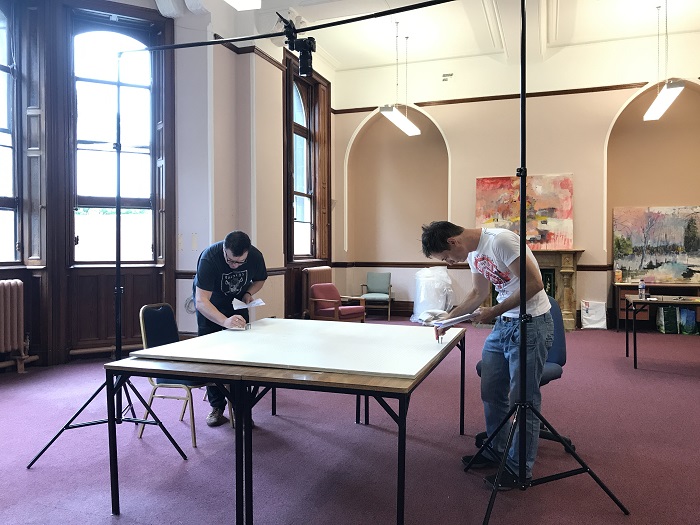 In the studio, David Turner (left) and Brendan Jamison (right) begin inserting the golf tees to form Rory's image. Concept and commission by Mammoth on behalf of the Rory Foundation. Photography © Jamison Sculpture Studio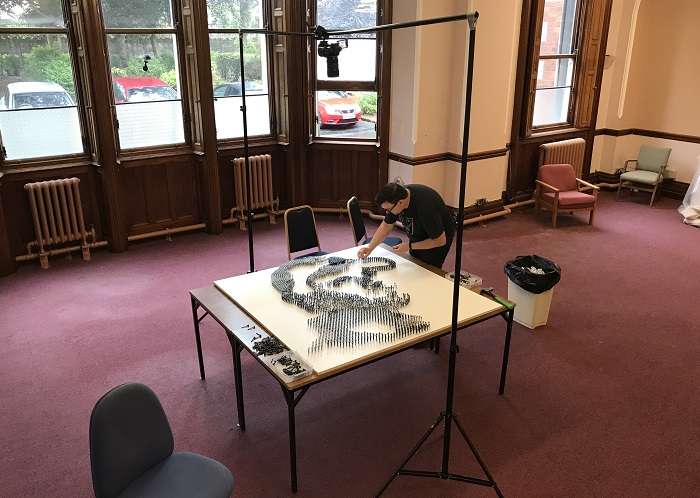 In the studio, David Turner inserts black golf tees to form Rory's golf cap. Concept and commission by Mammoth on behalf of the Rory Foundation. Photography © Jamison Sculpture Studio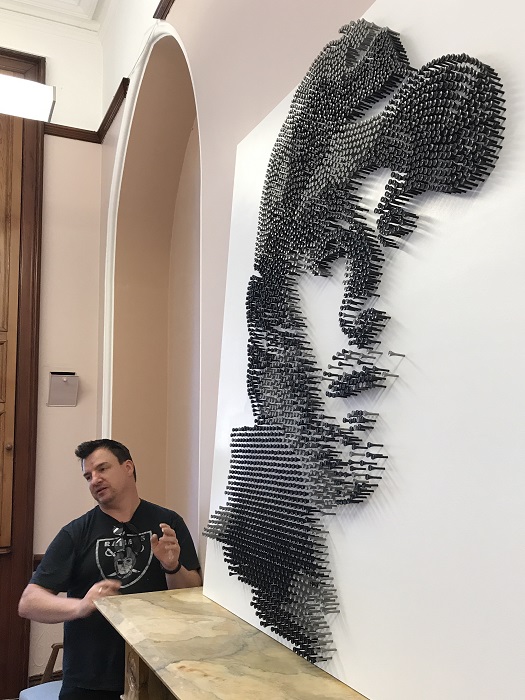 In the studio, David Turner inserts black golf tees to form Rory's golf cap. Concept and commission by Mammoth on behalf of the Rory Foundation. Photography © Jamison Sculpture Studio