CIRCA
Summer 2008

Review by Slavka Sverakova

Millennium Court Arts Centre, Portadown February-March 2008
Queen Street Studios Gallery, Belfast February-March 2008

Brendan Jamison IN-BETWEEN: New work and JCB BUCKET SERIES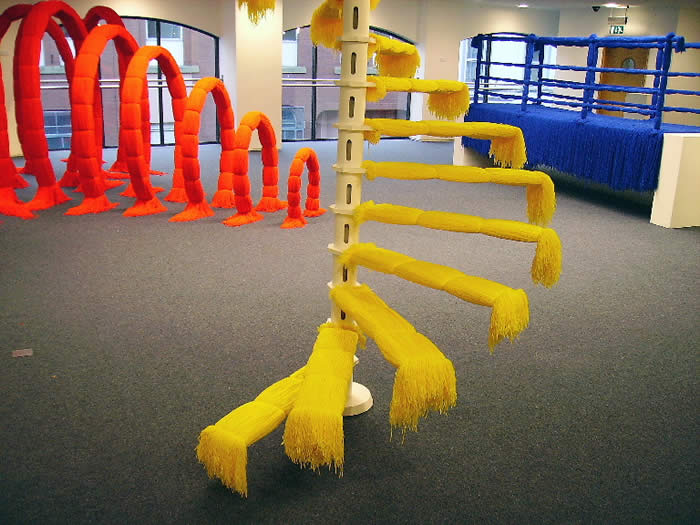 IN-BETWEEN (2008) Brendan Jamison, wool over wood, installation at Millennium Court Arts Centre, Portadown,
RED TUNNEL, YELLOW SPIRAL STAIRCASE and BLUE BRIDGE.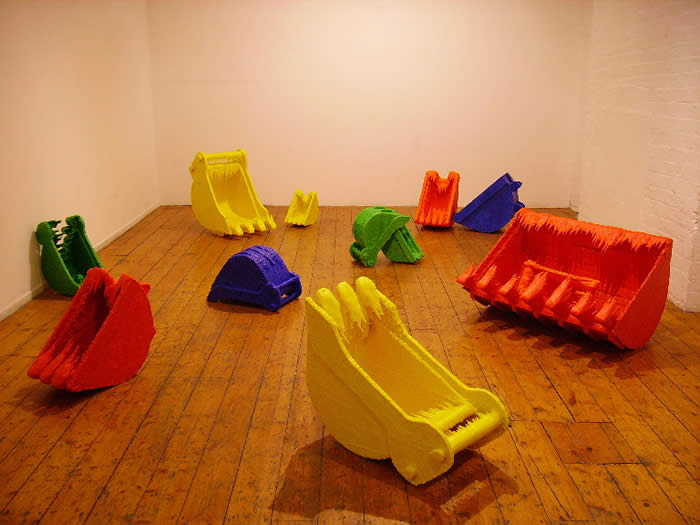 Detail installation view of JCB BUCKET SERIES (2008) Brendan Jamison, microcrystalline and paraffin wax over wood, 15 sculptures,
dimensions ranging from 30 x 20 x 25 cms to 76 x 70 x 58 cms, Queen Street Studios Gallery, Belfast, Northern Ireland
Both concurrent exhibitions address the inertia of thinking and the stifling effect of majority-led culture and custom on liberty. [1] Brendan Jamison [2] has preferred the liberating qualities of non-traditional materials, including sugar cubes, wax and wool, gluing, cutting and pouring them into highly finished objects ever since his early work. [3]
The new works share a valiant loyalty to primary colours and the desire to dislodge familiar function by segueing into play. Built specifically for the MCAC gallery, Yellow Spiral Staircase (2008) soars upwards, touching the sloped ceiling, as if documenting Kandinsky's description of the physical effect of yellow as "shrill" and "high treble notes." [4] Its wooden skeleton, partly transformed from hard wood to soft assembly of exactly measured lengths of wool, is decidedly an object to observe and touch and not one to climb. The ensuing relationship between the word, ie 'staircase', and the visible denial of reaching another space, allows reality to become continuous with imagination.
The relationship between reality and mental acts has been long understood as constituent of 'intentionality'. This has been variously defined as "immanent objectivity" (Franz Bretano, 1838-1917), as "consciousness" (Jean-Paul Sartre, 1905-1980) and as a sentient condition where an individual's existentiality identifies with ontological significance as opposed to what is merely ontic [5] (Martin Heidegger, 1889-1976). Sentience is ability to make conscious choices including not doing, not talking, etc. [6] Jamison's yellow sculpture engages us in the move from physical stance and design stance (mass, volume, verticality of the staircase) to the intentional stance [7] that activates beliefs, thinking, and crucially, the imagination. This process is intensified by scale, colour, material and position in space. The Apollonian faith in the necessity of order is embodied in the thirty-three-piece assembly that withstands the pull of gravity.
As a sculpture it depends on ambivalence for a quality of antithetical referents. It approximates the form of which it speaks but, as Hegel put it, it remains essentially a question. The wool acts like cracks in the bark of the wood it covers, without unveiling its existence and history. The substitution of past by presence (ie the actual observer's look, gaze, perception) and by future (ie the observer's imagined purpose or function) could act as a wake-up call to a public obsessed with the past. Thus, the work enters the public domain as a question about the future.

The above is true for the horizontal Blue Bridge (2006) [8] more so than for the last of the three objects, Red Tunnel (2007), [9] made of red loops that remind me of a pergola. Kandinsky [10] thinks of blue as invitation to touch, to stroke an object and receive relief, in this case "a pure inner resonance" with an illusive safe crossing. Suspension of reason allows the Dionysian principle of spontaneous impulse briefly to engulf the experience, it being the flux between concept and material, between construct and appearance, between the word and the removal of familiar function.
At Queen Street Studios Gallery, the JCB Bucket Series (2008) consisted of a gallery-floor display of fifteen different industrial models made from wood, covered with microcrystalline and paraffin wax in one of the primary or secondary colours.
Familiar function was preserved in form but denied by material. The colour chimed with Kandinsky's "colour is the keyboard, the eyes are the hammer and the soul is the piano." [11] The installation became a jolly assembly of personages [12] dancing, jumping, biting, chatting, lying on the back, being pregnant, etc. Kandinsky [13] pointed to the power of children to clothe internal content into strong form. In reversal, Jamison took a strong form and clothed it in imagined animation. I cite Kandinsky because he faced squarely both the ontic presupposition of a work art and what Rubens called the "inner idea." [14] At present ontology and epistemology are no longer kept apart due to innovations in quantum physics. In philosophy, Daniel Dennett worked out that the intentional stance is a level of abstraction in which we view the behaviour of a thing in terms of mental properties. A number of beliefs, thoughts and intents may be a theorist's fiction, but operationally they are valid, throwing light on how art evokes a contingent truth that appears as a necessary one.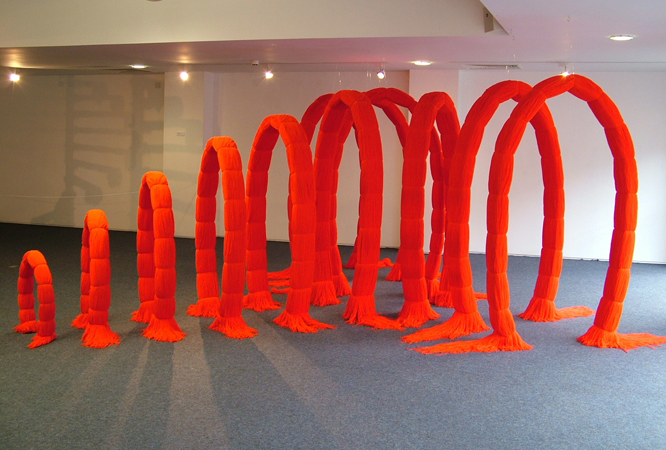 RED TUNNEL (2008) Brendan Jamison, wool over wood, 12 components, 212 x 500 x 600 cms, installation at
Millennium Court Arts Centre, Portadown.
[1] Inspired by J S Mill's (1806-1873) defence of liberty
[2] See www.brendanjamison.com
[3] Born in 1979, he completed an MFA in 2004.
[4] Wassily Kandinsky, 'The effect of colour', 1911 in H Chipp, Theories of Modern Art, 1968, pp 153ff
[5] 'Ontic' is the physical, factual existence; philosophy traditionally distinguishes between ontology and epistemology.
[6] Eg, when I hear a tone, I cannot be sure that there is a tone for others to hear, but I am certain that I hear it. It is an awareness of possible truth, not truth. 'Sentire' in Latin means to feel; sentience is well established in Buddhism: the first vow in Bodhisattva reads: "Sentient beings are numberless, I vow to free them."
[7] The three terms were coined by Daniel Dennet, The Intentional Stance, 1987
[8] Blue Bridge was create in 2006 and exhibited at Draiocht Arts Centre, Blanchardstown. Red Bridge (2006) was made during a residency in October 2006 and exhibited at KHOJ, New Delhi.
[9] Red Tunnel (2006), exhibited at Draiocht Arts Centre, consisted of seven components; its bigger version made from sixteen 'loops' was made specifically for MCAC in 2008.
[10] Kandinsky, op cit, pp 154
[11] Kandinsky, op cit, pp 154-5
[12] David Smith called his steel sculptures painted with oil paint "personages" in the early 1960s
[13] Wassily Kandinsky, 'On the problem of form', 1912, in H Chipp, Theories of Modern Art, 1968, p 166
[14] Peter Paul Rubens (1577-1640), 'De imitatione statuarum'; English translation in R Friedenthal (ed), Letters of great artists, 1963, p 162
SVERAKOVA, SLAVKA. 'Brendan Jamison: In-Between & JCB Bucket Series' - CIRCA 124, Dublin, Summer 2008, pp. 85-87

__________________________________________________________________________________


Online Review: June 2008 Review by Declan McGonagle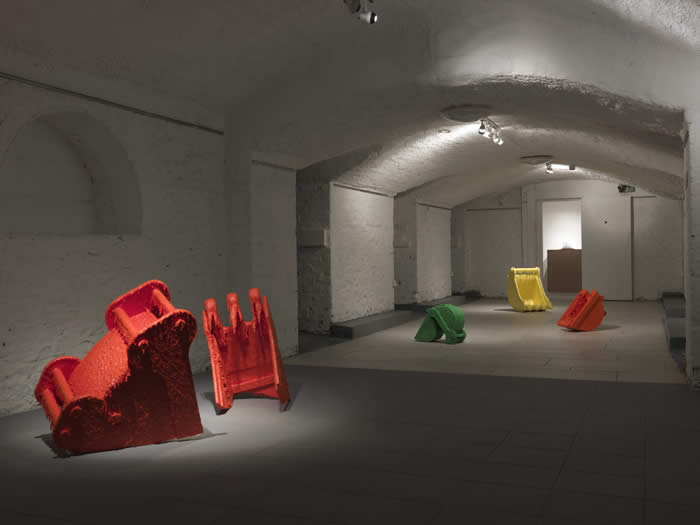 Installation view of JCB BUCKET SERIES (2008) Brendan Jamison, microcrystalline and paraffin wax over wood, 6 sculptures,
Basement Gallery, Dundalk, Ireland. Curated by Fiona Mulholland for the exhibition The Space In Between, May 2008
Basement Gallery, Dundalk, May 2008
THE SPACE IN BETWEEN
Curated by Fiona Mulholland

The apparently toytown images of Brendan Jamison, where JCB buckets, of various sizes and types, which are synonymous with the building industry and urban change, are coated in brightly coloured, dripping wax, are, at once, a reference to a past childhood and innocence and also a depiction of nature reclaiming a man-made artefact or tool. While recognisable as man-made, the coated buckets are on the verge of looking natural, as if perceived now, at a point frozen in their transformation – 'in between'. The individual pieces here act as catalysts for an enlarged reading beyond their strong aesthetic presence.
The Space in Between, therefore, is a synopsis, an 'object' lesson in contemporary sculptural concerns and practice that would stand wherever it were shown. The exhibition erases inherited categorisations across which the artists mark out their cross referencing propositions about negotiable process and space. Working from within their own practice and understandings of art and historical contexts, each artist has managed to speak in their own voice but also dialogue with other voices in the show. This is, of course, a measure of the curation and the capacity of the gallery context to test the art. In this period this process has to be an essential characteristic of publicly funded gallery/institutional provision, as we try to create new models of practice and reciprocal relations between artist and society. We have all eaten from the tree of knowledge and cannot go back to 'Eden' and this art reflects both the complexity of a new reality and our complicity in it.
Declan McGonagle
McGONAGLE, DECLAN. "The Space In-Between: curated by Fiona Mulholland", CIRCA online, Dublin, June 2008