Friday 27 August 2016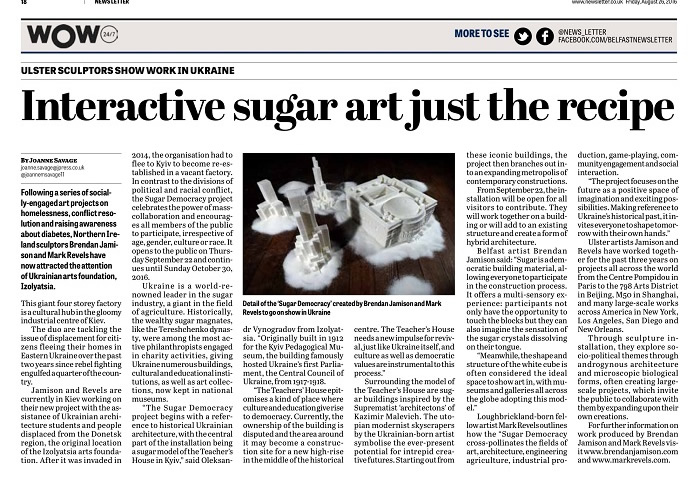 SAVAGE, JOANNE. "Interactive sugar art just the recipe", News Letter, Belfast, Friday 27 August 2016, p. 18

Friday 8 March 2013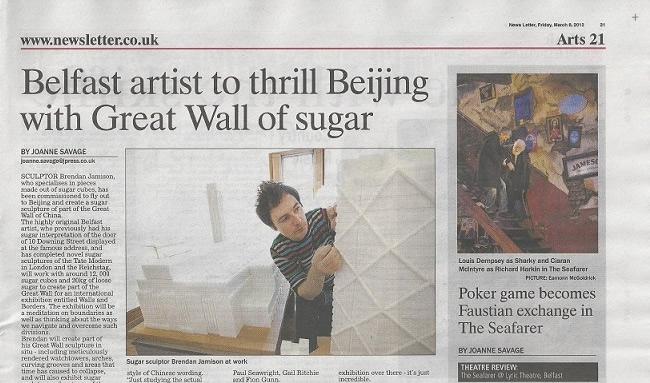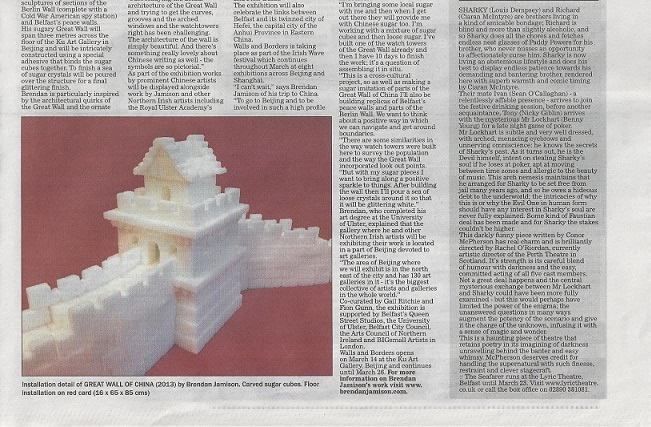 Digital edition:
Belfast artist to thrill Beijing with Great Wall of sugar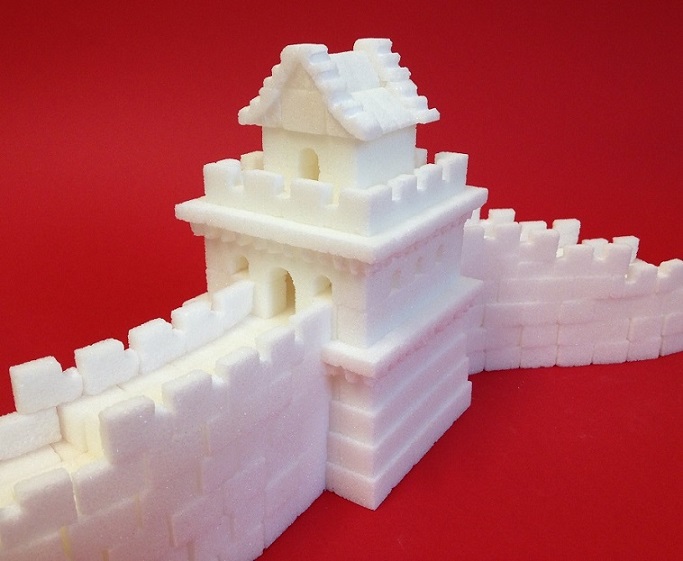 Installation detail of GREAT WALL OF CHINA (2013) by Brendan Jamison. Carved sugar cubes. Floor installation on red card (16 x 65 x 85 cms)
SCULPTOR Brendan Jamison, who specialises in pieces made out of sugar cubes, has been commissioned to fly out to Beijing and create a sugar sculpture of part of the Great Wall of China.
The highly original Belfast artist, who previously had his sugar interpretation of the door of 10 Downing Street displayed at the famous address, and has completed novel sugar sculptures of the Tate Modern in London and the Reichstag, will work with around 12, 000 sugar cubes and 20kg of loose sugar to create part of the Great Wall for an international exhibition entitled Walls and Borders. The exhibition will be a meditation on boundaries as well as thinking about the ways we navigate and overcome such divisions.
Brendan will create part of his Great Wall sculpture in situ - including meticulously rendered watchtowers, arches, curving grooves and areas that time has caused to collapse, and will also exhibit sugar sculptures of sections of the Berlin Wall (complete with a Cold War American spy station) and Belfast's peace walls.
His sugary Great Wall will span three metres across the floor of the Ku Art Gallery in Beijing and will be intricately constructed using a special adhesive that binds the sugar cubes together. To finish a sea of sugar crystals will be poured over the structure for a final glittering finish.
Brendan is particularly inspired by the architectural quirks of the Great Wall and the ornate style of Chinese wording.
"Just studying the actual architecture of the Great Wall and trying to get the curves, grooves and the arched windows and the watchtowers right has been challenging. The architecture of the wall is simply beautiful. And there's something really lovely about Chinese writing as well - the symbols are so pictorial."
As part of the exhibition works by prominent Chinese artists will be displayed alongside work by Jamison and other Northern Irish artists including the Royal Ulster Academy's Paul Seawright, Gail Ritchie and Fion Gunn.
The exhibition will also celebrate the links between Belfast and its twinned city of Hefei, the capital city of the Anhui Province in Eastern China.
Walls and Borders is taking place as part of the Irish Wave festival which continues throughout March at eight exhibitions across Beijing and Shanghai.
"I can't wait," says Brendan Jamison of his trip to China. "To go to Beijing and to be involved in such a high profile exhibition over there - it's just incredible.
"I'm bringing some local sugar with me and then when I get out there they will provide me with Chinese sugar too. I'm working with a mixture of sugar cubes and then loose sugar. I've built one of the watch towers of the Great Wall already and then I have ten days to finish the work; it's a question of assembling it in situ.
"This is a cross-cultural project, so as well as making a sugar imitation of parts of the Great Wall of China I'll also be building replicas of Belfast's peace walls and parts of the Berlin Wall. We want to think about a positive way in which we can navigate and get around boundaries.
"There are some similarities in the way watch towers were built here to survey the population and the way the Great Wall incorporated look out points.
"But with my sugar pieces I want to bring along a positive sparkle to things. After building the wall then I'll pour a sea of loose crystals around it so that it will be glittering white."
Brendan, who completed his art degree at the University of Ulster, explained that the gallery where he and other Northern Irish artists will be exhibiting their work is located in a part of Beijing devoted to art galleries.
"The area of Beijing where we will exhibit is in the north east of the city and has 130 art galleries in it - it's the biggest collective of artists and galleries in the whole world."
Co-curated by Gail Ritchie and Fion Gunn, the exhibiton is supported by Belfast's Queen Street Studios, the University of Ulster, Belfast City Council, the Arts Council of Northern Ireland and BIGsmall Artists in London.
Walls and Borders opens on March 13 at the 3C Creative Mall in the 798 Art District, Beijing and continues until March 26. For more information on Brendan Jamison's work visit www.brendanjamison.com.
SAVAGE, JOANNE. "Belfast artist to thrill Beijing with Great Wall of sugar", News Letter, Belfast, Friday 8 March 2013, p. 21

Friday 17 February 2012
Sugar artist impresses
at Downing Street
By Joanne Savage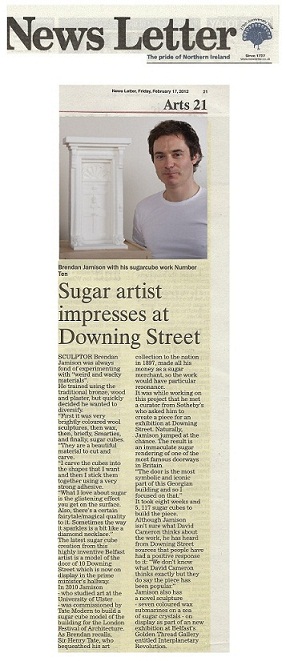 Page 21
___________________________________

Wednesday 15 February 2012
A sugar sculpture of the
world's most famous doorway
By Mark Rainey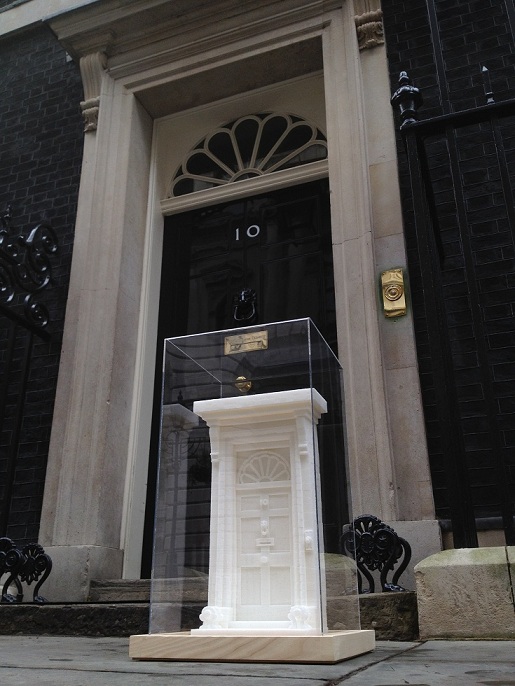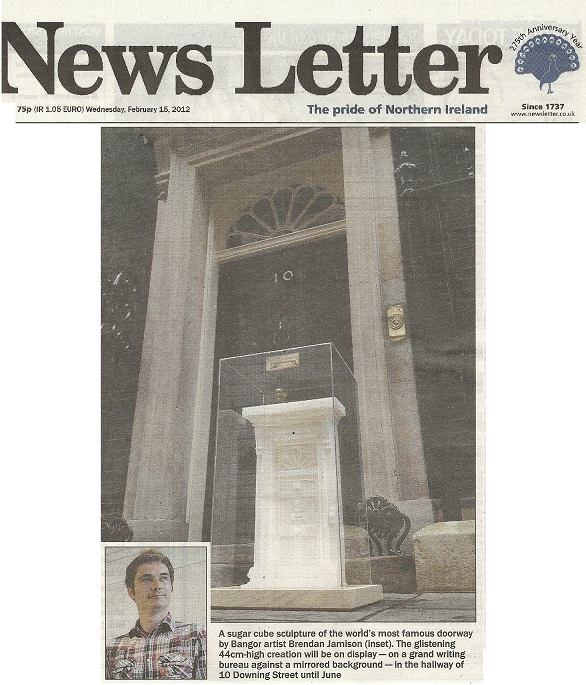 A sugar cube sculpture of the world's most famous doorway by Bangor artist Brendan Jamison (inset). The glistening 44cm-high creation will be on display - on a grand writing bureau against a mirrored background - in the hallway of 10 Downing Street until June
Page 8
_______________________________________________________

Friday 20 January 2012
Sugar cube artist knocking
on the door of sweet success
By Mark Rainey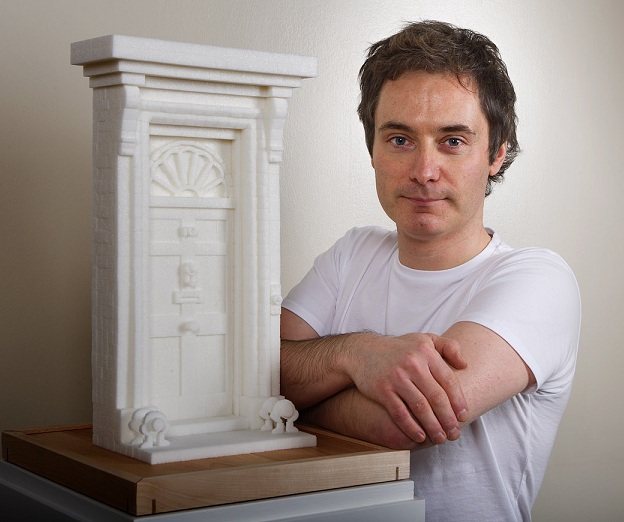 Ulster sugar cube artist Brendan Jamison is heading to Downing Street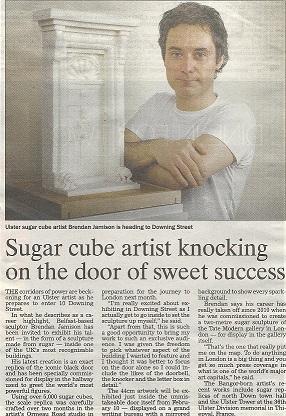 Page 6
___________________________________________________________________________________________________________

Monday 27 June 2011
Iconic Ulster tower
is sweetly recreated
By Mark Rainey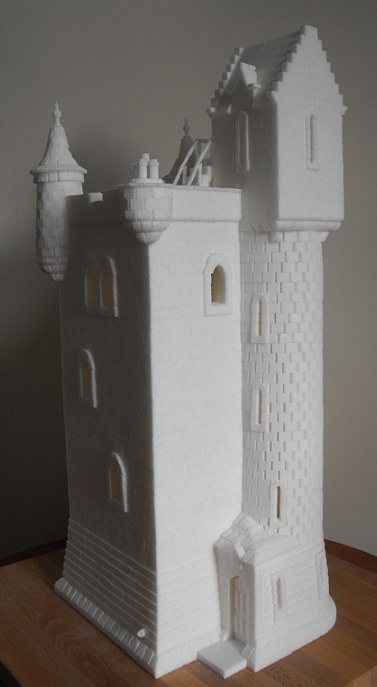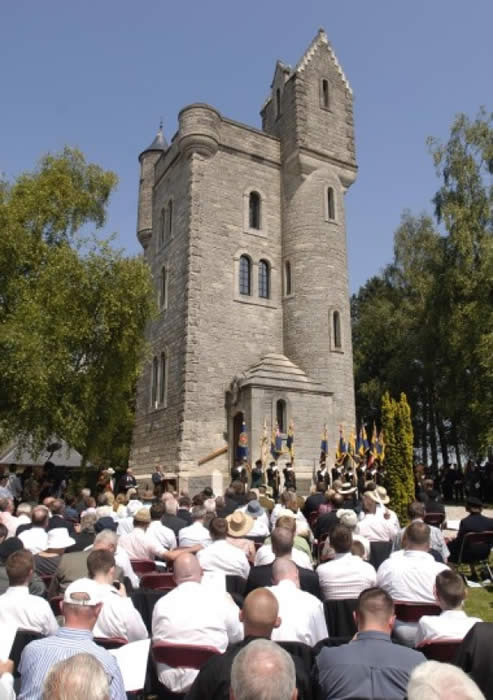 AN iconic tower in County Down which became synonymous with the 36th Ulster Division's sacrifice at the Somme has been recreated from sugar cubes for a Belfast exhibition.
Helen's Tower near Bangor still dominates the landscape where the local volunteer battalions trained before sailing for the war supposed to end all wars.
Belfast-based artist Brendan Jamison's creation stands almost one metre tall and is the centrepiece of an exhibition running at the Crescent Arts Centre on University Road.
Completed in 1861, the Clandeboye Estate tower was commissioned by Lord Dufferin of Clandeboye and was named in honour of Dufferin's mother, Helen Selina Blackwood, the Lady Dufferin.
The building became the template for the Ulster Tower erected at Thiepval Wood in France to commemorate the thousands of Ulstermen who died at the Somme.
As darkness fell on July 1, 1916 – the first day of the now infamous battle – more than 5,500 Ulstermen lay dead, wounded or were deemed missing in action.
The new artwork has been painstakingly recreated by the multi-award-winning sculptor at his Ormeau Road studio.
Brendan's glistening artwork has been crafted using more than 40,000 standard sugar cubes and has taken over three months to complete.
"This is the most intricate work I've done to date and technically the most difficult due to the amount of carving involved – but I'm delighted with the outcome," he said.
"Including the base, the tower stands about 6ft tall so it's at eye level and every detail can be inspected up close.
"I was granted full access to the tower in Clandeboye for research purposes and was able to investigate its full history."
Helen's Tower inspired a poem of the same name by Alfred Lord Tennyson which has been inscribed around the interior wall of the building.
Brendan said the tower was chosen for the Crescent Arts Centre event largely because of its connection with Tennyson and other poets who drew on the beautiful structure for inspiration.
"This is a literary exhibition which is connecting art with literature. There is Tennyson's poem but also one by Robert Browning [19th century English poet and playwright] and others.
"But for me, the most important thing about this project is the rich history of the tower and, especially here in Northern Ireland, I felt it was so appropriate because the Ulster Tower is a memorial to all those soldiers from here who died at the Somme."
Sculpting with sugar cubes has brought international acclaim for Brendan's work and taken him all over the world.
Last year was a busy time for the University of Ulster-trained sculptor with commissions to recreate the Tate Modern museum for the London Festival of Architecture, and an exhibition of contemporary art at Sotheby's.
"Working for both my degree and masters in Belfast I experimented with all the conventional materials before developing my own technique of sugar sculpting and it has really captured my imagination," Brendan said.
"Each sugar cubes contains over 600,000 sugar crystals and the way they sparkle on the surface of the sculptures is just wonderful."
The new exhibition, titled In an Old Book, is being run association with the Belfast Book Festival and features several works by leading contemporary artists responding to specific literary themes, individual writers or texts.
The event runs until September 3. Gallery opening hours are 10.30am to 1pm and 2pm to 5pm weekdays and 10am to 2pm on Saturdays.
___________________________________________________________________________________________________________
Fri 18 June 2010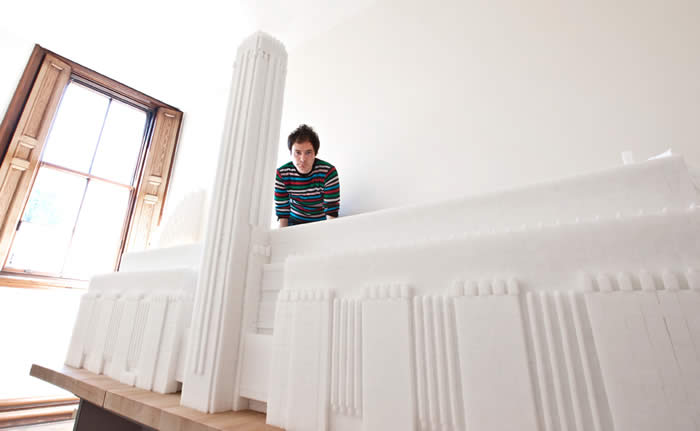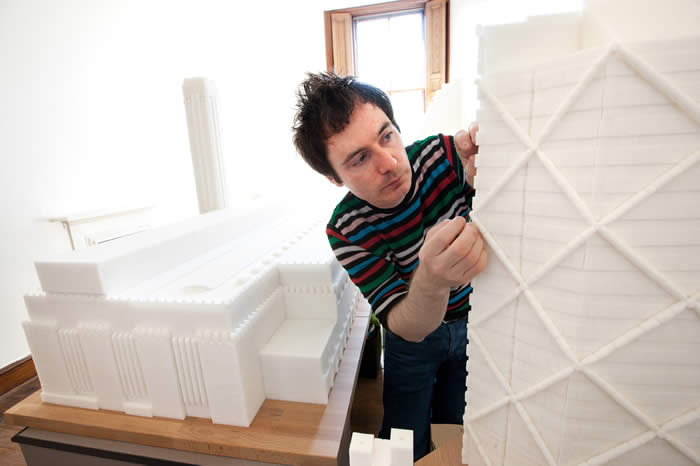 Sugar Sculptor Tastes Towering Success
By Mark Rainey

A BELFAST sculptor is hoping for the sweet taste of success as he works on an unusual commission ahead of a major exhibition in London next month.

Brendan Jamison is currently adding the finishing touches to a two-metre wide, 224 kilogram, sculpture of the Tate Modern gallery — made entirely from sugar cubes.

The replica of the iconic London building is being constructed as part of the 2010 London Festival of Architecture and will be shipped over from Brendan's Ormeau Road studio in time for the VIP festival launch on July 2.

Supported by the Arts Council over the last six years, Brendan is known world-wide for his imaginative projects and ingenious use of sugar, wool and wax.

His work is now housed in many high profile collections around the world but it all started at the University of Ulster's school of Art and Design.

"I studied for both my degree and masters in Belfast and worked with all the conventional materials while training, but it's sugar sculpting that has really captured my imagination."

"Sugar cubes each contain over 600,000 sugar crystals and the way they sparkle on the surface of the sculptures is wonderful," Brendan said.

The Tate replica has used 71,908 sugar cubes in construction and is one of two works the Belfast artist will be showing at the London event.

Brendan has also created a sugar model of NEO Bankside — four apartment pavilions adjacent to the Tate Modern.
Speaking ahead of the London exhibition, the Bangor-born sculptor said: "I have experimented with colouring the cubes with food dye but it kills off the sparkles and ruins the contrast of the shadows."

"The Tate model has been built in four sections because of the size and weight and will be shipped in padded boxes to London."

Sugar sculpting has become big business for Brendan and his work has taken him all over the world, including America, China and New Zealand.

"It's amazing the amount of interest there has been in my work with sugar cubes. One major sugar company is talking to me about building a replica of the cathedral near their Brussels headquarters in Belgium, and I have been asked to construct replicas of mosques in Casablanca," he said.

When asked who he most admired in his field, Brendan described controversial British sculptor Damien Hirst as "more of a conceptual artist" but said the multi-millionaire artist was "certainly interesting".

Brendan added: "Hirst is good at creating media hype but the two British sculptors I really admire are Anish Kapoor and Antony Gormley."

Roisin McDonough, Chief Executive of the Arts Council of Northern Ireland, said: "Brendan Jamison has shown that Northern Ireland produces artists of the highest international standards and that an artist's professional success is based upon receiving the right kind of support at the early stages of their career.

"Up to 20 per cent of the grants which the Arts Council distributes to individuals goes to up and coming artists providing the vital assistance they need to take their career to that next level."

Ms McDonough described Brendan's work as "an endorsement of the highest order" and a "testimony to his talent and ingenuity".

With support from the Arts Council, next Spring Brendan will return to the Ormeau Baths Gallery in Belfast where he will build his tallest and most ambitious sugar model to date.

Working on site, the artist will create a five-metre-high turret using a quarter of a million sugar cubes. Rising up through the two-storey space, once completed it will be the largest sugar cube construction in the world.
RAINEY, MARK. "Sugar Sculptor Tastes a Towering Success", News Letter, Belfast, Friday 18 June 2010, p. 3