Tuesday 18 January 2011
YOUNG TIMES: CAN YOU TELL WHAT IT IS YET?
by Ian Whitbread
Teams of sculptors from all over the world gathered in London last weekend to compete with
chainsaws and chisels to turn giant blocks of ice into works of art.
Ice isn't the only uncoventional material that has been used by artists....
Toilet Rolls

The French artist Anastasia Elias creates amazing miniature scenes inside toilet rolls. She uses tweezers and glue to stick her tiny people and animals into the rolls.

Eggs

Gary LeMaster is an American whose incredible carved creations are made from turkey, chicken, ostrich and emu eggs. He empties the eggs and carves sections of shell to create delicate spirals, intricate Chinese dragons, even a portrait of the Beatles.

Bread

In 2009 a Singaporean chef created an edible racing car made entirely of bread. The life-sized sculpture used a thousand loaves of various types, sizes and flavours.

Sugar Cubes

The young Irish artist Brendan Jamison recreates architectural structures using sugar cubes, from a miniature replica of Tate Modern to towering sugar turrets.
WHITBREAD, IAN. "Young Times: Sugar Cubes", The Times - T2 supplement, London,
Tuesday 18 January 2011, p 21
______________________________________________________________________________________

Monday 10 November 2008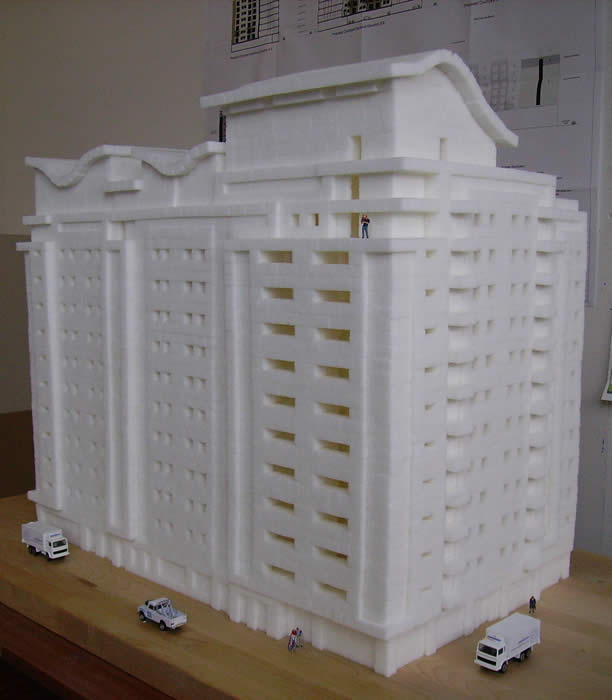 Artist's Sugar Cube Scale Model takes 11,000 lumps
by James Harding

Belfast: An artist from Northern Ireland has revealed a unique collection of sculptures made
entirely from sugar cubes. Brendan Jamison, 29, can take up to two months to create each
model. He recently crafted a 1:100 scale model of new apartments planned for the city's
Cathedral Quarter. Sugar Walk, created for Bradkeel Developments, contained 11,256 cubes.
"I enjoyed the challenge of the Sugar Walk project, especially given that the site's location is
only 100 metres from my studio," he said. Mr Jamison's largest design stands at 9ft tall and
was put together using 19,342 cubes.
HARDING, JAMES. "Artist's Sugar Cube Scale Model takes 11,000 lumps", The Times, Monday 10 November 2008, p. 18