Digital Version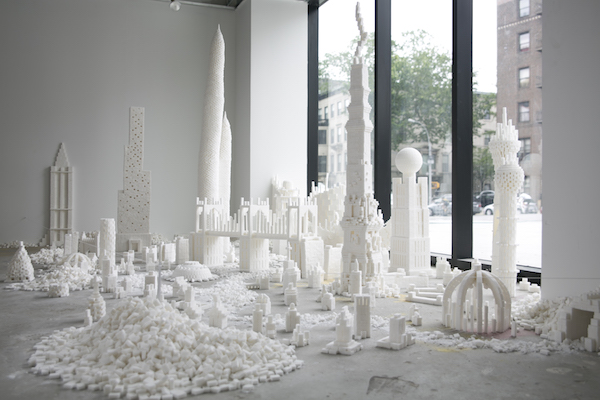 Brendan Jamison and Mark Revels' "Sugar Metropolis," part of No Longer Empty's 2014 "If You Build It" exhibition. NLE's annual benefit happens Mar. 29 at the Sugar Hill Children's Museum of Art & Storytelling. Photo by Whitney Browne.
BENEFIT FOR NO LONGER EMPTY | Founded in 2009 as a (literally) creative response to the still-familiar sight of businesses shuttered by rising rents and shifting consumer dynamics, one of the first projects from No Longer Empty (NLE) filled two vacant storefronts at the infamous W. 23rd St. Chelsea Hotel building with work from several of its artistic residents. The following year, NLE briefly occupied the former E. Fourth St. & Broadway Tower Records — in the guise of "Never Can Say Goodbye," a fictional, thriving purveyor of vinyl whose record bins, walls, and stage were brimming with sound, light, and images from 20 artists tasked with delivering an experience that digital downloads and online sales can't provide. These early projects allowed for, even encouraged, bittersweet contemplation and charged conversation about the loss of neighborhood character — but NLE quickly evolved from hosting site-specific installations to curating site-responsive exhibitions. Today, their work (much of it commissioned) is created in collaboration with the surrounding community, with the goal of leaving a blueprint for the future once the exhibit closes up shop.
NLE's forward-looking benefit, tellingly titled "The Journey Continues," honors three women who are advancing their respective fields, while applying their talents to the betterment of the community: Ellen Baxter, of Broadway Housing Communities, improves the quality of life for the homeless by combining housing, education and the arts; Sol Aramendi (who'll be spinning discs at the benefit) provides art-focused educational opportunities for immigrants; and Sarah Calderon, of ArtPlace America, advocates for the inclusion of art and culture in city planning. Calderon's organization is a partnering funder of the Sugar Hill Children's Museum of Art & Storytelling — a mixture of affordable housing, universal pre- K, and an art museum. Bidding for the art auction (hosted by Paddle 8 and available for preview at bit.ly/188Um6Q) concludes at the end of the benefit.
Tues., Mar. 29, 7–10 p.m. at Sugar Hill Children's Museum of Art & Storytelling (898 St. Nicholas Ave., at W. 155th St.; C train to 155th St. or 1 train to 157th St.). To purchase individual tickets or tables ($200–$5,000), visit nolongerempty.org/home/benefit-2016 or send an email to benefit@nolongerempty.org. Follow NLE on Facebook, Twitter, and Instagram; #nolongerempty and #NLEjourney.
STIFFLER, SCOTT. "Just Do Art", Chelsea Now, New York City, Tuesday March 17, 2016, p. 21