Collage gets sticky: GLUE at the Down Arts Centre in Downpatrick

Warning! This is Contemporary Art: a new exhibition shakes up the Belfast art scene

Last chance to see: Interplanetary Revolution
at the Golden Thread Gallery in Belfast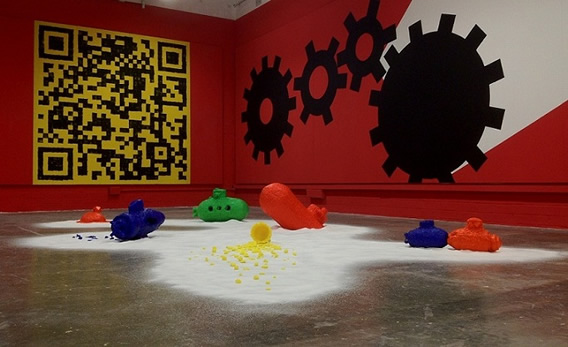 Brendan Jamison, Submarine Series (2012). Microcrystalline and paraffin wax over wood on loose sugar crystals. © Brendan Jamison
Interplanetary Revolutions, Golden Thread Gallery, Belfast, until March 24 2012

Communism is so successful that all the capitalists have been driven from planet earth, so Comrade Cominterov flies to Mars and conquers all the capitalists on that planet too.

That is the plot of Interplanetary Revolution, a slightly crazy Soviet propaganda cartoon from 1924.

Clearly this is a storyline that lends itself to reinterpretation in art, which is exactly what a group of artists have done at the Golden Thread Gallery in Belfast.

Interplanetary Revolution the exhibition examines failed ideologies, the uncanny, otherworldliness and the revolutionary. It also undermines assumptions and subverts expecting relationships, including how an exhibition should be run.

The exhibition is really three separate exhibitions with different curators, merging two new exhibitions with a reworking of a third one. Some of the work changes through the time it's on show, other parts of the display are unfinished, and some may never be finished.

There are over 30 artists involved, including Brendan Jamison, Colin Darke, Ryan Moffett and Charles Burns and Gerry Gleason.

Jamison's wax submarines in bright Lego colours sail, dive and shatter in a sea of sugar, bringing to mind childhood play and dream worlds.

The installation also echoes oceanic utopias, such as the nautical underworld of Jules Verne's 20,000 Leagues Under the Sea, where the Nautilus roams free of any government, and the Beatles' Yellow Submarine, where Pepperland is a musical undersea paradise, which is attacked by music-hating Blue Meanies.

Colin Darke's Parados GTG consists of 60 oil paintings based on a newsreel video of Lenin giving a speech. The paintings have then been photographed in stop motion and reproduced as a new film.

Darke's work references the Greek chorus in Antigone and Bertolt Brecht's statement that film can be used in epic theatre as an optical chorus.

From one extreme to another, The Girls' Smurfette has become a blue pin up model while Jonas Mekas' The Brig is a pseudo-documentary film where a group of prisoners are beaten and forced to perform pointless, repetitive tasks.

The opening of the exhibition involved the experimental Factotum Choir singing in praise of silicon and a silent cocktail bar by Shiro Masuyama, where drinks had to be bought with a special revolutionary currency and consumed in a curtained booth wearing headphones, so expect all kinds of strangeness!

On Thursday 22 March Michael Hanna will hold a talk about the psychological themes raised by Interplanetary Revolution. For more information see www.goldenthreadgallery.co.uk.


Tuesday-Saturday 10.30am-5.30pm, Saturday 10.30am-4pm. Admission free.
DAVIDSON, JENNI. "Interplanetary Revolution at the Golden Thread Gallery in Belfast" ,
Culture24, Brighton, England, 20 March 2012
__________________________________

Sweetness and light: Belfast artist's sugar
sculpture goes on display at 10 Downing Street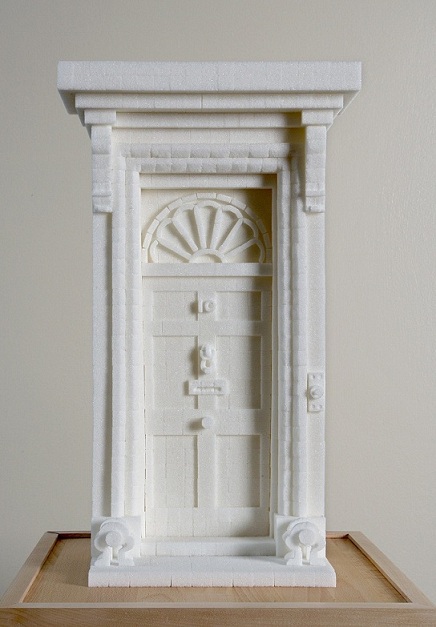 Brendan Jamison, Number 10 (2012). Carved sugar cubes
© Tony Corey for Jamison Sculpture Studio
Artist Brendan Jamison is injecting a bit of sweetness into British politics with
sculpture of the door of 10 Downing Street made entirely out of sugar cubes.

Whereas most art is displayed in a white cube, Jamison's art is made of white cubes.

The scale model of the iconic door uses 5,117 sugar cubes and took two months to make. Jamison used a special glue that is absorbed into the sugar to hold the cubes together.

The Belfast sculptor is well known for his sugar art, having already carved models of Belfast City Hall, Tate Modern and the Reichstag out of sugar.

Jamison's use of sugar cubes as an artistic material references gender roles, combining the masculinity of building blocks and the feminine, fairytale quality of the sweet sugar.

Sugar has a long connection to British art, as Sir Henry Tate, the 19th century sugar magnate, funded the Tate Gallery – now Tate Britain – and gifted his art collection to the nation.

The Number 10 sculpture is on display behind the real door of 10 Downing Street until May along with the work of seven other artists as part of an exhibition of contemporary British craft.

Curated by former Saatchi Gallery curator Janice Blackburn, the exhibition, A Celebration of UK Arts and Crafts, is part of an ongoing exhibition to promote British craft to visiting dignitaries. New artists take over every few months.

DAVIDSON, JENNI. "Sweetness and light: Belfast artist's sugar sculpture goes
on display at 10 Downing Street", Culture24, Brighton, England, 15 February 2012
_______________________________

The Culture24/7: Things to see in Northern Ireland
We take a look at some of the best shows in Northern Ireland to kick off 2012...

Counterpoint, Ormeau Baths Gallery, Belfast, until January 29 2012

Counterpoint examines the work of five young artists working at the crossover between contemporary sculpture and installation. Claire Morgan, Brendan Jamison, Clive Murphy, Julie McGowan and Martin Boyle are each showing a large-scale sculpture with four of the works being produced in the gallery itself.

DAVIDSON, JENNI. "Things to see in Northern Ireland", Culture24, Brighton, England, 5 January 2012