Sugar cube experts do it the NYC way
By Joanne Fleming
25 June 2014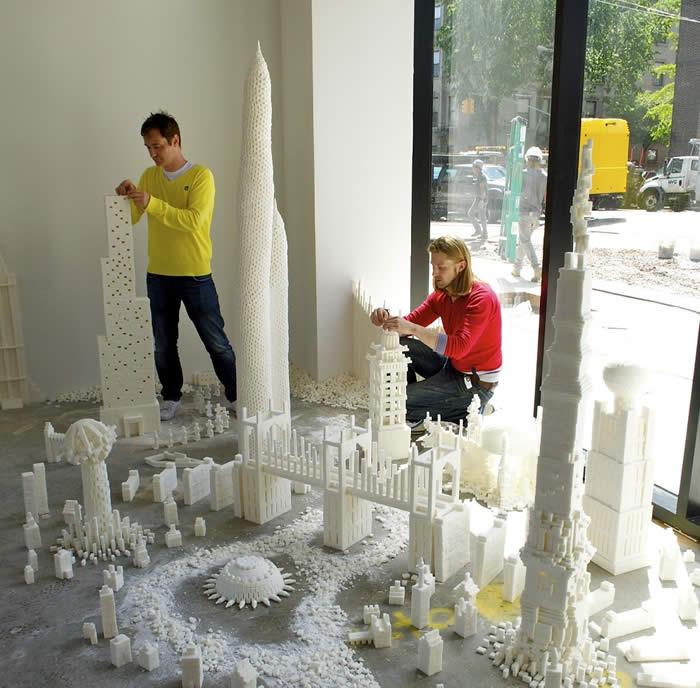 PART of the Manhattan skyline is being recreated with the help of two local sculptors and 250,000 sugar cubes.
The New York Sugar Metropolis created by Brendan Jamison and Mark Revels opens today in New York — a glittering, imaginary glimpse of the future put together with the help of local residents.
The art work is being installed in the new Sugar Hill Museum of Art and Storytelling, which is located in a social housing development in a historic and regenerating part of Harlem.
It is hoped the miniature city of elaborate towers, stately bridges, mountains and a winding river will encourage residents to by, cull some sugar cubes and build their own free-standing creations. Trained volunteers will also be on site to show participants how to stack the sugary building blocks.
The pair created a similar 'Sugar Metropolis' exhibition for the Royal Ulster Academy of Arts at the Ulster Museum in October. Attracting over 70,000 visitors, the New York Sugar Metropolis is expected to be an even bigger draw for the local neighbourhood and the international art audience.
Brendan started experimenting with sugar cubes in 2003, with local recreations including Isabella's Tower in Ardglass. His work has been showcased globally, featuring replicas of the Great Wall of China, Sir Henry Tate's mausoleum and the iconic front door at 10 Downing Street, which stood on display there in 2012.
Award winning sculptor Mark has enjoyed high-profile projects with the BBC, Channel 4 and London's West End theatre companies, and internationally he has exhibited in China, Europe and America. With a home studio based in Loughbrickland Mark also works for the Downpatrick based Down Community Arts.
Together over the past month they have created the first quarter of the New York Sugar Metropolis project, but now it is in the hands of the public to complete.
"It has been an amazing project to work on," said Brendan. "Sugar Hill is a magical area of Harlem with the most beautiful styles of architecture anywhere in Manhattan.
"The whole community has been so welcoming, it has been a joy to engage with the locals and the staff of 'No Longer Empty', the arts organisation hosting the opening exhibition.
"This is a giant collaborative sculpture project and it belongs to everyone who contributes. We are excited to see all the styles of buildings which develop over the next seven weeks as the public help construct a city of the future with their own imagination."
Mark said it had been a pleasure to see the "smiles and laughter" of local residents young and old who stopped by to play and explore.
"We have enjoyed responding to the architecture of New York, especially the iconic bridges and dramatic skyscrapers," he said. "It has also been an opportunity to introduce elements of my current research into virus structures. For the sugar city, the viruses I wish to spread, to go 'viral' with, are that of positivity, community spirit and fun."
The New York Sugar Metropolis exhibition has been organised by a former Guggenheim curator, Manon Slome, who, since 2009, has been President and Chief Curator of 'No Longer Empty', a not-for-profit arts organisation dedicated to rejuvenating empty spaces and neglected neighbourhoods in New York City.
The exhibition, funded by Arts Council of Northern Ireland, LuLu LoLo Productions and the Northern Ireland Bureau, New York, runs until August 10.