No. 10 plays its part in sparking revival of British craft and design
Downing Street has opened its doors for an eclectic collection from a flourishing sector
_________________________________
By Vanessa Thorpe
Arts and Media Correspondent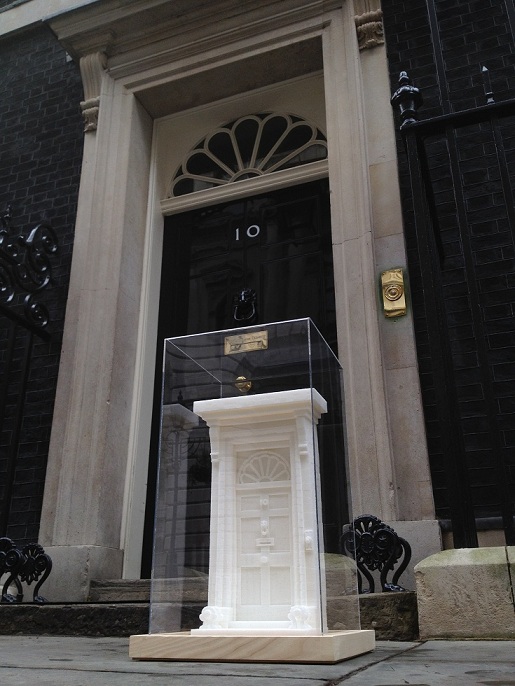 'Number 10' Brendan Jamison's front door (above) made of sugar cubes.
"We are a much more artistic nation than people realise and always have been when it comes to craft," Ed Vaizey, the culture minister, said this weekend. "The current focus on the future of the Wedgwood collection has made us realise that all the more clearly.
"There is no question that contemporary craft and design is doing extremely well in the UK right now. We have some exceptionally talented craftspeople whose work is proving a big hit with collectors. Jonathan Ive, Apple's senior vice-president of industrial design, is a graduate of the Royal College of Art, which shows that the sky is the limit for the next generation of young talent."
Downing Street has a long history of displaying works of art by British artists – Tony Blair welcomed the young stars of BritArt into No 10 in 1997 – alongside more traditional works from the Government Art Collection.
It also has examples of the decorative arts, but these are usually historic rather than contemporary.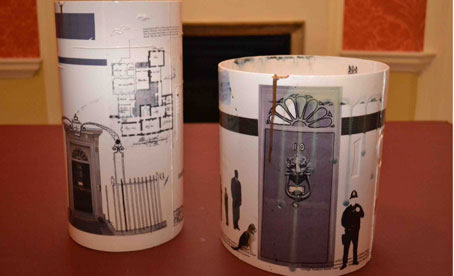 "Although No 10 has some very good examples of furniture and art on the walls, I did wonder why there was no craft, so I wrote to ask them while Gordon Brown was in office, and then I tried again with the Tories," said Blackburn.
"I just wanted this innovative and imaginative work to be appreciated and seen."
This month the Crafts Council, Creative Scotland, Arts Council of Wales and Craft Northern Ireland released a comprehensive survey of more than 2,000 makers, retailers, educators, writers and curators, which has confirmed the strong position of craft industries. The £457m generated by craft compares well with an income of £512m from London's theatreland, and an income of £316m from music downloads in 2010.
The combined Gross Value Added of craft – in other words, how much more the raw materials are worth once they are finished products – is £220m. Most of those involved in the craft business in Britain work independently and 69% are women.
The survey revealed a growing involvement with digital technology, with more than half of craft makers using new techniques, machines and gadgets.
Craft in Britain appears to be led by younger "careerists" who are committed to the idea of craft and who start their businesses after finishing a related degree. But there are also "artisans", who are not academically trained but have turned to craft in mid-life, and others who have gone back to a youthful love of craft.
Allsopp's successful Channel 4 television show, Kirstie's Handmade Britain, has highlighted interest, but it also reflected the increasing number of craft-related leisure activities being set up. A popular wave of knitting clubs paved the way for a makeover of the Women's Institutes and the growth of sewing cafes, with "guerrilla" craft nights staged in pubs.
No doubt encouraged by the harsh financial climate and the need to "make do and mend", there has been a startling 500% rise in British sales of sewing machines.
Craft workshops across the country now focus on home decor as well as on gift-making and fashion, prompting the launch of new magazines.
Online craft sites are enjoying a heyday, too, with Etsy, the biggest marketplace for crafting, now boasting 7.2 million members. It has seen its total sales double in the last five years.
Page 25
THORPE, VANESSA. "No. 10 plays its part in sparking revival of British craft and design", The Observer, London, Sunday 26 February 2012, p. 25