How Sweet it is at Harlem's 'Sugar Metropolis'
By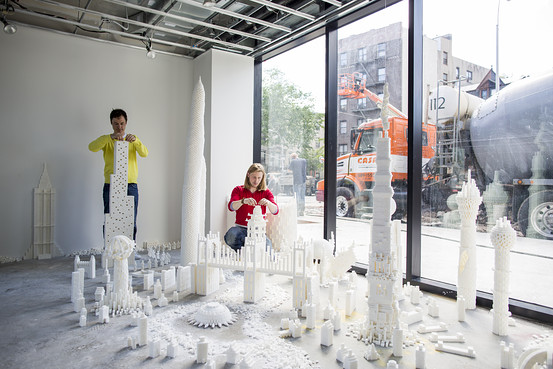 Sculptors Brendan Jamison and Mark Revels build their Sugar Metropolis inside a temporary plaza level space at Broadway Housing Communities' Sugar Hill Building on Thursday. Photography: Jason Andrew for The Wall Street Journal
In an art space in Harlem's Sugar Hill historic district, a whimsical miniature city is taking shape in the skillful hands of Irish sculptors Brendan Jamison and Mark Revels. Their medium of choice: 250,000 sugar cubes.
The stark white installation titled "Sugar Metropolis" conjures a futuristic city of elaborate towers, a stately bridge and mountains, even a winding river. Perhaps the sweetest element of the endeavor, however, is that viewers are invited to help with construction.
"This project is not about Mark and I," said Mr. Jamison, 35 years old. "It's about everybody taking ownership of it. All the thousands of people who contribute to it, it belongs to them."
"Sugar Metropolis" is part of the exhibition "If You Build It" inside the Sugar Hill Apartments, a new affordable housing project by Broadway Housing Communities. Designed by architect David Adjaye, the building at W. 155th Street and St. Nicholas Avenue is slated to open this summer.
Their confection exhibition comes as another sugary work of art is captivating the city: Artist Kara Walker's 35-foot tall sugar Sphinx on view at the Domino Sugar Factory in Williamsburg, Brooklyn.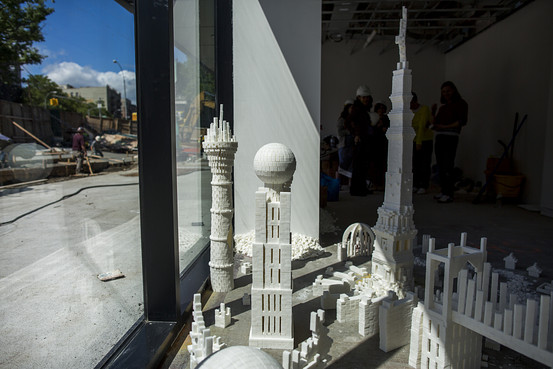 'Sugar Metropolis' is part of the exhibition 'If You Build It' inside the Sugar Hill Apartments, a new affordable housing project by Broadway Housing Communities. Photography: Jason Andrew for The Wall Street Journal
"If You Build It," to run from June 26 to Aug. 10, will feature installations, sculpture, photography and performances by more than 20 local, national and international artists. Presented by the arts group No Longer Empty, the exhibition references such themes as urban decay and renewal, immigration and community.
"This area has a rich history of literature and music and activism. And it is still the site of a lot of artistic endeavor. This exhibition really looks at the regenerative nature of the area," said Manon Slome, No Longer Empty's president and chief curator.
The duo from Belfast drew inspiration in part from the historic architecture of the erstwhile epicenter of the Harlem Renaissance. Mr. Jamison and Mr. Revels spent two weeks building their installation in a small studio at the nearby Benziger-Abraham House, the residence of a former publisher, before relocating to the building site.
Last week, surrounded by cartons of sugar cubes, the sculptors snacked on lollipops and giddily pieced together the installation.
Mr. Revels, 36, is incorporating his love for science by adding structures that resemble viruses to the confectionary installation.
"I am hoping we can infect people through laughter and positivity," he said, fashioning a dome. "I want to see it actually go viral…I want people to come in, like it, take something from it, then tell other people to come back."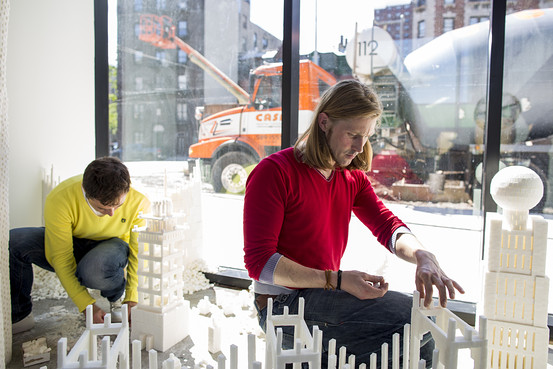 Mark Revels and Brendan Jamison work on their sugar cube city. Photography: Jason Andrew for The Wall Street Journal
Visitors will be encouraged to cull sugar cubes from the mountains and river to build their own free-standing creations. Trained volunteers will be on site to show participants how to stack the sugary building blocks.
"It's beautiful when you get a wonderful cross generational mix, from young children to adults to pensioners," Mr. Jamison said. "It just creates this amazing energy with everyone creating in their own little styles of architecture."
After the exhibit's run, No Longer Empty will donate the original structures to a local education program.
Mr. Jamison created a similar show in Belfast last fall. Some 5,000 visitors added to that installation at the Ulster Museum.
"We had people come in and just start to play with the sugar, then they'll realize how therapeutic it is and stay for three or four hours. We also had an experience when a child had to be pulled away kicking and screaming because he didn't want to leave. But the museum was closing. That's the best reaction," he said.
Mr. Jamison started experimenting with sugar cubes in 2003 while working on an animated short. His work has been showcased globally featuring replicas of the Great Wall of China, Sir Henry Tate's mausoleum and the iconic front door at 10 Downing Street, which stood on display there in 2012.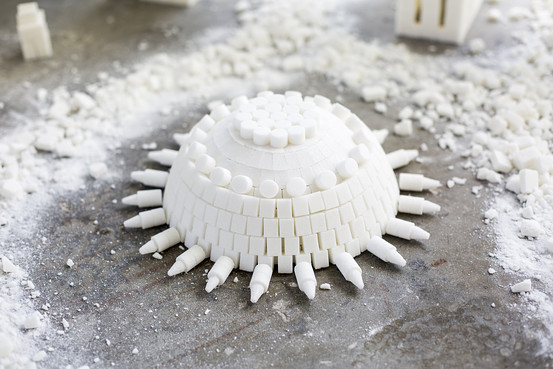 A sugar cube building.

Photography:

Jason Andrew for The Wall Street Journal
"(Sugar cubes are) a wonderful material to work with. It's not like bronze or wood where you have to train people for a very long time," Mr. Jamison said. "You can pick it up fairly quickly, which is great."
Mr. Jamison started working with Mr. Revels last summer.
Mr. Revels, who also works in bronze and mixed media, noted that he initially struggled with the collaborative aspect of the project.
"With a project like this," he said, "what it actually teaches you is that it's not about the piece of work. It's about inviting people in and getting the community together to play and explore. It was a big learning curve yet it was the most freeing thing ever."
For Mr. Jamison, fulfillment comes from seeing Sugar Metropolis' effect on the audience participants.
"For someone to come in and lose themselves for a bit and have a cathartic experience is a beautiful thing to see," he said. "It's lovely."