PUBLICATIONS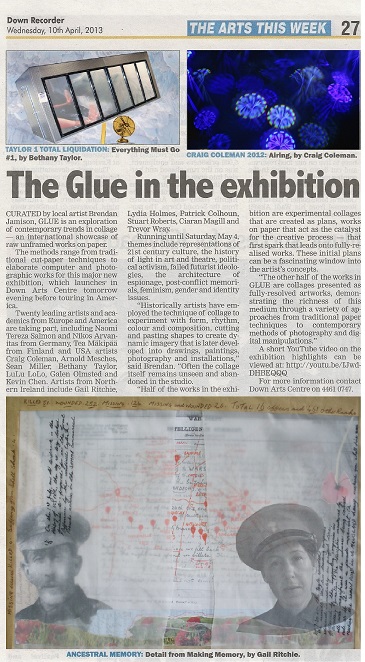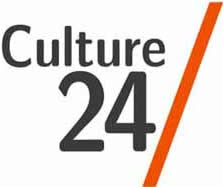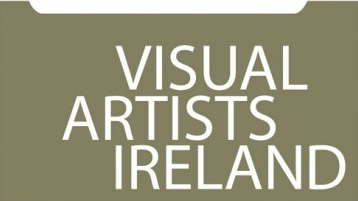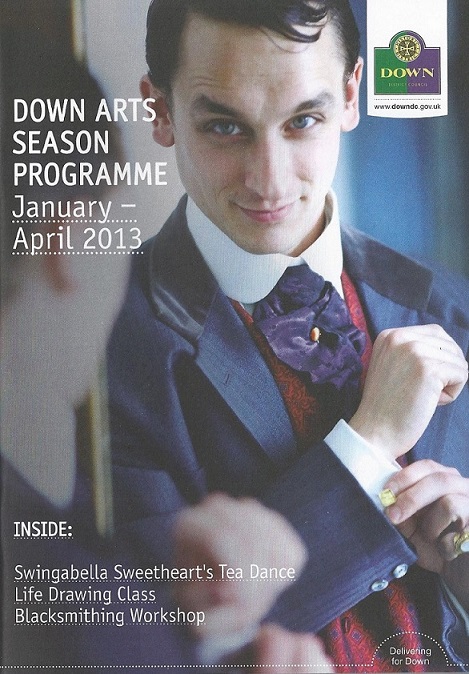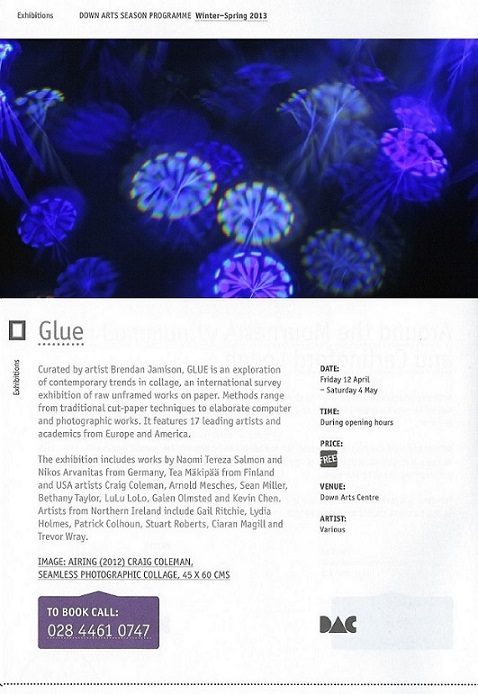 To view the GLUE media coverage please CLICK HERE
ARTISTS
AMERICAN
Georgia
Florida
Florida
New York City
Kentucky
California
ASIAN
Toyko, Japan
EUROPEAN
Westport, Wales
Cork, Ireland
Dublin, Ireland
Belfast, Northern Ireland
Ballymena, Northern Ireland
Belfast, Northern Ireland
Belfast, Northern Ireland
Belfast, Northern Ireland
Kilkeel, Northern Ireland
Newtownards, Northern Ireland
Belfast, Northern Ireland
Belfast, N. Ireland
Belfast, N. Ireland
Bangor, Northern Ireland
INTRODUCTION TO GLUE
GLUE is an international survey exhibition exploring contemporary trends in the art of collage. The show presents a dynamic collection of raw unframed works with methods ranging from traditional cut-paper techniques to elaborate computer and photographic works.
It features 21 leading artists and academics from Europe, Asia and America. The exhibition includes works by Shiro Masuyama from Japan and American artists Craig Coleman, Sean Miller, Bethany Taylor, LuLu LoLo, Galen Olmsted and Kevin B. Chen. Artists from the Republic of Ireland include Sinéad O'Donnell and Fion Gunn, with Northern Ireland represented by Gail Ritchie, Lydia Holmes, Patrick Colhoun, Stuart Roberts, Ciaran Magill, Trevor Wray, Brendan O'Neill, Brian John Spencer, David Turner and Mark Revels. Brendan Jamison has collaborated with Welsh international artist Peter Richards.
Global launch of GLUE exhibition at DAC, Downpatrick, Northern Ireland [2 minutes, 24 seconds]
Combining artists from across the globe, GLUE presents some of the most innovative approaches to the medium of collage, offering a fresh aesthetic that engages with debates at the forefront of contemporary art. Themes include representations of 21st Century culture, the history of light in art and theatre, political activism, failed futurist ideologies, the architecture of espionage, post-conflict memorials, feminism, gender and identity issues.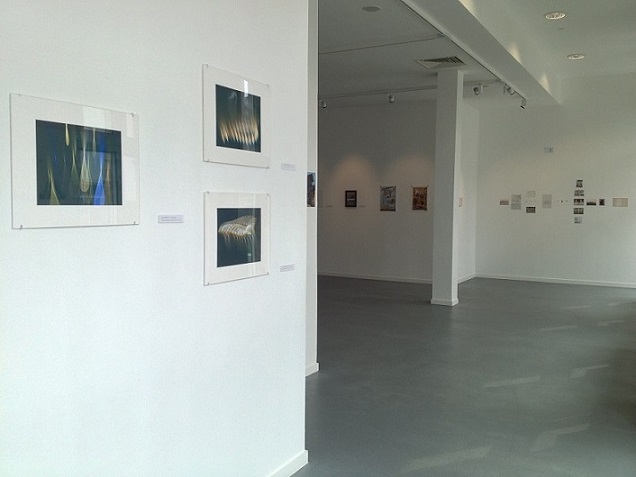 Wall 7 in GLUE exhibition at DAC, Downpatrick, Northern Ireland
Walls 8 and 9 in GLUE exhibition at DAC, Downpatrick, Northern Ireland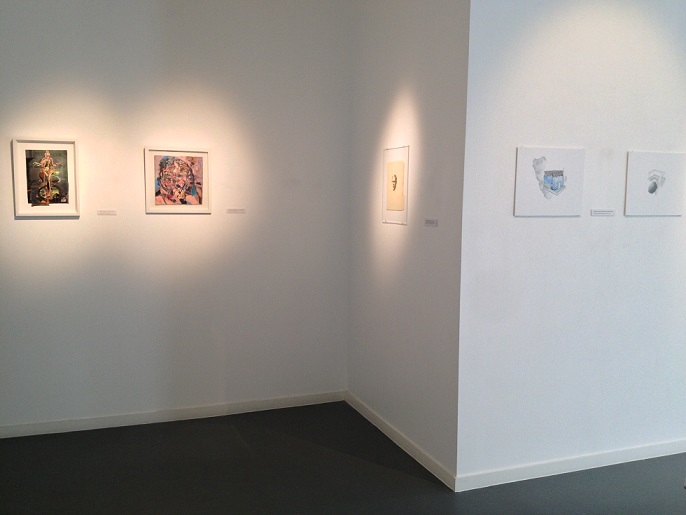 Wall 2 in GLUE exhibition at DAC, Downpatrick, Northern Ireland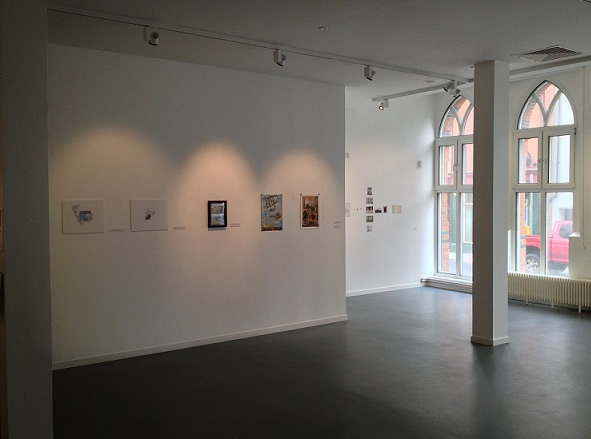 Wall 4 in GLUE exhibition at DAC, Downpatrick, Northern Ireland
An interesting element of the exhibition is how artists from different disciplines use collage. Aside from fascinating experiments by painters and photographers who ordinarily work with a flat surface, in contrast, performance artists, sculptors and installation artists seem to dissect space in relation to objects and the human body.
Historically, artists have employed the technique of collage to experiment with form, rhythm, colour and composition...cutting and pasting shapes to create dynamic imagery that is later developed into drawings, paintings, photography and installations. Often the collage itself remains unseen and abandoned in the studio.
Half of the works in the exhibition are experimental collages that are created as plans, works on paper that act as the catalyst for the creative process... that first spark that leads onto fully-realised works. These initial plans can be a fascinating window into the artist's concepts.
From a traditional perspective, the paper fragments that amass to form the collage are attached using an adhesive. It cements the artist's thinking process. These initial brainstorming sessions offer a playful approach, one that is not necessarily present in other media the artist utilises. The glue binds together a spontaneous chain of thoughts, fastening together the final resting place of the manipulation of clippings.
The other half of the works in GLUE are collages presented as fully-resolved artworks, demonstrating the richness of this medium through a variety of approaches from traditional paper techniques to contemporary methods of photography and digital manipulations.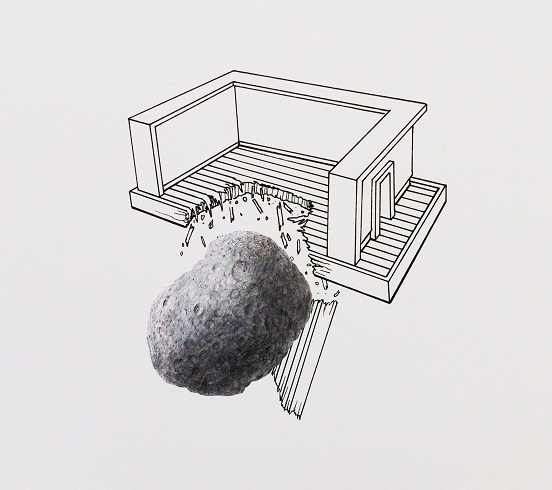 JEMA Next Chapter Orbital Disaster Series (2012-1013) Sean Miller, collage, 35 x 48 cms
The exhibition features six sections that were chosen as unifying themes after the selection of individual works. This organic approach has allowed for a completely open survey of the medium.
1. TIME
The exhibition begins with our concept of time, balanced between a sense of 20th century history and our projections for the future, embracing our hopes and fears as we advance deeper into the 21st century.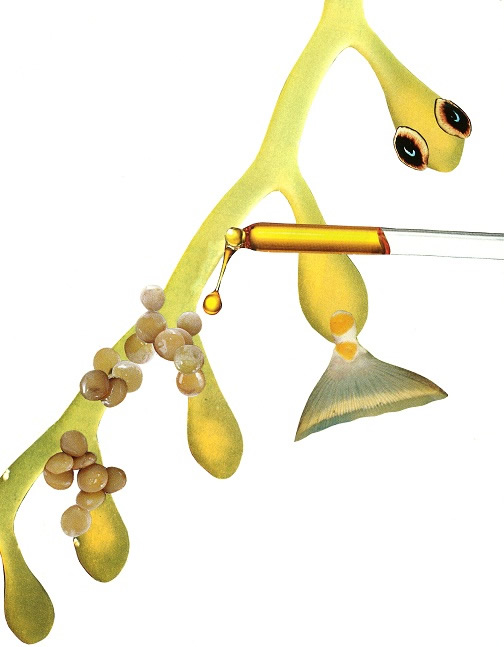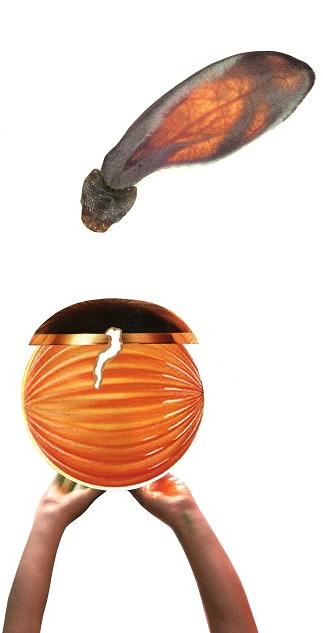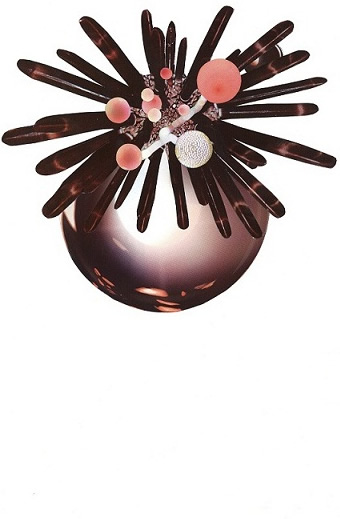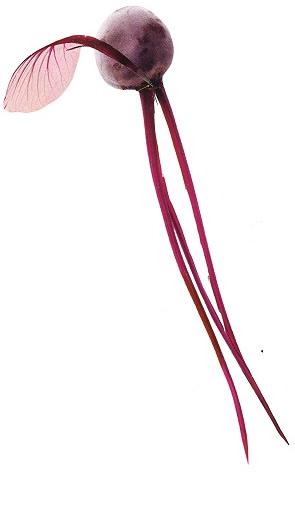 Detail from MESOCOSM SERIES (2013) Lydia Holmes, 17 collages, 160 x 200 cms
From a distinctly feminine perspective, Lydia Holmes adopts a playful approach to the tensions between social and political subjects. Inspired by the 'Futurist landscape' imagined by members of the Futurist movement (1909-1944) she makes oblique references to the movement's connections to Fascism. Her work parodies the irrational ideals of the Futurist's visual language and the Fascist statements in their manifestos. However, she is not lodged in art history, rather Holmes takes an unapologetically contemporary approach that teases with today's scientific and technological advancements. She invites the viewer into her strange world, populated by hybrid animals and living machines.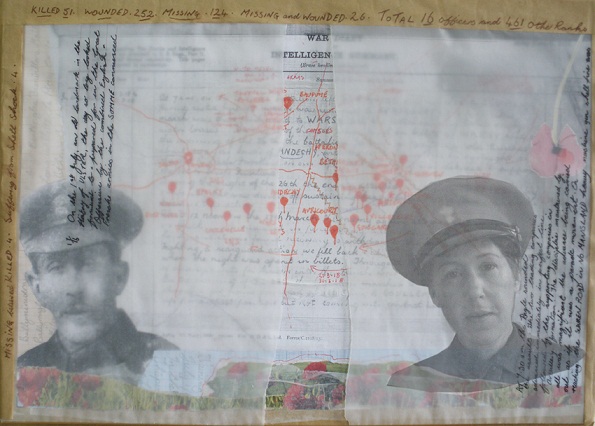 Detail from MAKING MEMORY (2013) Gail Ritchie, collage on wall, 150 x 200 cms
Utilising collage as a mind-mapping technique, artist Gail Ritchie recreates her studio wall, with the corner of the gallery transformed into an expansive grid of historical photographs, dates, drawings, notes and timelines. Entitled 'Making Memory', Ritchie inserts herself into old family photographs to access memories which are not her own but part of her genetic makeup. They are traditional collages, which have been scanned, then manipulated digitally.
2. ODD BEINGS
This section presents a collection of characters, both real and imaginary, from portraits of the self to the rendering of otherness, recurring themes that are manifested in exciting but catastrophic scenarios.
FRAGILE [iii] (2013) Ciaran Magill, mixed-media collage, 42 x 59 cms
Engaging with contemporary issues on gender and psychiatry, Ciaran Magill uses the human figure to convey psychological mindscapes that are drawn from self-portraits inter-mixed with imagery found in mass-culture and traditional religious iconography.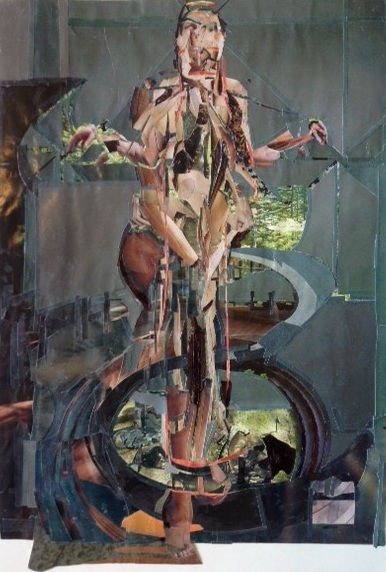 NO FIT STATE (2011) Stuart Roberts, collage, 35 x 24 cms
Stuart Roberts employs different types of paper, markers and paint to construct collages with extraordinary depth and rhythmic composition. The fragmented cuttings are intricately fused together and assembled to make strange but powerfully suggestive images. His work contains figurative elements that oscillate between the real and the imaginary to connote a form of otherness. Tension is created between appeal and repulsion, playfulness and violence. The newly constructed images appear in a state of flux, often on the edge of collapse.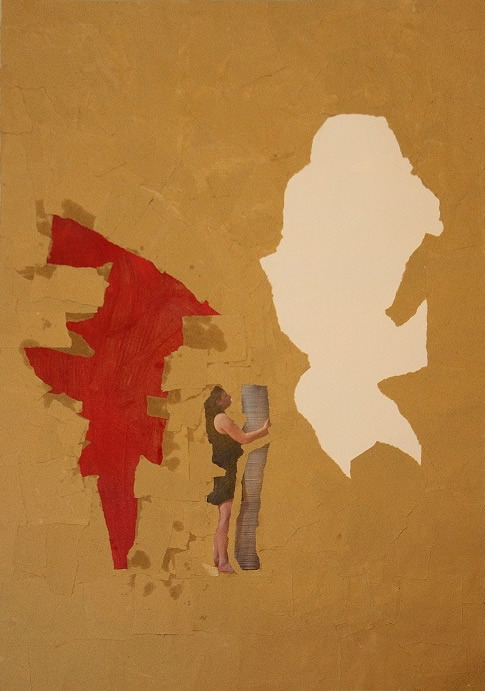 erasing HER history (2013) Sinéad O'Donnell
Series of performance collages, 3 created before Mexico and
3 after, March 2013. 42 x 29 cms each.
Performance artist Sinéad O'Donnell utilises collage as an integral part of her practice in both the preparation phase and also in the unwinding process after a live event. Despite a well-established international career, her collages have never been exhibited before, always remaining hidden in studio sketch books. Therefore GLUE presents a very special glimpse into her rich creative zone. O'Donnell's recent project in Mexico entitled 'erasing HER history' is a reflection on the Christian and Muslim possibilities of female erasing and eroding of histories - where women or anything female has been manipulated or taken out of history.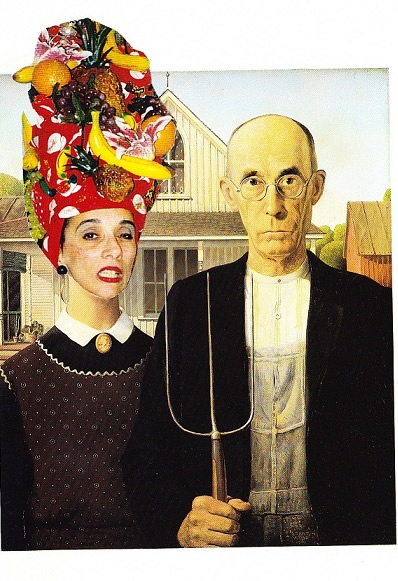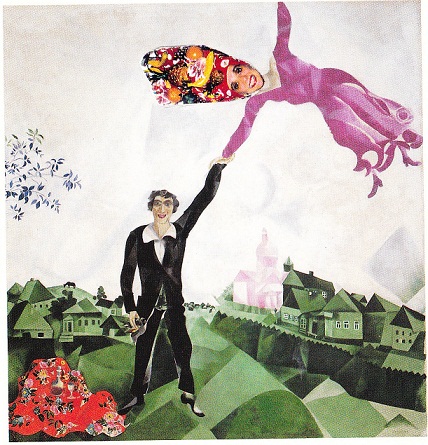 AMERICAN GOTHIC LULU LOLO (2011) and CHAGALL LULU LOLO (2011) LuLu LoLo, collage, 15 x 10 cms each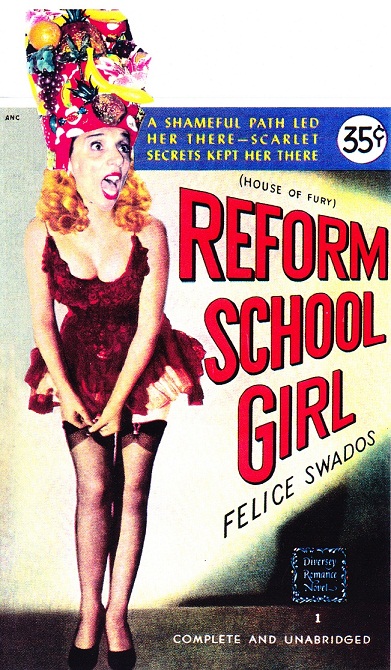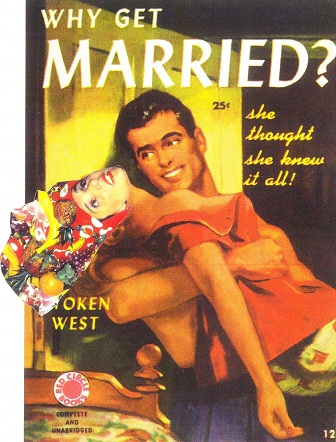 REFORM SCHOOL GIRL LULU LOLO (2010) and WHY GET MARRIED LULU LOLO? (2010) LuLu LoLo, collage, 25 x 20 cms each
New York performance artist LuLu LoLo employs collage to experiment with new personas that become developed into live actions. LuLu's art combines a passion for historical research with contemporary performance art, often focusing on the dramatic struggle of women from New York City's past.
3. DESIRE
Representations of male desire have become more subliminal since the reclaiming of female representation through the success of feminism in art. The traditional 'male gaze' on the female body is now more historical than contemporary, opening up many new explorations for the artist, with sexual attraction becoming more symbolic, more suggestive and more abstracted.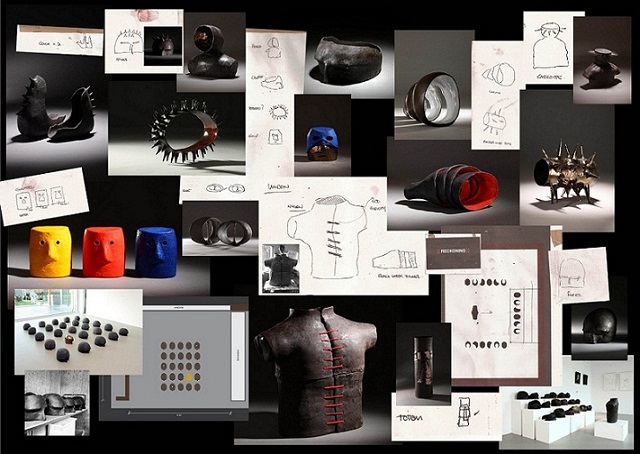 CONSUMMATION (2012) Patrick Colhoun, digital collage, 59 x 42 cms
The physical and conceptual darkness of Patrick Colhoun's ceramic sculptures often hint towards the feminine through subtle red interiors peeping through rough and brutal exteriors or through the use of hosiery to bind elements together. Combining photography and studio sketches, Colhoun employs the technique of collage to demonstrate the thinking process behind his object-making, from initial planning stages to completed sculptures and gallery installations. The digital collage offers a strong presentation of Colhoun's entire practice and highlights the effective use of collage to market a brand, in this case contemporary sculpture.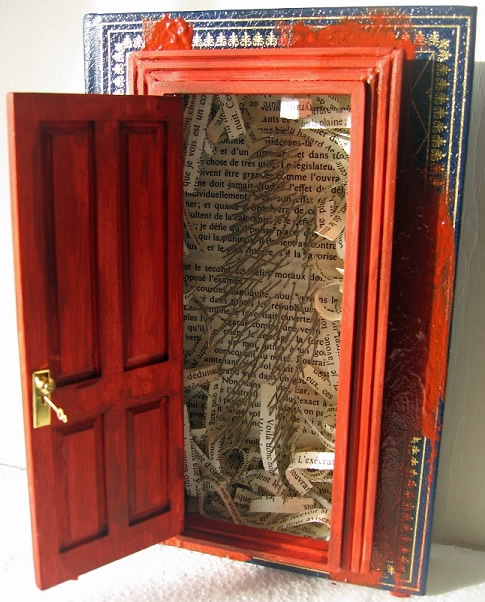 In her early 20s, Fion Gunn lived in France and, keen to her improve her language skills, she read 'Justine' by the Marquis de Sade. Initially repulsed by the horrors of sadism and masochism, 30 years later, Gunn has become interested in the era of enlightenment and revolutionary France, now as she comprehends de Sade's distressing life; it leads to a re-evaluation of his works and his predilections. Gunn now reflects upon them with greater sadness than horror, acknowledging the tragedy that people who are attracted to pain (and its infliction) are usually people who have suffered great pain in their childhood years and are often doomed to repeat their experiences. However, de Sade remains a challenge for feminists and right-wingers alike, a disturbing narrator of inner addictions which challenge authority at the most primal level. Gunn's collage 'Strange Pain' has been created from her own copy of 'Justine' and the glue will forever bind it together, never to be opened again.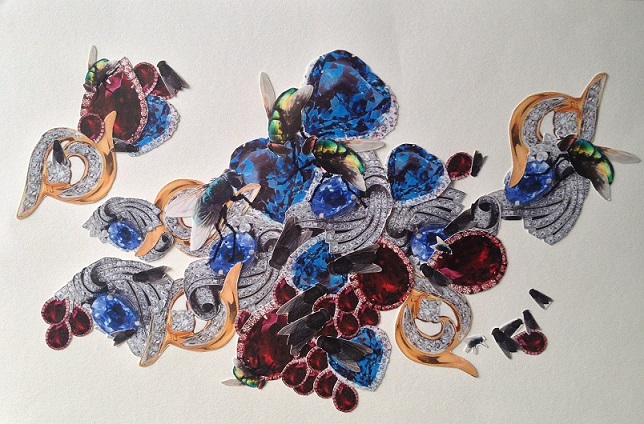 FLAWLESS (2012) Galen Olmsted, collage on paper, 33 x 48 cms
Galen Olmsted's elaborate arrangement of glistening diamonds and jewels project desires for wealth and beauty. However, the wearer is absent; instead the scene is populated by mosquitoes, with their own colour offering a certain beauty to the viewer, albeit mixed with repulsion. Olmsted uses collage to illuminate the underpinnings of his process, highlighting what is buried beneath his ideas. The hectic conglomerations focus on the obsessions and self-doubt that often plague the artist.
4. TRANSLUCENCY
Photographic technology from the pre-digital era is still employed by artists who wish to experiment with the effects of light and layering to generate heightened depth, movement and translucency. The results are often spectacular examples of the power of the lens, skilfully guided by the aesthetic sensibility of the artist.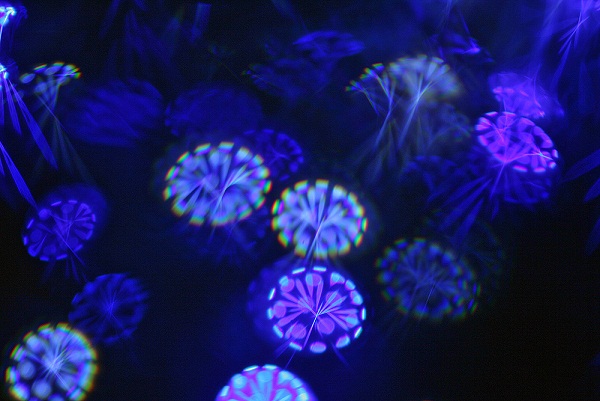 AIRING (2012) Craig Coleman. Seamless photographic collage, 20 x 25 cms
Craig Coleman presents seamless collages made by removing the lens of a 35mm DSLR camera and holding transparent images and objects up to the opening of the camera. He employs small LED lights to cast shadows of these objects into the back of the camera. Therefore the back of the camera becomes like a miniature movie screen or theatre and the light projections are collaged onto the screen in a way that references light shows, visual rhythm, synaesthesia, experimental cinema, and the history of art made with light.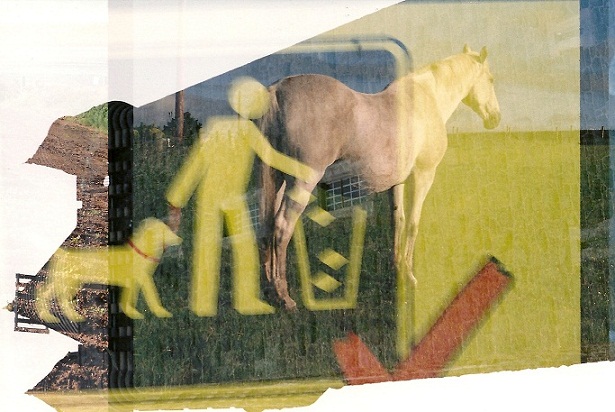 IN A FIELD (2012) Trevor Wray, photographic collage with 35mm negatives, 41 x 53 cms
Using the film strip from a 35mm camera, Trevor Wray creates multiple translucent layers by collaging negatives on top of each other. The new images appear raw and random. With this pre-digital method, the final composition is only revealed upon developing the 35mm negatives.

In humourous fashion, Wray deals with the complexities and over-lapping nature of social, religious and political identity surrounding his hometown of Newtownards. Scrabo Tower which overlooks the town is a regular motif in his work. The imposing erection is often placed as the backdrop for ambiguous human activity, both in the town and in the surrounding fields.
5. GLOBAL DYNAMICS
The duality of the inter-connected yet fragmented nature of collage ties in with the global themes of environmental issues, world politics, economics and religion. Across the planet, the pendulum that perpetually swings from progressive to conservative ideologies is one that creates tears and rips in society, and while holes can become re-stitched or reconfigured, the world itself remains in a continual political flux, akin to the shifting plates beneath the surface or the volatile unpredictability of climate change as the polar ice caps dissolve into the ocean.

A SERIES OF SMALL EXPLOSIONS (2013) David Turner.
Hama Beads. 3 from a series of 50 components.
25.5 x 20.5 cms each.
David Turner's 'A Series of Small Explosions' comprise of 50 configurations in Hama Beads, each representing split-second imagery of the Nuclear testing in the Navada desert and also the bombs dropped on Japan in 1945. In relation to computer screens and photography, Turner refers to the work as 'physical pixels' with each bead relating to 5 DPI (dots per inch). With an interest in the components that make up the larger picture, he employs the term 'bit, part, piece' and the series can reference the small explosions within the atoms which start the chain reaction. Dependent on the distance of the viewer from the surface of the Hama beads, the imagery oscillates between complete abstraction (standing less than 4 metres from the works) to complete figuration (from a distance beyond 4 metres whereby the eye joins the dots together and the forms merge into an image akin to photography).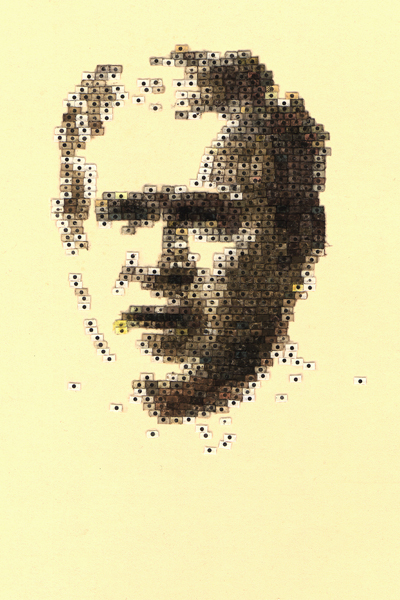 BUSH CHADS [from the series: FALLOUT FROM 2000]
(2004) Sean Miller, chad collage, 28 x 21 cms
In 2003 Sean Miller purchased one of the (now defunct) Miami Beach County voting booths on Ebay. This portable booth was used in the 2000 general election and utilized the now infamous "Butterfly Ballot System." This method of voting relied on Floridians to punch perforated "chads" out of their voting cards in order to cast their votes. Many loose chads were scattered in the booth Miller purchased – these chads represent actual successful votes from the 2000 election. However, not all punches in the ballots were successful. The resulting confusion from Butterfly Ballots and bad practices at the polls caused the now infamous legal dispute in the state of Florida.
For Miller, the chads are tiny objects that represent heavy political fallout. They also resemble miniature minimalist sculptures (or political minimalism). For this collage, he created an image of George W. Bush from over 200 chads dipped in different flavours of Bar-B-Que sauce.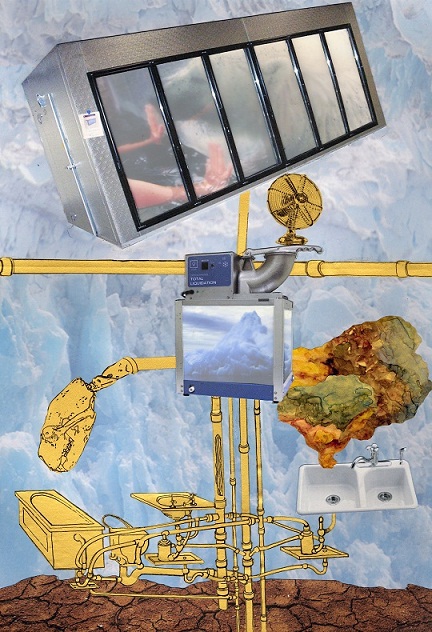 Everything Must Go #1 (Total Liquidation)
(2013) Bethany Taylor, mixed media digital collage, 48 x 33 cms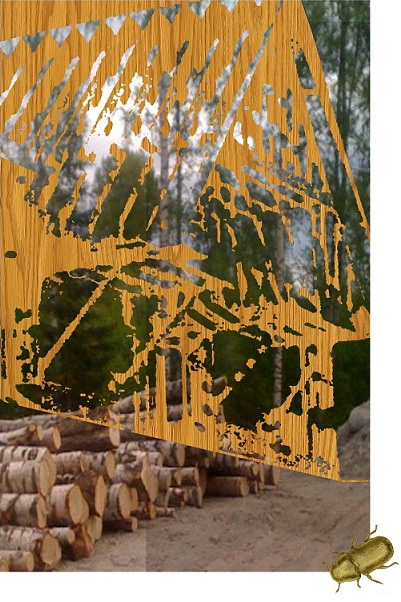 Everything Must Go #3 (Further Reduction)
(2013) Bethany Taylor, mixed media digital collage, 48 x 33 cms
Bethany Taylor's 2013 collage series, Everything Must Go…, investigates the transformation of natural resources into consumable products (water, food, and shelter) and the inevitable complexities involved in our interactions with the natural environment. Physically and digitally combining text used in commercial advertising, images culled from personal photos and the media, and other materials, the resulting collage images suggest transformative and destructive processes in a delicate balance. Linking notions of the ephemeral with consumption, Everything Must Go… includes composite imagery of melting icebergs and pine beetle infestations due to global warming, technological attempts to preserve life or manage resources, and the unfortunate by-products of unchecked consumption.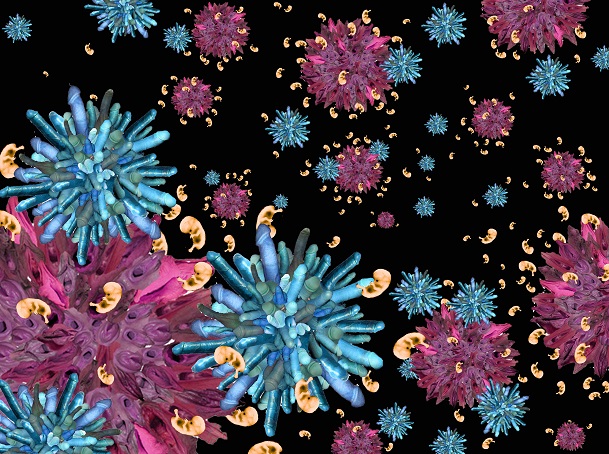 VIRUS TRTBX13 (2013) Mark Revels, digital collage, 21 x 29 cms
Responding to themes of over-population and the effect of increased human breeding on the planet's resources, sculptor Mark Revels presents 'Virus TRTBX13', a digital collage printed on three layers of acetate and mounted with a magnification sheet. The artwork features floating pink and blue spheres sourced from internet images of the male and female reproductive organs. Revels questions: "if the human species is top of the food chain, what regulates and controls 'our' numbers? Are we a parasitic organism or virus and is the Earth our host? Is there a social expectation to breed?" Aside from global dynamics, Revels also draws on localised studies and references to 'social viruses' in his homeland of Northern Ireland.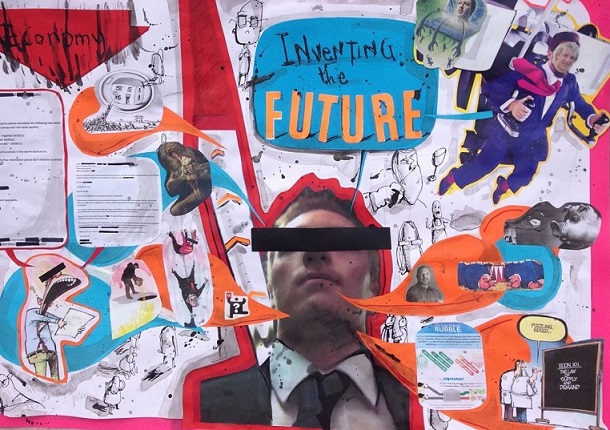 REDACTED (2013) Brian John Spencer, collage, 42 x 59 cms
The world economic meltdown is explored from a personal perspective by Brian John Spencer, a 2010 Masters law graduate who amassed an enormous number of job rejection letters in the years following his University education. His latest artwork, 'Redacted' explores the pain of job denial, with employers redacting out Spencer's future by continually issuing rejections into the world of work. To counter this negativity, Spencer now utilises his creative skills in freelance entrepreneurial ventures and reflects this positivity in his latest collage. Employing vivid colour, hand drawn illustrations and topical magazine cut outs, he engages with both the uncertainty and vibrancy of the current world in which we now live.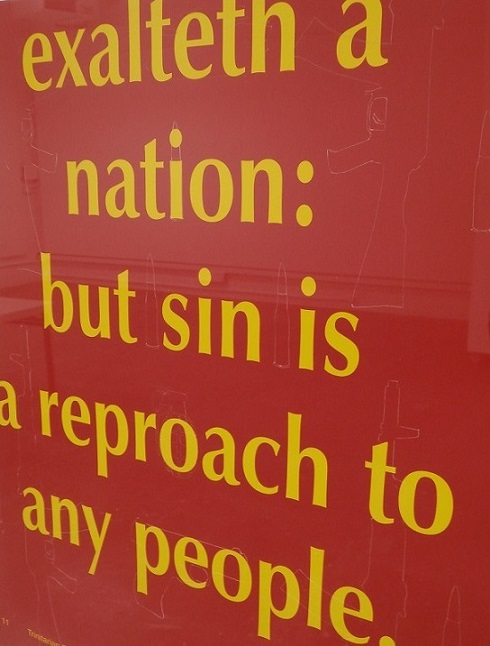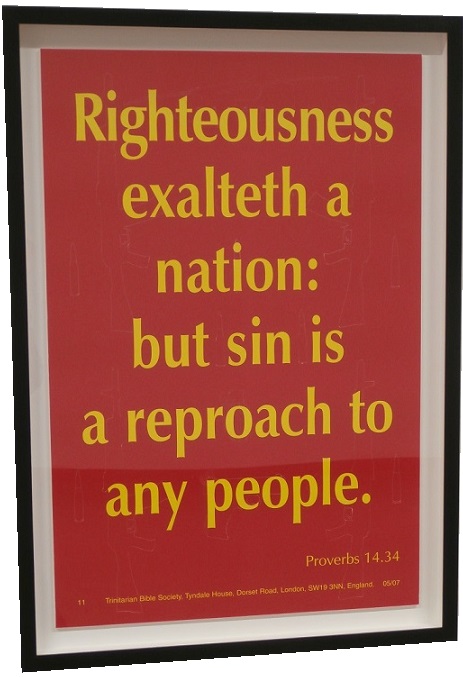 WITH GOD ON OUR SIDE (RIGHTEOUSNESS EXALTETH A NATION: BUT SIN IS THE REPROACH TO ANY PEOPLE] (2013) Brendan O'Neill, poster print on foamex board, 76 x 51 cms
Utilizing a scalpel to cut intricate outlines into the surface of religious posters, Brendan O'Neill explores ways in which art and faith are connected. His current work stems from research into evangelical scripture verse posters, the type that can be seen adorning trees along rural roads in Northern Ireland and places of evangelical worship. A quote, "Righteousness exalteth a nation, but sin be the reproach to any people" is a scripture verse poster in yellow letters over a red ground with white scalpel cut silhouettes of weaponry. Drawing upon the global implications of religion and conflict, the assumption is the danger of war creeping up from the same ground where divine presence can be.
6. ARCHITECTURE
Despite the flatness of collage as a medium, the shapes of the cut segments combined with the technique of chiaroscuro, can create a convincing contrasting formation of light and dark. With this sense of shadow, the illusion of three-dimensionality is born. It is with this method that collage can effectively lend itself to the field of architecture.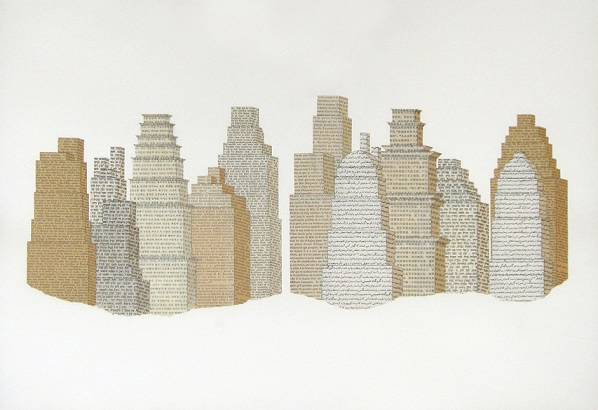 6 [from Secession series] (2012) Kevin B. Chen
Collage on Arches 88 paper, 56 x 76 cms
In his latest series, Kevin B. Chen creates fictional architectural cityscapes. Predominantly drawn from religious texts, the fragments are sourced from the pages of books. The collage becomes a multi-cultural city, with the architecture wearing the 'skin of language' from the people who live, work, finance, construct, clean and service these buildings.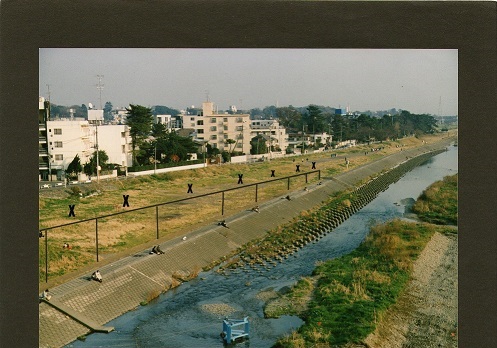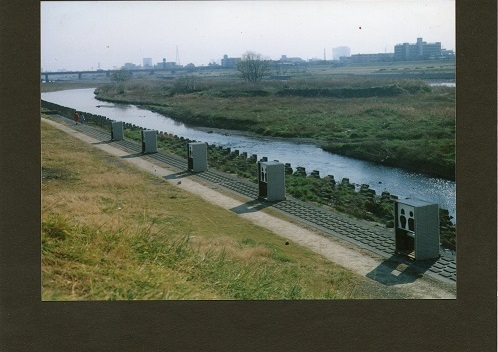 TAMA RIVER PROJECT(1996) Shiro Masuyama.
Photograph, graphic tape, instant lettering
and paper, 29.7 x 21 cms
Utilising collage to plan a site-specific installation on the Tama river bank in Toyko, Shiro Masuyama combines art and architecture to create innovative, interactive and intimate public benches.
In Japan, on the river banks where lovers gather, each couple sit with equal distance from the neighbouring pairs to ensure each other's privacy. Masuyama took notice of such a peculiar phenomenon. He built private room-style bench seats and placed them on the bank of the Tama River, equidistant from each other. Cutting openings into the rear of the walls, Masuyama created male and female pictograms, as seen in bathrooms, so that the benches could be easily recognized as specifically placed there for lovers.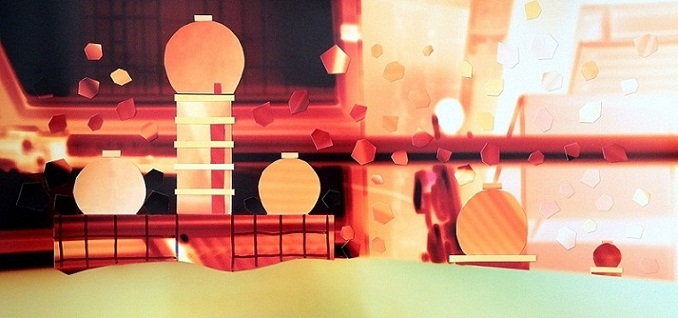 THE SPY GLOBES OF TEUFELSBERG [FIELD STATION BERLIN] (2012) Brendan Jamison (after a pinhole photographic collaboration with Peter Richards) Collage, 23 x 48 cms. Photography: © Brendan Jamison
Brendan Jamison uses the process of collage as a brainstorming session in the studio. These works are created from cut-out sections of photographic paper, the residue of cropped sections from an earlier pinhole collaborative project with artist Peter Richards from 2011. Traces of the original image intermingle with the new formation of elements.
In this latest series, the focus is on 'Field Station Berlin', an abandoned cold war spy station located at Teufelsberg, the highest point in the Grunewald forest, a hill that overlooks the city of Berlin. 2013 marks the 50th anniversary of the construction of the permanent field station by the American and British intelligence services. It was built in 1963 to spy over the Berlin Wall on the former Communist East German state. Notably, Teufelsberg is an artificial hill created after World War II from all the fragments of rubble, transported in truck loads over a period of 22 years from the destroyed buildings of Berlin.
_______________________________________
GLUE promotional video [105 seconds]
4 EXHIBITIONS OF GLUE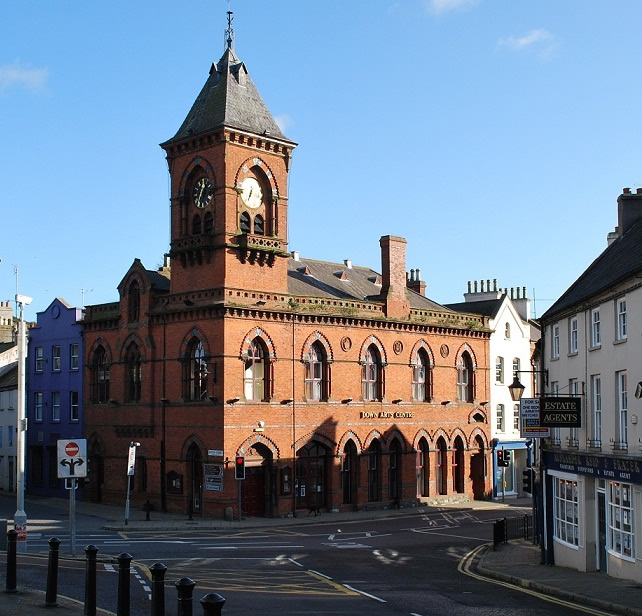 Exterior of Down Arts Centre (DAC)
Located in the town centre of Downpatrick, Northern Ireland
1. DOWN ART CENTRE, DOWNPATRICK
Northern Ireland
Opening preview: Thursday 11 April 2013. 7-9pm. Exhibition continues until 4pm on Friday 3 May 2013. Open Monday to Saturday 10am to 4pm.
FREE ENTRY
Down Arts Centre
2-6 Irish Street
Downpatrick
County Down
Northern Ireland
BT30 6BP
United Kingdom
________________________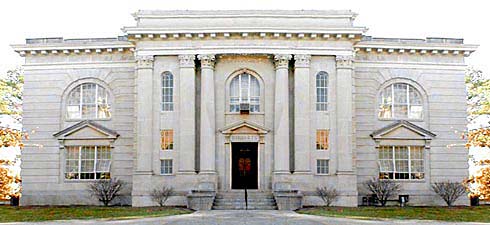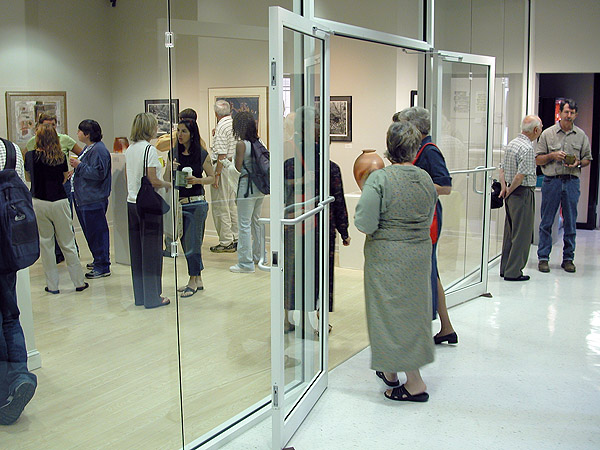 2. HARDMAN HALL GALLERY, MERCER UNIVERSITY
Macon, Georgia, USA
2014: Opening on Monday February 3. Exhibition continues until Friday 28 February 2014..
The GLUE exhibition at Hardman Hall is co-curated by Professor Craig Coleman at Mercer University.
The Hardman Hall Gallery is open from 9 a.m. - 5 p.m. Monday to Friday during the Fall and Spring semesters, approximately mid-August to the first week of May.

FREE ENTRY
Hardman Hall
Adams Street
Macon
Georgia 31207
United States of America
__________________________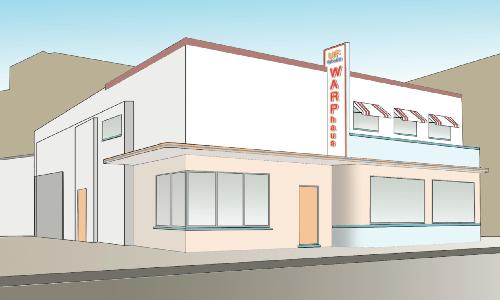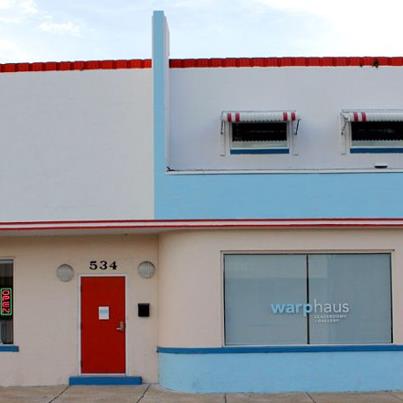 3. WARPhaus GALLERY, UNIVERSITY OF FLORIDA
Gainesville, Florida, USA
10 - 23 March 2014
The GLUE exhibition at WARPhaus is co-curated by Professor Sean Miller at the University of Florida.
FREE ENTRY
WARPhaus Gallery
534 SW 4th Avenue
Gainesville
Florida 32601
United States of America
__________________________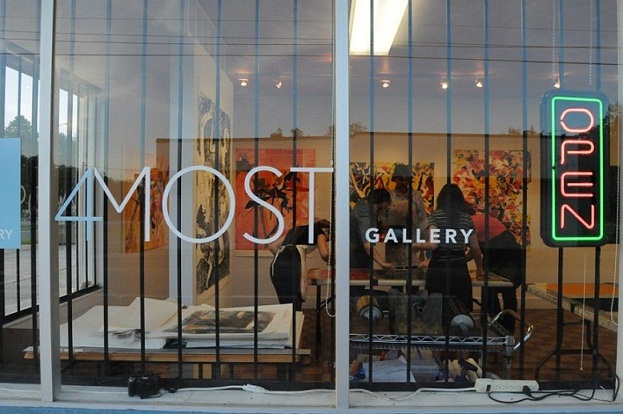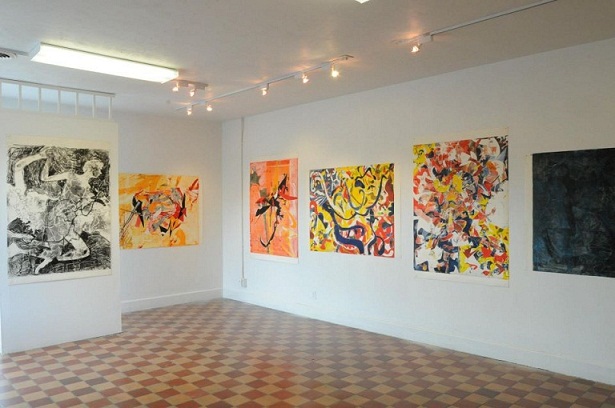 4. 4Most GALLERY, UNIVERSITY OF FLORIDA
Gainesville, Florida, USA
10-23 March 2014. Opening dates to be confirmed.
The GLUE exhibition at 4Most Gallery is co-curated by Professor Sean Miller at the University of Florida.
FREE ENTRY
4Most Gallery
534 SW 4th Avenue
Gainesville
Florida 32601
United States of America
__________________________