KEVIN B. CHEN
San Francisco, USA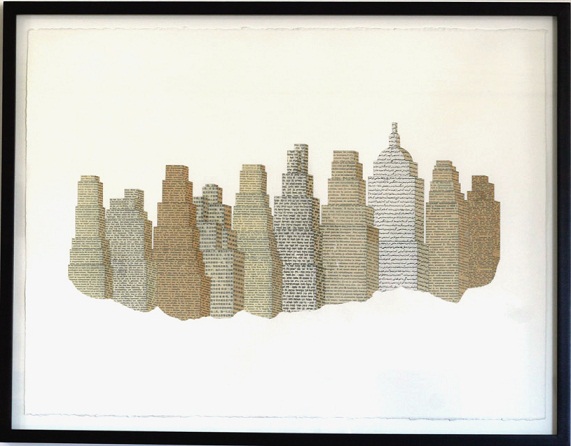 6 [from Secession series] (2012) Kevin B. Chen
collage on Arches 88 paper, 56 x 76 cms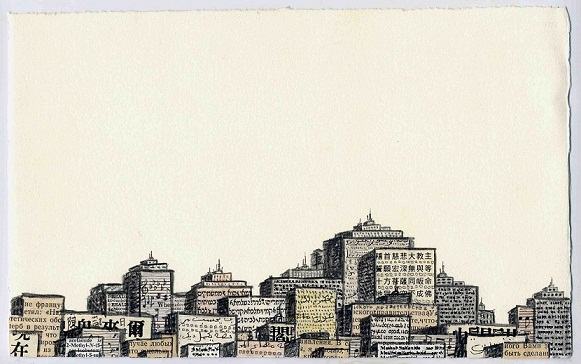 1AA [from Secession series] (2012) Kevin B. Chen
collage on Arches 88 paper, 25 x 30 cms
In his latest series, Kevin B. Chen creates fictional architectural cityscapes. Predominantly drawn from religious texts, the fragments are sourced from the pages of books. The collage becomes a multi-cultural city, with the architecture wearing the 'skin of language' from the people who live, work, finance, construct, clean and service these buildings.
______________________________________
SHIRO MASUYAMA
Toyko, Japan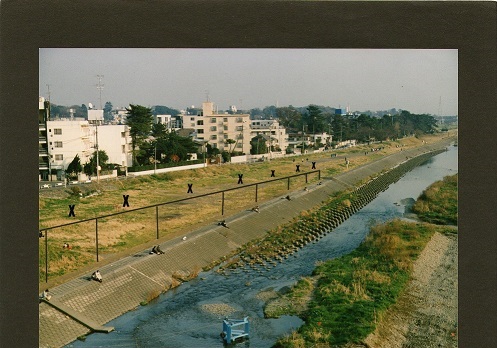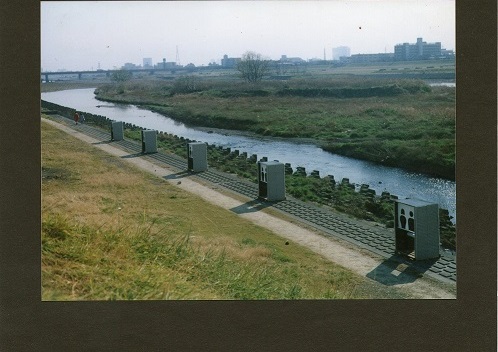 TAMA RIVER PROJECT(1996) Shiro Masuyama.
Photograph, graphic tape, instant lettering and paper.
29.7 x 21 cms
Utilising collage to plan a site-specific installation on the Tama river bank in Toyko, Shiro Masuyama combines art and architecture to create innovative, interactive and intimate public benches.
In Japan, on the river banks where lovers gather, each couple sit with equal distance from the neighbouring pairs to ensure each other's privacy. Masuyama took notice of such a peculiar phenomenon. He built private room-style bench seats and placed them on the bank of the Tama River, equidistant from each other. Cutting openings into the rear of the walls, Masuyama created male and female pictograms, as seen in bathrooms, so that the benches could be easily recognized as specifically placed there for lovers.

______________________________________
BRENDAN JAMISON
Bangor, Northern Ireland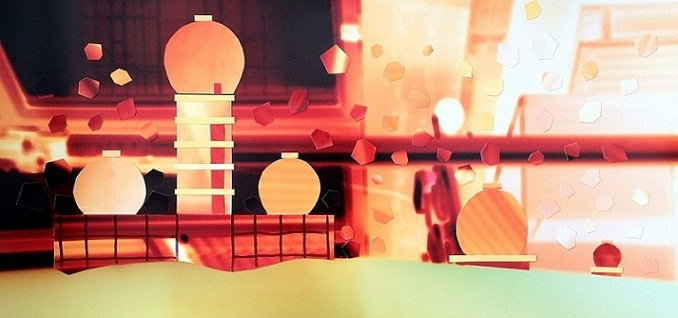 THE SPY GLOBES OF TEUFELSBERG [FIELD STATION BERLIN]
(2012) Brendan Jamison
(after a pinhole photographic collaboration with Peter Richards)
Collage, 23 x 48 cms
Photography: © Brendan Jamison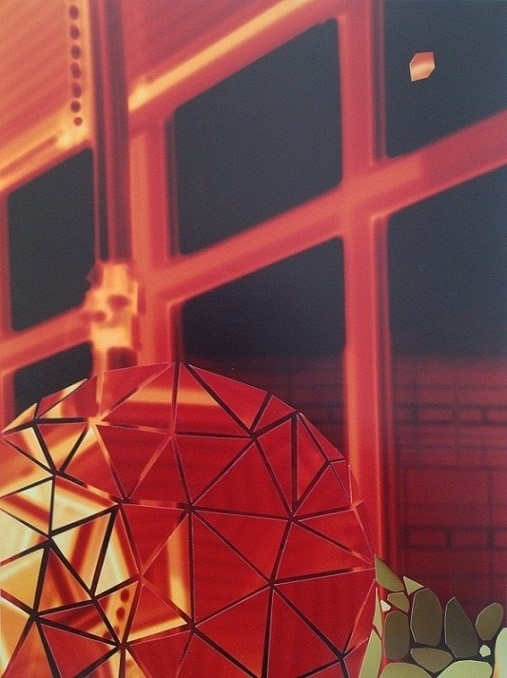 RED HOT RADOME [TEUFELSBERG FIELD STATION BERLIN]
(2013) Brendan Jamison
(after a pinhole photographic collaboration with Peter Richards)
Collage, 34.5 x 26 cms.
Photography: © Brendan Jamison
Brendan Jamison uses the process of collage as a brainstorming session in the studio. These works are created from cut-out sections of photographic paper, the residue of cropped sections from an earlier pinhole collaborative project with artist Peter Richards from 2011. Traces of the original image intermingle with the new formation of elements.
In this latest series, the focus is on 'Field Station Berlin', an abandoned cold war spy station located at Teufelsberg, the highest point in the Grunewald forest, a hill that overlooks the city of Berlin. 2013 marks the 50th anniversary of the construction of the permanent field station by the American and British intelligence services. It was built in 1963 to spy over the Berlin Wall on the former Communist East German state. Notably, Teufelsberg is an artificial hill created after World War II from all the fragments of rubble, transported in truck loads over a period of 22 years from the destroyed buildings of Berlin.
______________________________________