GLOBAL DYNAMICS
MARK REVELS
Belfast, Northern Ireland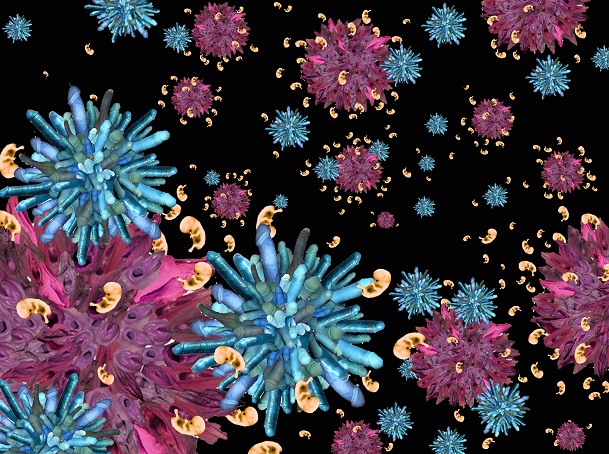 VIRUS TRTBX13 (2013) Mark Revels, digital collage, 21 x 29 cms
Responding to themes of over-population and the effect of increased human breeding on the planet's resources, sculptor Mark Revels presents 'Virus TRTBX13', a digital collage printed on three layers of acetate and mounted with a magnification sheet. The artwork features floating pink and blue spheres sourced from internet images of the male and female reproductive organs. Revels questions: "if the human species is top of the food chain, what regulates and controls 'our' numbers? Are we a parasitic organism or virus and is the Earth our host? Is there a social expectation to breed?" Aside from global dynamics, Revels also draws on localised studies and references to 'social viruses' in his homeland of Northern Ireland.
Impactica artist page: Mark Revels
________________________
DAVID TURNER
Belfast, Northern Ireland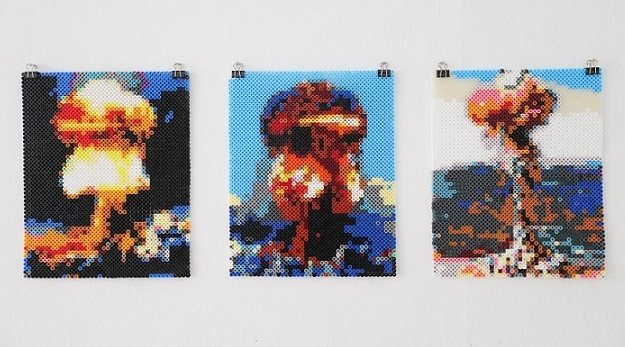 A SERIES OF SMALL EXPLOSIONS (2013) David Turner.
Hama Beads. 3 from a series of 50 components.
25.5 x 20.5 cms each.
David Turner's 'A Series of Small Explosions' comprise of 50 configurations in Hama Beads, each representing split-second imagery of the Nuclear testing in the Navada desert and also the bombs dropped on Japan in 1945. In relation to computer screens and photography, Turner refers to the work as 'physical pixels' with each bead relating to 5 DPI (dots per inch). With an interest in the components that make up the larger picture, he employs the term 'bit, part, piece' and the series can reference the small explosions within the atoms which start the chain reaction. Dependent on the distance of the viewer from the surface of the Hama beads, the imagery oscillates between complete abstraction (standing less than 4 metres from the works) to complete figuration (from a distance beyond 4 metres whereby the eye joins the dots together and the forms merge into an image akin to photography).
________________________
BETHANY TAYLOR
Florida, USA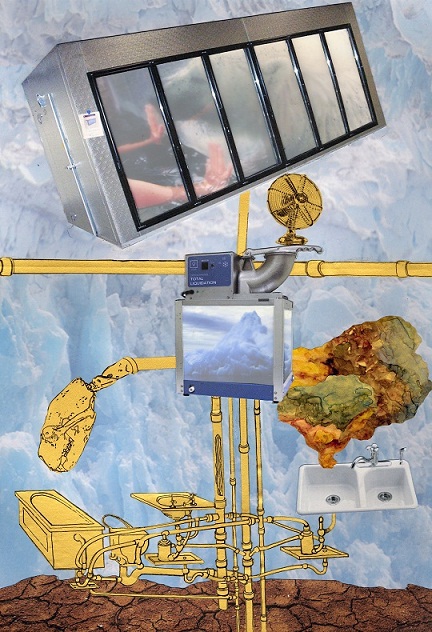 Everything Must Go #1 (Total Liquidation)
(2013) Bethany Taylor, mixed media
digital collage, 48 x 33 cms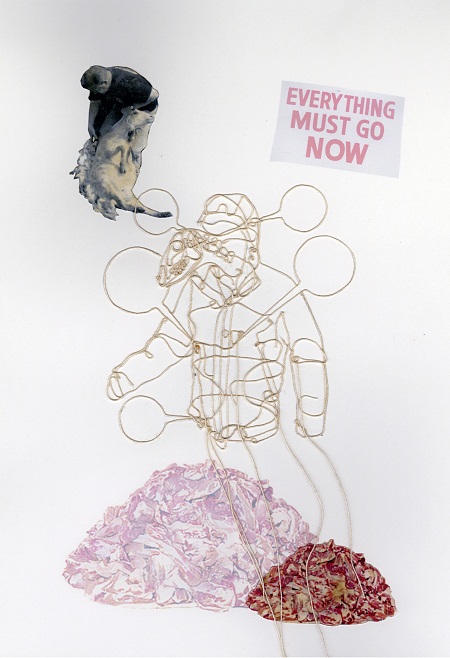 Everything Must Go #2 (NOW) (2013)
Betnany Taylor, mixed media
collage/string drawing, 48 x 33 cms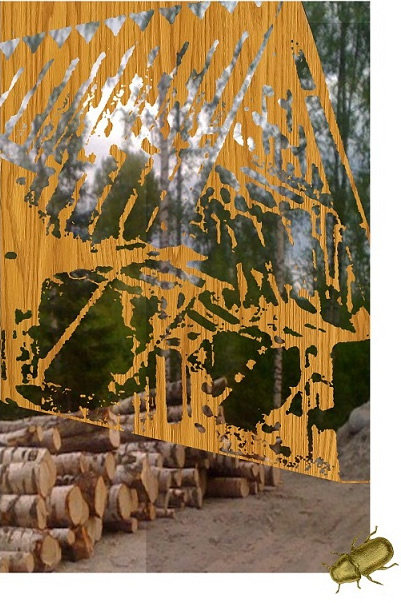 Everything Must Go #3 (Further Reduction) (2013)
Bethany Taylor, mixed media digital collage, 48 x 33 cms
Bethany Taylor's 2013 collage series, Everything Must Go…, investigates the transformation of natural resources into consumable products (water, food, and shelter) and the inevitable complexities involved in our interactions with the natural environment. Physically and digitally combining text used in commercial advertising, images culled from personal photos and the media, and other materials, the resulting collage images suggest transformative and destructive processes in a delicate balance. Linking notions of the ephemeral with consumption, Everything Must Go… includes composite imagery of melting icebergs and pine beetle infestations due to global warming, technological attempts to preserve life or manage resources, and the unfortunate by-products of unchecked consumption.
________________________
SEAN MILLER
Florida, USA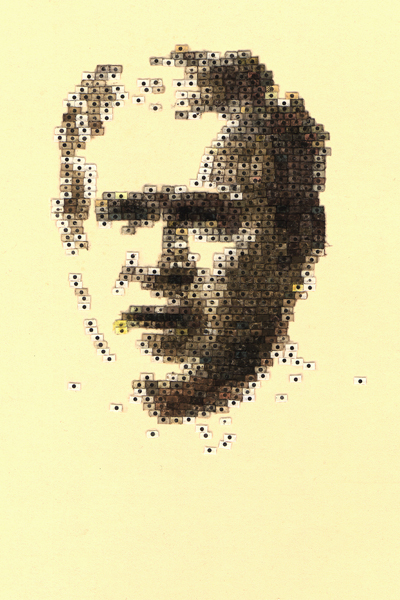 BUSH CHADS [from the series: FALLOUT FROM 2000]
(2004) Sean Miller, chad collage, 28 x 21 cms
In 2003 Sean Miller purchased one of the (now defunct) Miami Beach County voting booths on Ebay. This portable booth was used in the 2000 general election and utilized the now infamous "Butterfly Ballot System." This method of voting relied on Floridians to punch perforated "chads" out of their voting cards in order to cast their votes. Many loose chads were scattered in the booth Miller purchased – these chads represent actual successful votes from the 2000 election. However, not all punches in the ballots were successful. The resulting confusion from Butterfly Ballots and bad practices at the polls caused the now infamous legal dispute in the state of Florida.
For Miller, the chads are tiny objects that represent heavy political fallout. They also resemble miniature minimalist sculptures (or political minimalism). For this collage, he created an image of George W. Bush from over 200 chads dipped in different flavours of Bar-B-Que sauce.
________________________________
BRIAN JOHN SPENCER
Belfast, Northern Ireland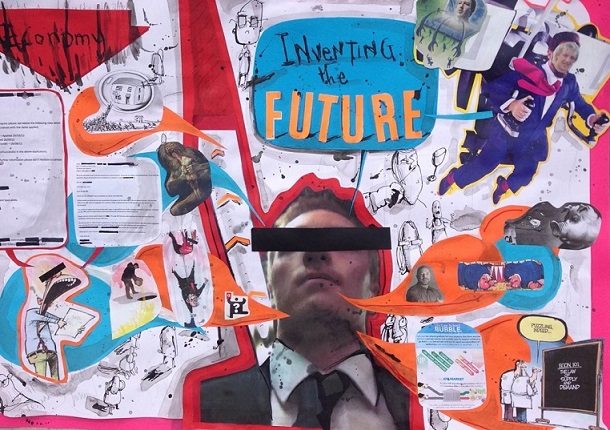 REDACTED (2013) Brian John Spencer, collage, 42 x 59 cms
The world economic meltdown is explored from a personal perspective by Brian John Spencer, a 2010 Masters law graduate who amassed an enormous number of job rejection letters in the years following his University education. His latest artwork, 'Redacted' explores the pain of job denial, with employers redacting out Spencer's future by continually issuing rejections into the world of work. To counter this negativity, Spencer now utilises his creative skills in freelance entrepreneurial ventures and reflects this positivity in his latest collage. Employing vivid colour, hand drawn illustrations and topical magazine cut outs, he engages with both the uncertainty and vibrancy of the current world in which we now live.
________________________________
BRENDAN O'NEILL
Ballymena, Northern Ireland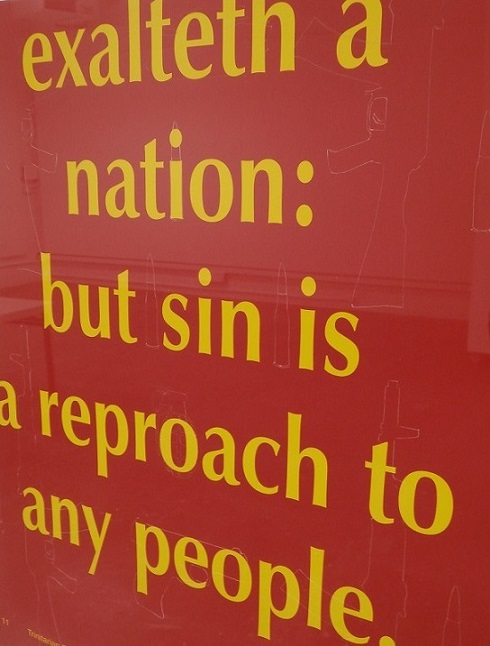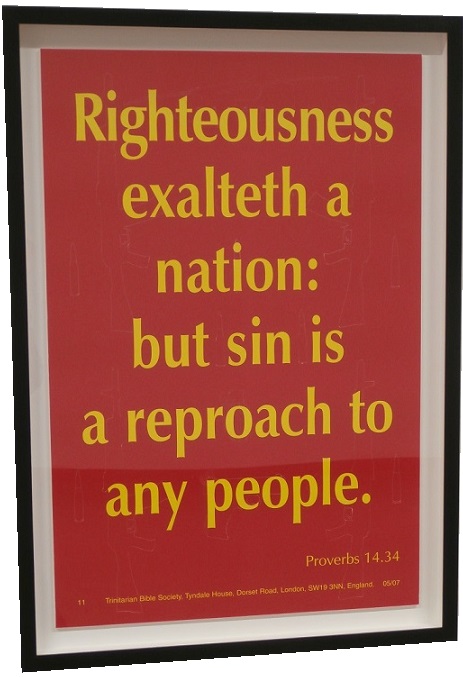 WITH GOD ON OUR SIDE (RIGHTEOUSNESS EXALTETH A NATION: BUT SIN IS THE REPROACH TO ANY PEOPLE] (2013) Brendan O'Neill, poster print on foamex board, 76 x 51 cms
Utilizing a scalpel to cut intricate outlines into the surface of religious posters, Brendan O'Neill explores ways in which art and faith are connected. His current work stems from research into evangelical scripture verse posters, the type that can be seen adorning trees along rural roads in Northern Ireland and places of evangelical worship. A quote, "Righteousness exalteth a nation, but sin be the reproach to any people" is a scripture verse poster in yellow letters over a red ground with white scalpel cut silhouettes of weaponry. Drawing upon the global implications of religion and conflict, the assumption is the danger of war creeping up from the same ground where divine presence can be.